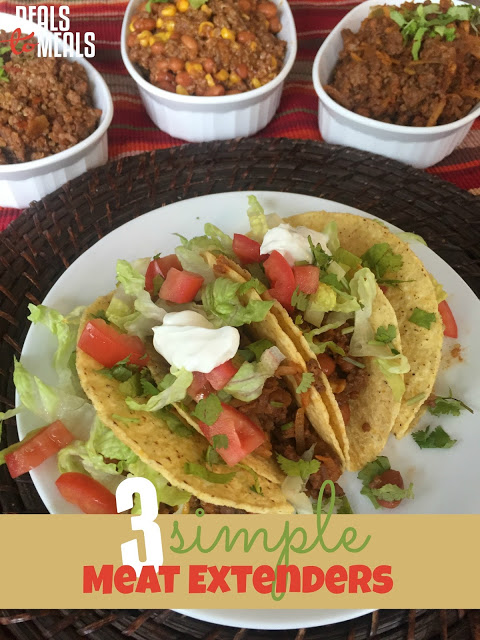 I am SO excited to share this post with you. I have been using this technique for so long, I don't even remember where it originated from. If you are like me, I have a hard time spending $3-$6 a pound for good quality ground beef. However, I am a big fan of a traditional ground beef taco, but I don't want to spend $12-$16 just on the meat. So, I have three simple ways you can stretch your ground beef and feed a large family for under $5! With our clan of 7 people (all big eaters btw), we need to use 2-3 lbs. of ground beef for a weeknight meal. I have found three ways to stretch this ground beef so I only have to buy ONE pound of beef and stretch it to feed our entire family. Here are three simple meat extender ideas to help stretch your dollars at the grocery store–not to mention you'll add some nutrients along the way too. A win-win for everyone!
Meat Extender #1: Quinoa and Ground Beef. I LOVE this option the best. The reason is, cooked quinoa actually takes on the flavor and texture of ground beef. All you need to do is cook up some quinoa on the stove, or in a rice cooker and then add it to the ground beef and onions, as it's cooking. Season the meat as you normally would (taco seasoning, tomato sauce, etc.) and then serve.
Meat Extender #2: Beans, Corn and Ground Beef. This is such a simple way to make your meat go twice as far. I am a huge fan of beans and all the fiber and nutrients it gives you in your diet–so why not add it to your ground beef. Besides the drained, canned beans, I love to add some frozen corn to the mixture as well. It adds a little sweetness that is awesome in tacos, enchiladas or on salads. Simple and much healthier!
Meat Extender #3: Shredded Potatoes and Ground Beef. My Aunt has been adding shredded potatoes to her tacos for years now, and I love it! The potatoes soak up all of the beef juices and takes on all the taco flavor you want and love. It is genius! All you need to do is thaw some frozen, shredded potatoes in the microwave for a couple of minutes and then add to your ground beef and onion mixture. You will need to add a little more salt than normal as the potatoes need more flavoring than the beef. Once the potatoes are cooked and tender, the meat can be used to make delicious tacos with a healthy twist 😉