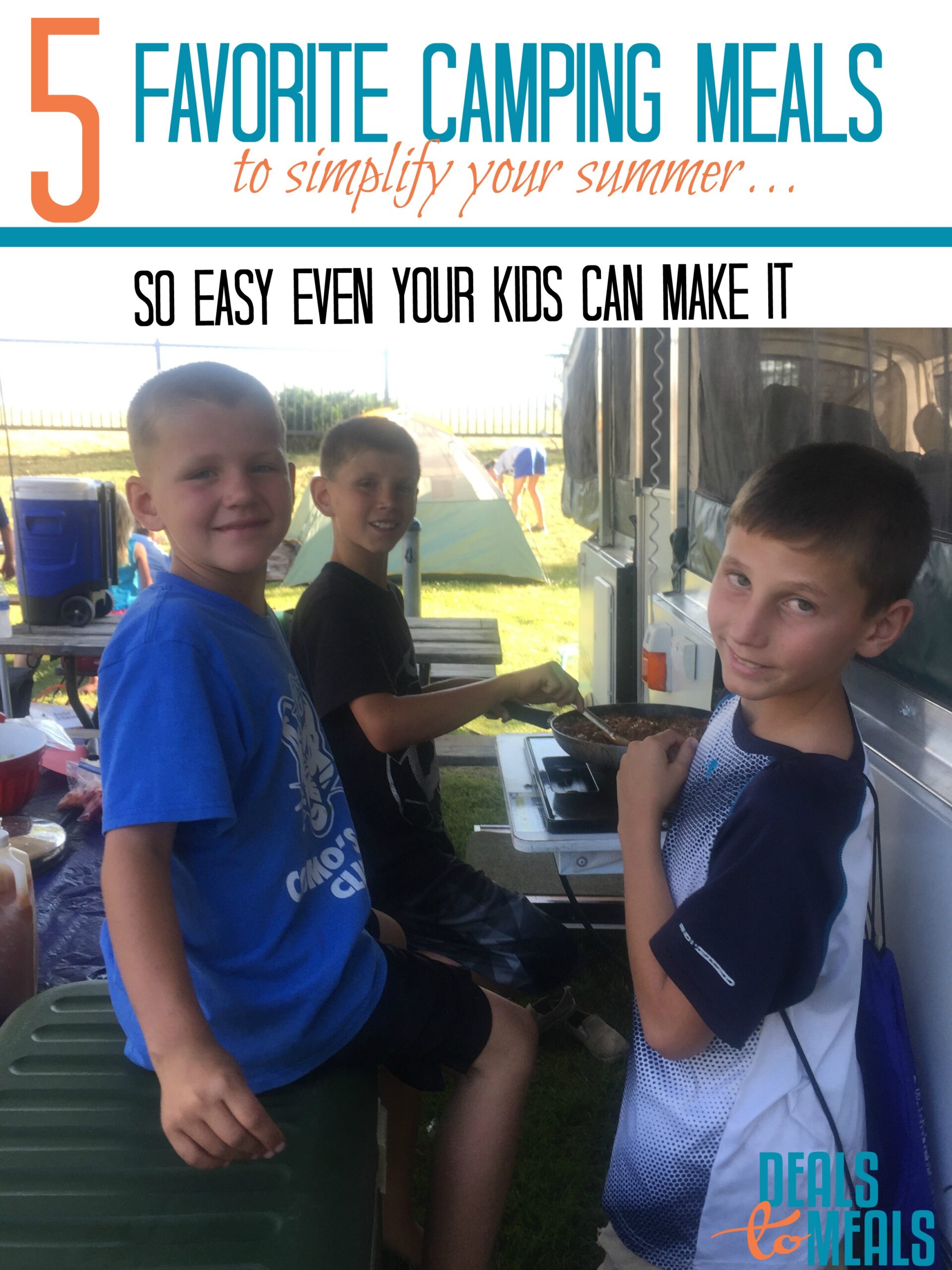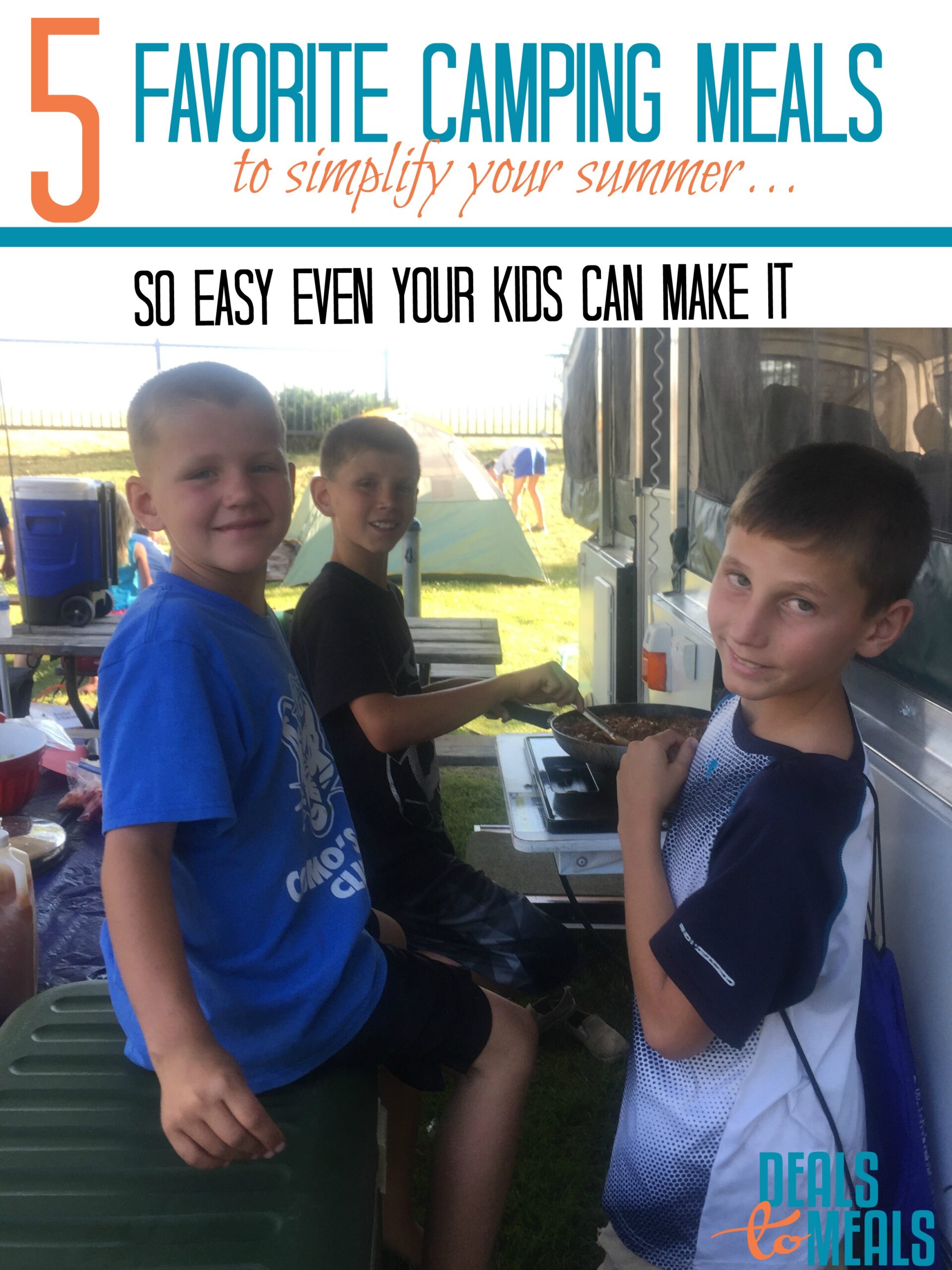 This post is probably coming a little too late, but in case you have a trip planned later this summer, I wanted to share a few tips to make camping easy (and delicious)! My husband and I are big fans of camping. We love to get away and spend some quiet time with the family in the beauty of nature. Whether we are camping, or even on an extended stay in a hotel, there are a few meals I never leave home without.
These meals are so simple, even a kid can make them! My son Isaac loved turning on the stove each night to warm up our dinner. With just a little forethought, you can make camping a breeze!
BREAKFAST
Breakfast and lunch have become simplified over the years for our family. I used to make big, homemade breakfasts. I have to admit I have become a little lazy over the years and we now only have cereal, yogurt and granola, or bagels with fruit. These meals are super simple and allows us to not have to clean any dishes–which is a bonus!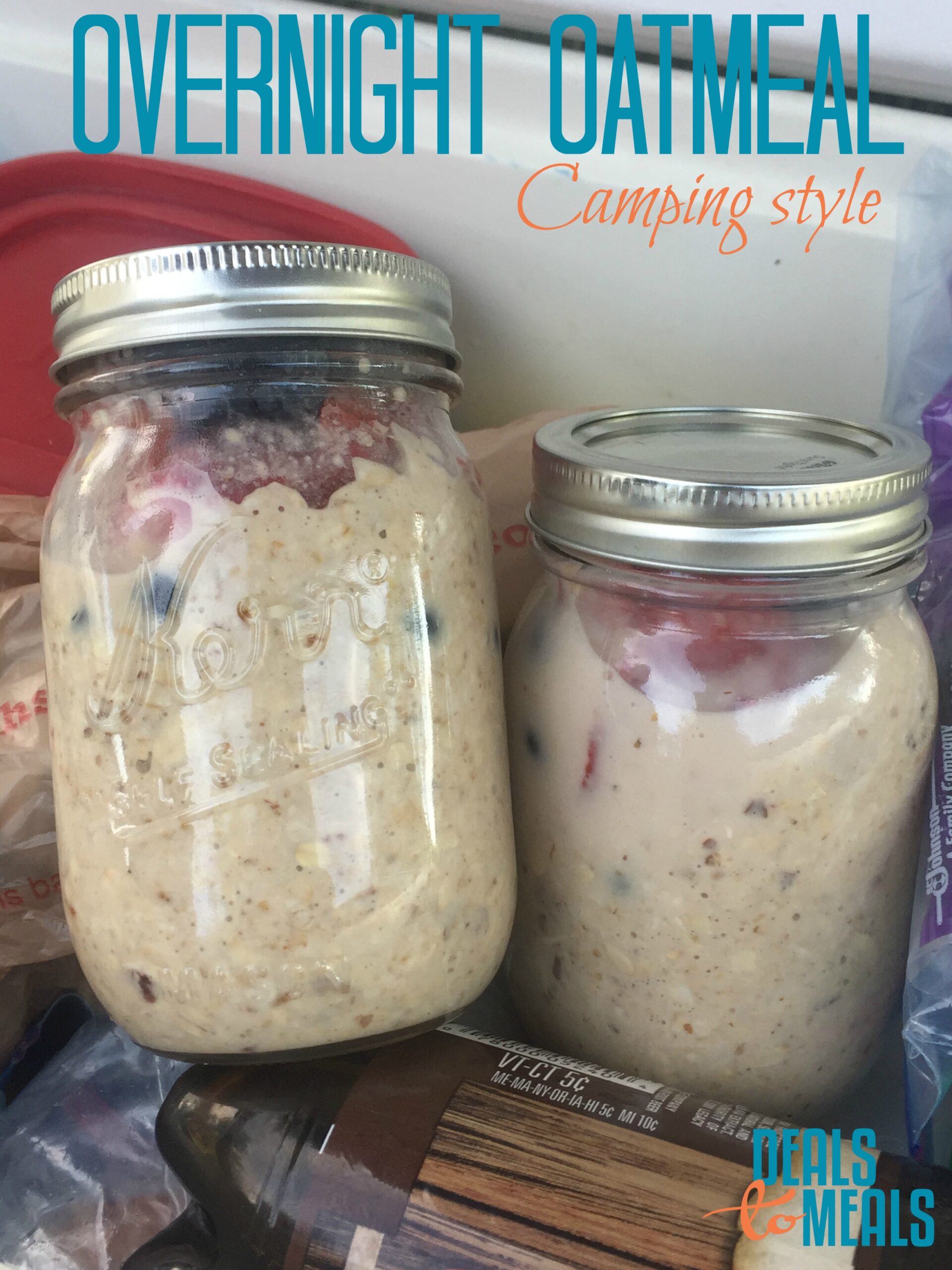 However, my sister did make these Overnight Oatmeal Jars which were super yummy and would be easy to make ahead of time. These jars can be made a few days in advance and will be ready to eat when you need. All you do is add regular oats in a jar, some fresh fruit, real maple syrup, dash of salt and almond milk and lightly shake. Keep these jars in the fridge overnight (or for 1-2 days) and then serve with a little more almond milk as desired. You can play around with any flavors you'd like–add some chocolate protein powder, some coconut, chocolate chips and bananas for a chocolate version. Add some pumpkin and cinnamon for a fall flair. The options are limitless.
LUNCH
Lunch is even easier, we only do sandwiches. Bring a healthy portion of bread, lunch meat, tomatoes, lettuce, cheese and condiments and you're set for days 😉 Nothing fancy, just easy to throw together in a hurry.
DINNER
Dinner is my favorite meal while camping. Don't you think everything just tastes better up in the mountains? Maybe it's just me, but I LOVE meal time while camping. It makes me happy!
Here are the five meals we ALWAYS eat when we're camping. I've become so accustomed to it that I don't even think anymore. The week or two before we go camping I double these recipes and freeze half of them to enjoy while away. These are some of our family's favorites, easy recipes and I hope you enjoy them too!
Who doesn't love these? They are great for lunch or dinner, whichever you need. In fact, I usually make a huge bowl of this so we can enjoy them for a simple dinner (usually the first day when we're setting up) and for lunch the next day.
The thing I love about these tacos is they can feed an army! With the black beans and corn added to the meat, this meal can be stretched to feed several people. I love to make extra of this taco meat and use for a taco salad for an easy lunch. There is nothing easier than tacos when camping. Shred some lettuce, dice some tomatoes, serve with shredded cheese and away you go! If you like double decker tacos, warm some refried beans and serve some beans in between a flour and hard shell taco. Your family will be filled and happy before you know it!
Can't get easier than this recipe. Throw some chicken or pork in a slow cooker and let the machine do the work. After serveral hours drain off the excess juices and shred the meat. Add BBQ sauce before you pack the meat, or serve it on the side once you've warmed the meat up at camp. For a little gourmet flair, add some sliced avocado and some chipotle mayo (shown above). Serve these sandwiches with baked beans, watermelon and chips. Easy-peasy and super yummy!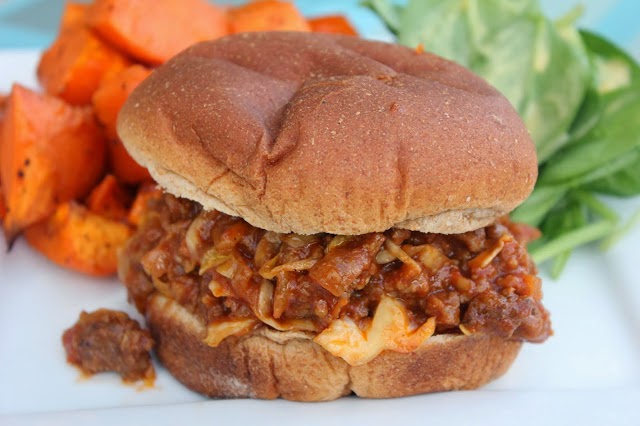 What's more American than a sloppy joe? The best part about these, is when I make up a big batch of taco meat, I double the ground beef and use the other half for the sloppy joes. The base is the same of an onion and ground beef (or turkey), so it makes these two recipes easy to make at the same time. Once the meat is ground, I put half of the meat in a second pan and turn that into sloppy joes. I love my Mom's original recipe for sloppy joes. They are a little tangy, spicy and sweet. The perfect combo, if you ask me!
My husband and kids love hot dogs and their camping trip wouldn't be complete without that as a meal. I on the other hand, like a little healthier option of a homemade salad. I usually plan a nice salad as a side dish to the hot dogs then we both are happy. We have too many delicious salad recipes to mention, so just search 'salad' and you'll have plenty to choose from. Want a fun twist for your hot dogs? Give these Hawaiian Polish Dogs a try. They are so good even I would like them 🙂
I hope these meals will help you with your next camping trip or vacation. If you have any favorite meals you like to make, I'd love to hear about them 🙂 Leave us a comment and give us some more ideas!