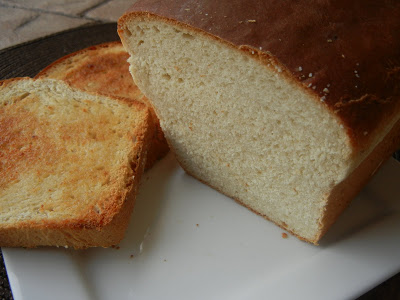 I promise I only have two more recipes I am going to share with you from my 'bean' collection and then I will move on to rice. I couldn't pass up the chance though, to share with you one of my new favorite tricks with white beans (if you can't tell yet, my favorite bean is the great northern white bean–so versatile and cute!!) I have used the trick of adding pureed white beans in nearly every dough I have made this month and it works great!
As you know from past posts of the white bean pizza dough and bean cookies, the pureed white beans can pretty much be thrown into any recipe and you won't know they are there. The other night I wanted to play around with my whole wheat bread recipe to come up with a way that I could make white bread more healthy. As we all know, white flour has virtually no nutritional value and is just about as bad for you as a bowl of sugar. However, I know many children out there who refuse to eat bread that is brown (from the whole wheat of course). For those who were raised on Wonder white bread, that is okay, we still love you.
The awesome thing about this bread recipe is that it uses white flour, but it also uses pureed/cooked white beans as well as white bean flour. So…you get the pretty white color for your bread but get the added nutrients, vitamins, and minerals of using beans in your dough/recipe. All I did was use my favorite wheat bread recipe and replaced one of the cups of water with 1 c. of pureed white beans. I then added 2 c. of ground white bean flour in the place of the wheat flour in the recipe. These two simple additions adds a whole lot of fiber, protein and goodness to your bread.
The end result of this bread, although not totally healthy, is a MUCH healthier version of your traditional white bread recipe. It was a little more dense than your normal bread, but was still great for sandwiches or made the most crazy-good toast you have ever had! I toasted ours up and ate it with our Tuscan White Bean Soup. Delicious!!!
[buymeapie-recipe id='841′]