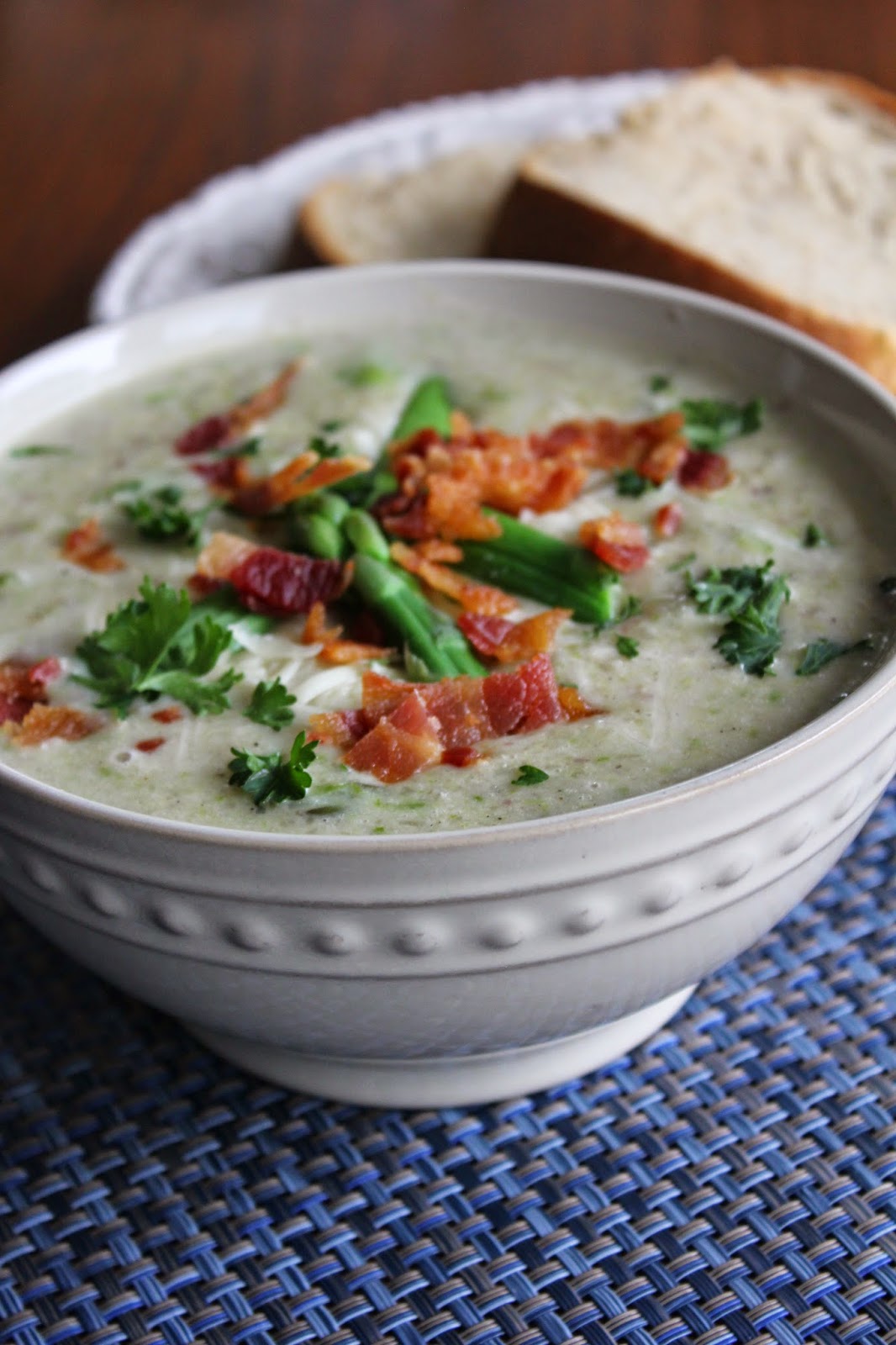 Although I don't love the colder weather we have had here in Utah lately, it has been nice to get back into the kitchen and make some of my favorite soup recipes one more time. Nothing is better to me, on a cold night, than a bowl of warm soup and homemade bread. Yum! The other night my daughter and I were looking through our fridge to come up with a new soup recipe to create. I love that she has a passion for cooking just like her Mom 😉 We both decided that a creamy asparagus soup sounded really smooth and yummy, and perfect to dip our homemade wheat bread into.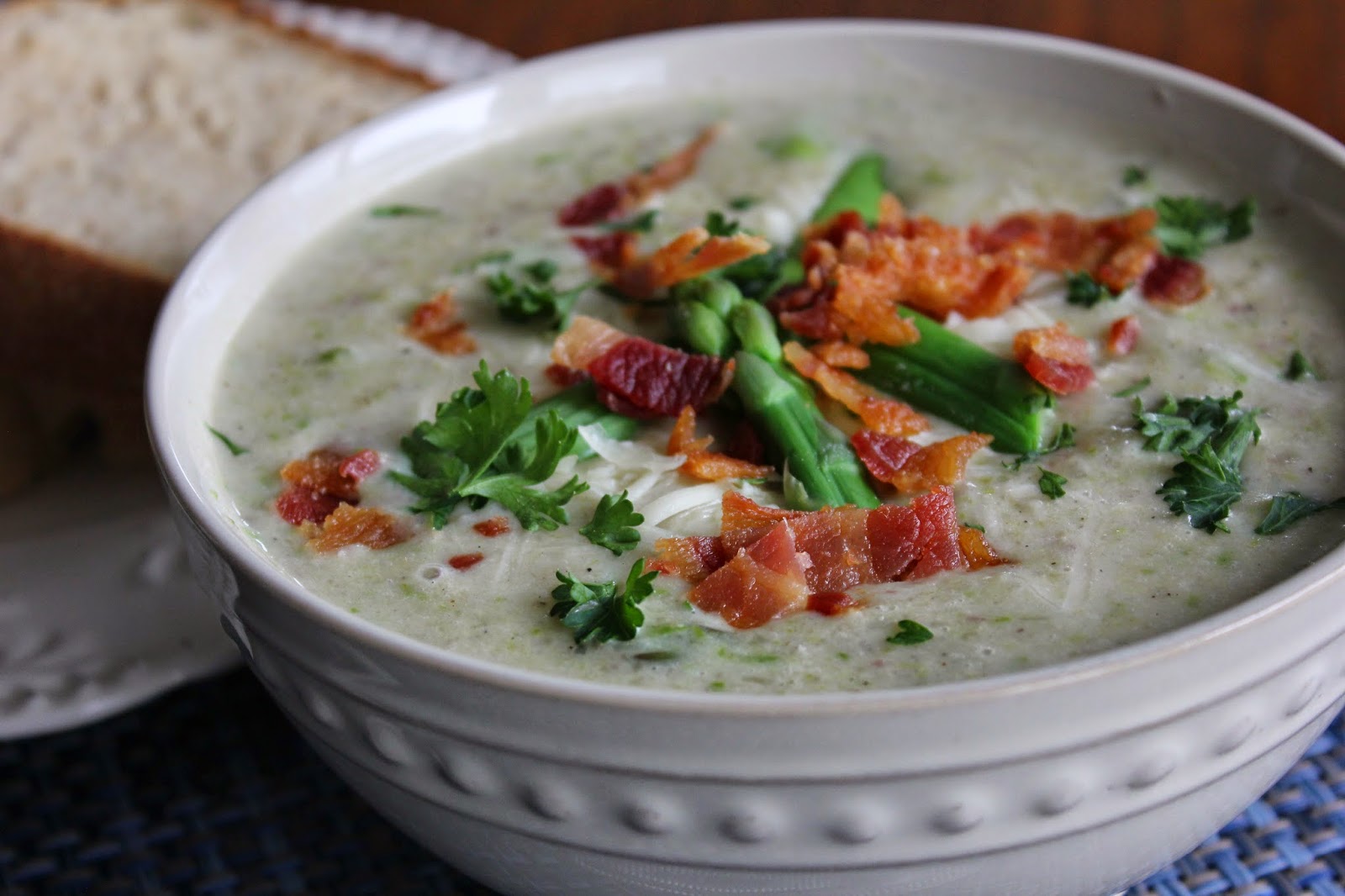 This soup had a totally different flavor than your traditional cheesy-broccoli soup. It was really delicious and different. Add some crumbled bacon on top with some extra parmesan cheese and this healthy soup will be perfect for any upcoming cold, cozy nights. Not to mention all of the ingredients for this soup are on sale this week–BONUS!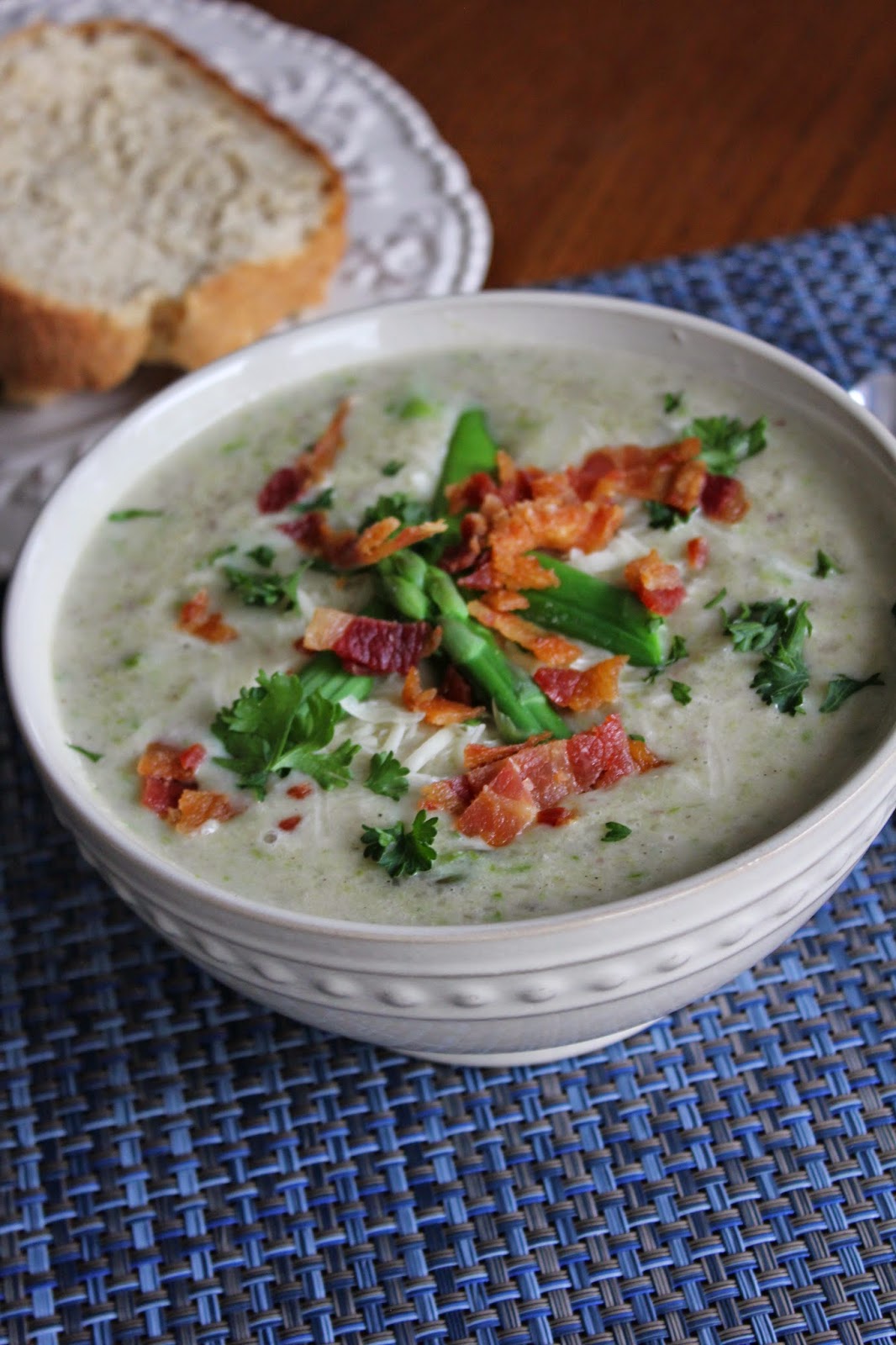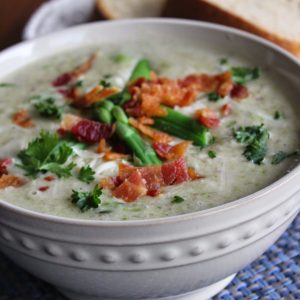 Ingredients
2

Tbs.

olive oil

1

onion

diced

1 1/2

lbs.

asparagus

cut into 1/2 inch pieces

3

cups

red potatoes

diced

5

garlic cloves

minced

1

tsp.

black pepper

1 1/2-2

tsp.

salt

4

cups

whole milk

1

Tbs.

cornstarch

1

cup

plus garnish parmesan cheese

1/2

lb.

bacon

cooked and crumbled
Instructions
Dice the onion into small pieces. Cut the red potatoes into 1/2 inch pieces (keeping the skin on). Rinse the asparagus and cut off the bottom 1 1/2-2 inches of the stalk (the hard portion). Cut the asparagus into 1/2 inch pieces, reserving about a cup for the end portion of the soup. In a soup pot, pour the olive oil and heat to medium heat. Add the onions and red potatoes and saute until they begin to be slightly tender. Add the chicken broth so that you have enough broth to cover the potatoes and onions in the pot (about 3 cups). Let the potatoes, onions and broth all boil until the potatoes are slightly tender. Add all of the asparagus minus a cup. Stir the soup and continue to cook for another 3-6 minutes, or until all of the potatoes and asparagus are completely soft. With a hand wand (or in a blender), blend the soup together until smooth. When the soup is smooth, whisk in the milk, cornstarch, garlic and seasonings. Turn the heat to medium low and let the soup simmer until you are just about ready to eat. Five minutes before serving, add the left over cup of asparagus (or you can even add more if you love asparagus) to the soup as well as the parmesan cheese. Cook to warm and soften the asparagus and then season with any extra salt and pepper as needed. Serve soup warm with crumbled bacon (optional) and more parmesan cheese.