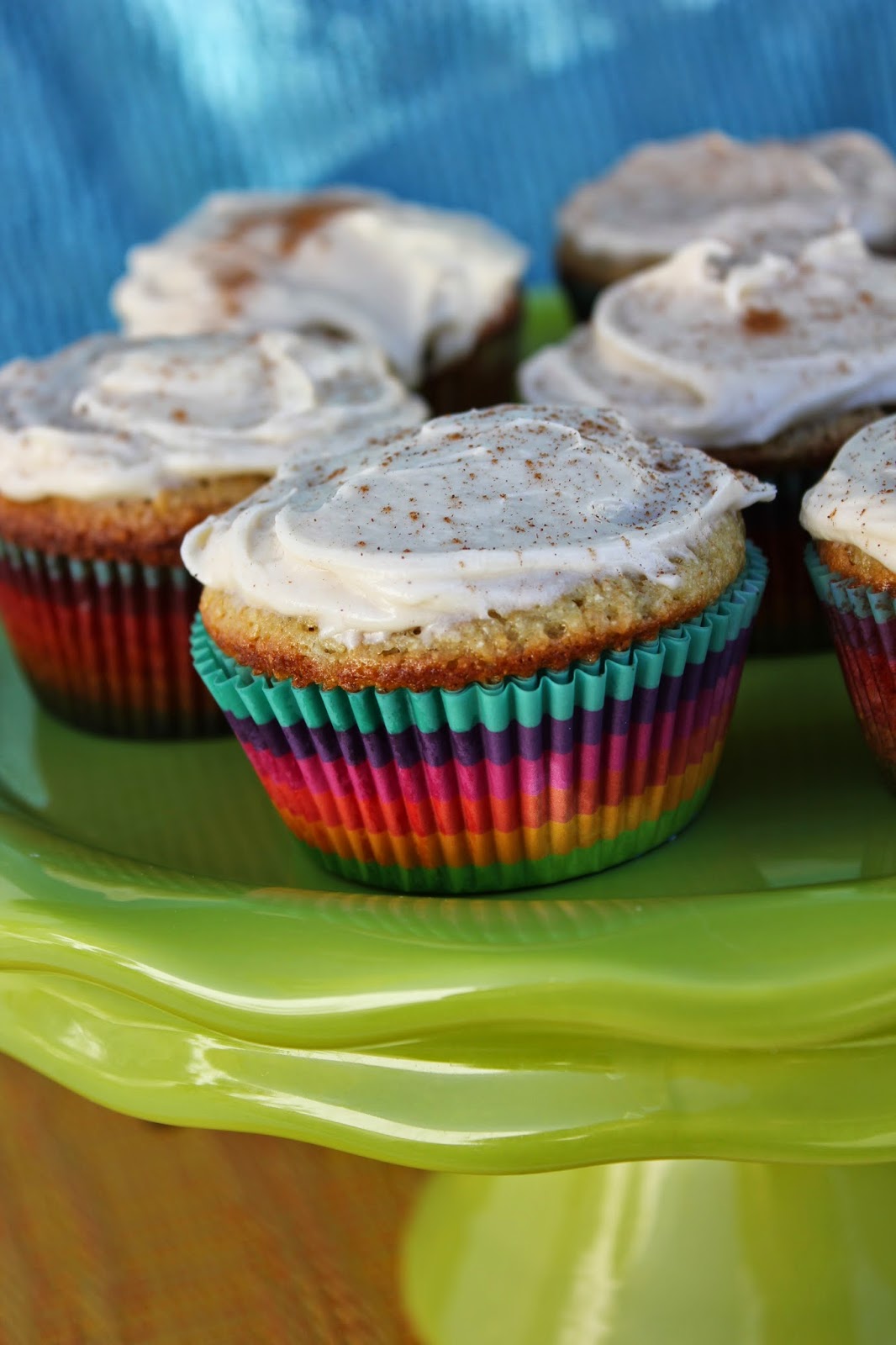 Last weekend I was craving a treat. I had several soft bananas that were needing to get used up, so I turned them into banana cupcakes. I used my favorite banana bread recipe and added my two favorite tricks to make them a little healthier. I used pureed white beans for half of the butter in the recipe and then half wheat flour and half white flour. The combination of the wheat and the white beans, actually makes these cupcakes not overly sweet and cuts down on the greasy texture. They are perfectly light fluffy. Not only is the cupcake portion delightful, but this frosting is delectable. It is fluffy, airy and has the perfect whipped texture. We just couldn't get enough of these! The perfect snack for your upcoming weekend plans 😉 Enjoy!
Ingredients
1

cup

white bean puree

1/2

cup

butter

1

cup

brown sugar

2

cup

white sugar

1/2

cup

sour cream

2

tsp.

vanilla

4

large or 5 medium eggs

3

tsp.

baking powder

1

tsp.

baking soda

1

tsp.

salt

5

ripe bananasps

3 3/4

cup

flour

I used 1 1/2 c. wheat flour

WHIPPED CINNAMON FROSTING

1

stick butter

1/2

cup

brown sugar

8

oz.

cream cheese

2

tsp.

vanilla

Dash of salt

1/2

tsp.

cinnamon

3-3 1/2

cups

powdered sugar
Instructions
Cupcakes: For the cupcakes, cream together the butter, white bean puree (or more butter), sugars and eggs until smooth and creamy. Add the sour cream, vanilla, salt and ripe bananas and beat until smooth. Add the baking powder, soda and flour until mixed thoroughly (don't over mix). Pour batter into the cupcake tins that have been well greased. Bake at 350 for 15-18 minutes, or until center is cooked through. Remove from oven and let cool, and then frost.

For the frosting: melt in a microwave safe bowl, the brown sugar and butter for 30 seconds. Stir the mixture and the microwave for 30 seconds more. Stir again and add 8 ounces of cream cheese. With an electric mixer, whip together these ingredients until the mixture is soft, fluffy and white. Add the salt, cinnamon and powdered sugar. Continue to whip until the frosting is light and airy. When cupcakes are cooled, frost the top of the cupcakes with this delicious frosting. Garnish with flecks of cinnamon if you wish.