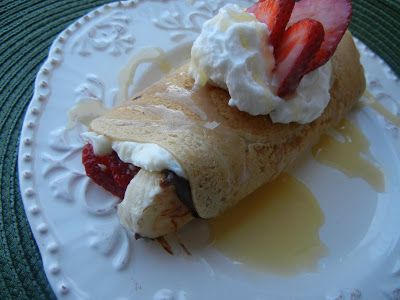 Looking for a Basic Crepe recipe you can customize with Strawberries and Nutella and all of your favorite toppings? This crepe recipe is my go-to recipe when looking to make this favorite breakfast dish. Top with whatever toppings you wish, but either way, it's going to be amazing!
I like to make this simple recipe with food storage ingredients when I need to rotate through some items. I LOVE Thrive Life Powdered Milk and Eggs and they work beautifully in this recipe. Other brands will work too, but Thrive Life sells the very best tasting and healthy egg and milk options you'll find on the market. Such important items to have in your food storage! You can also use half whole wheat flour for extra fiber if you wish.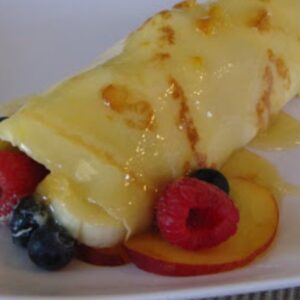 Ingredients
3

eggs

1

cup

plus 2 Tbs. milk

3

Tbs.

butter

melted

1

cup

flour

1/4

tsp.

salt

1

Tbs.

sugar

3

cups

fresh fruit of choice

1

cup

Nutella or yogurt
Instructions
Combine all the crepe ingredients in blender container; blend about 1 minute. Scrape down sides with spatula, and blend about 30 seconds more. To cook, heat crepe on medium-high heat just hot enough to sizzle a drow of water. Brush lightly with melted butter. For each crepe, pour in just enough batter to cover the bottom of the pan, tipping and tilting pan to move batter quickly over bottom. If crepe has holes, add a drop or two of batter to patch. Cook until light brown on bottom and dry on top. Remove from pan and stack on plate. Makes 12 crepes. Fill crepes with cream filling, yogurt, fresh fruit, or pie filling.

If you using powdered eggs or milk in this recipe, simply add the egg and milk portion of water to the blender and then the dry milk and eggs to the water. Blend until smooth and then continue making the recipe with the rest of the ingredients added to the blender. Cook and serve as normal.