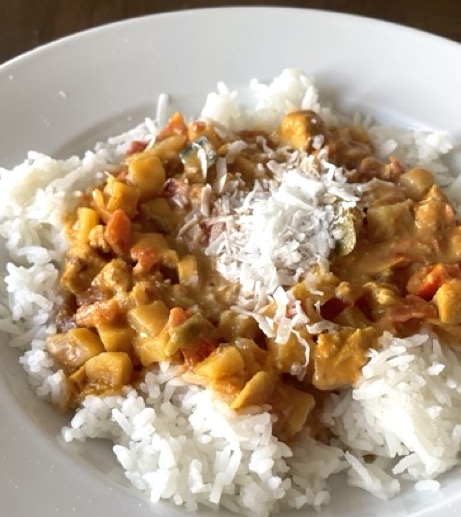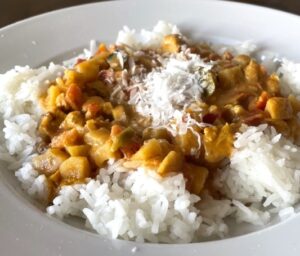 Cooking with food storage has never been more delicious than it is in this recipe for Coconut Peanut Chicken Curry. You will not believe that everything in this recipe can be stored long term. This is a go-to recipe when I need a quick meal and need to get dinner on the table in a hurry and I don't have fresh ingredients on hand. Of course you can use fresh chicken and vegetables if you have those but in a pinch this is a recipe that works great with my favorite Thrive Life Products. The Red Bell Peppers and Green Chilies are on sale this month (only through the end of June) and so it's a great time to stock up on those items. The other items in this recipe will go on sale as well! Just make sure and follow our RSS feed so you can see what's on sale each month and know when to stock up.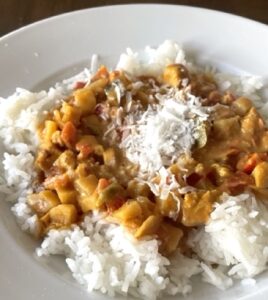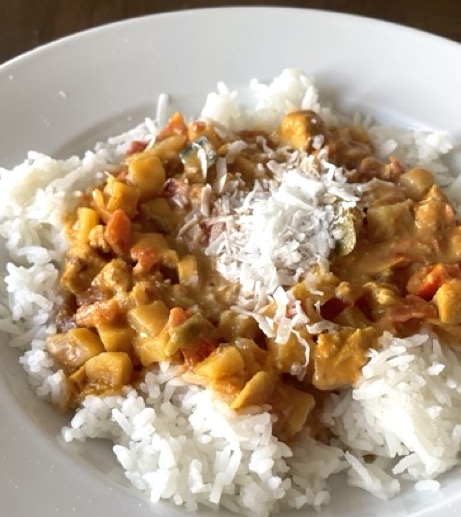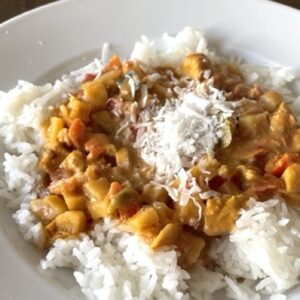 Ingredients
2

cups

Thrive Life Chicken

2

cups

water

1

teaspoon

salt

1/2

teaspoon

pepper

1 1/2

tablespoons

olive oil

2

tablespoons

curry powder

1 1/2

teaspoons

paprika substitute cayenne pepper if you like the heat

but start w/ a ½ t. cayenne—it could get too hot!

1/2

cup

sliced Thrive Life Onion

1/2

cup

sliced Thrive Life Green Bell Peppers

1/2

cup

sliced Thrive Life Red Bell Peppers

½

cup

Thrive Life Diced Carrots

optional

2

cloves

garlic crushed

2

cups

Thrive Life Diced Potatoes

2

cups

hot water

for hydrating potatoes

1 14

ounce

can coconut milk

1 14.5

ounce

can stewed tomatoes

2

Tbs.

peanut butter

1/4-1/3

cup

brown sugar

Jasmine rice cooked

Dried, Sweetened Coconut Flakes
Instructions
Place the freeze dried chicken into a bowl and pour 2 cups hot water over the chicken. Let the chicken rest for 10-15 minutes or until tender. Do the same thing to the freeze dried diced potatoes. Place the potatoes in a bowl and pour 2 cups SUPER hot water (boiling the water before actually works best). Let the potatoes hydrate along with the chicken until tender.

In a rice cooker, place 2 cups rice and 4 cups water and cook until the rice is tender.

When ready to start cooking, drain the water from the chicken and the diced potatoes.

Heat a large saute pan or electric skillet and bring to medium heat. Add the olive oil to the pan. To the hot oil add the freeze dried vegetables (onions, peppers, carrots, potatoes). Let the saute in the oil. Add a little water as needed to continue to saute while you add all of the seasonings to the vegetables.

Add the chicken to the mixture. Add the canned coconut milk, stewed tomatoes, brown sguar and peanut butter and saute until the sauce and vegetables/chicken come together. Taste the sauce and add additional salt and/or sugar as needed. You can also make the spice level as much as you would like.

Cover and simmer, stirring occasionally, for about 30 minutes or until sauce thickens. The sauce thickens upon standing, but is great served piping hot (and a bit thinner), too. Serve with Jasmine rice if desired. Garnish with flaked coconut.