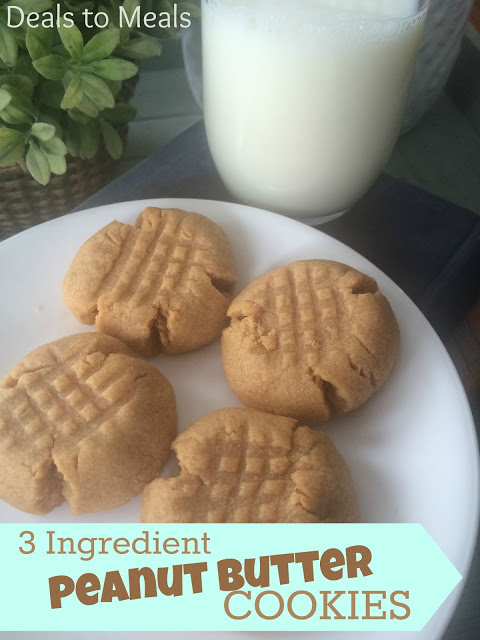 What a fun surprise I had today. I came home to Todd in the kitchen making cookies with the kids. How cute is that?!?  This may seem normal to some folks, but in the 30 years I have known Todd I have NEVER seen him bake a single thing. Of course he's cooked a hot dog or two, or even some mac and cheese on a really desperate night, but baked something? That's a first and it was so great! Not to mention
the cookies he made tasted better than my 'normal' peanut butter cookie recipe. I knew there was some sort of magic recipe to get him in the kitchen baking. Well, it was just that! A Magical 3 Ingredient Peanut Butter Cookie Recipe was tested in our kitchen today and the results got rave review! Just peanut butter, sugar and an egg. How simple is that? Crazy enough, these cookies were soft, sweet and totally moist (I hate me some dry cookies). Delicious, simple and easy enough your 3 year old could make them 😉 Not to mention, these cookies are dairy and gluten free–bonus!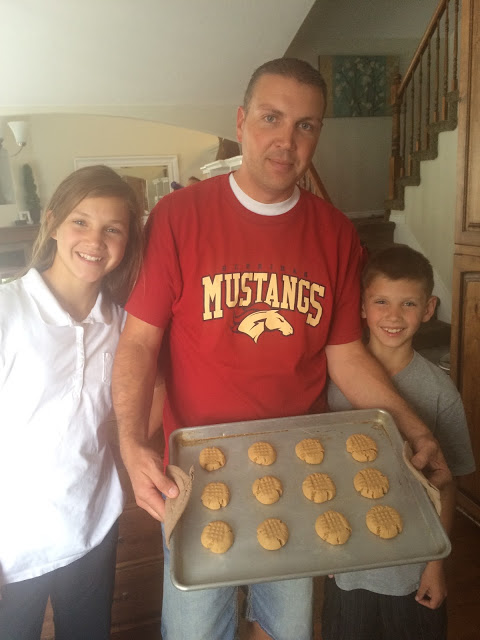 These cookies today were made at the perfect time because peanut butter is on sale for GREAT prices this week.  Many states have Skippy and/or JIF peanut butter on sale for over 50% off Walmart's regular prices. It's the perfect time to stock your food storage and pantries.
Login to Deals to Meals
to find the best peanut butter (and other) deals in your area.
*Want to buy a year supply of peanut butter? We recommend at least 4-5 jars per person for a year supply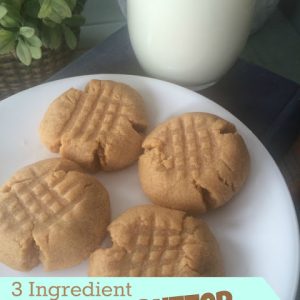 Ingredients
1

cup

creamy peanut butter

1

cup

granulated sugar

1

egg
Instructions
Mix together until smooth. Spray a cookie sheet and place a golf sized ball of dough onto the cookie sheet. Fork with a fork in a criss cross pattern and bake at 350 for 8-10 minutes, depending on the size of your cookie ball. Remove from the pan and let cool slightly.
Once you are well stocked on peanut butter, here are a few of my other favorite peanut butter recipes to tempt your appetite 😉