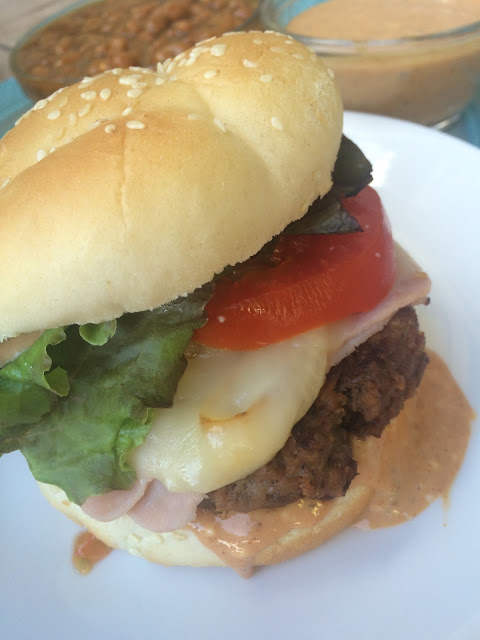 There is this delicious and quaint hamburger joint in a city not far from our home called Heber Utah. It's called the Dairy Keen and they have the most amazing 'Train Burger' that we always get anytime we are close by. The other day we drove past Heber but ran out of time to stop in and get some food, so I was craving their burger ever since. The other night I decided to recreate my own 'train' burger and it was fabulous!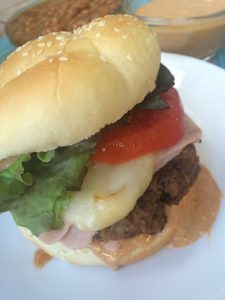 There is nothing super fancy about this burger other than the fact the train sauce is AWESOME and the burger is topped with melted Provolone cheese and sliced ham. The combination of the entire, juicy burger is everything you crave in a homemade burger. If you have plans this weekend to fire up the grill, these burgers would be a delicious addition to your Labor Day weekend! Enjoy 😉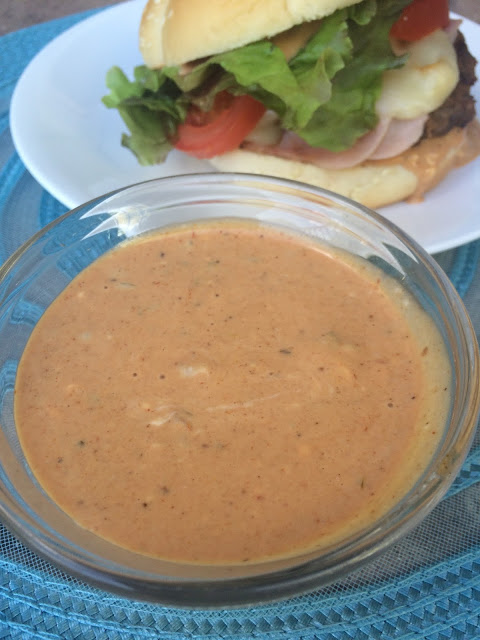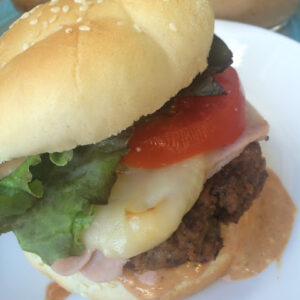 Ingredients
HAMBURGER:

2

lbs.

lean ground beef

1

onion

chopped

1/4

cup

bbq sauce

1/4

cup

panko or bread crumbs

1-2

tsp.

Montreal Steak Seasoning

TOPPINGS:

6-8

hamburger buns

6-8

pieces

romaine lettuce

2 to

matoes

sliced

1

red or white onion

sliced

6-8

slices

Swiss or Pepperjack cheese

6-8

slices

of deli lunchmeat ham

TRAIN SAUCE:

1/2

cup

mayonnaise

1/2

cup

bbq sauce

2

Tbs.

dill relish
Instructions
For the hamburger, chop the onion into very fine pieces and add to the ground beef in a mixing bowl. Combine the other hamburger ingredients together and mix until well incorporated. Patty hamburger into 6-8 patties, depending on the size of your buns. Place the hamburger patties on a hot grill and grill until cooked through and the center of the meat is no longer pink (about 6-8 minutes on each side). While the hamburgers are cooking, prepare the lettuce, slice the tomatoes, and cut the onion. For the train sauce, stir together the three ingredients and set aside. For the last few minutes of the burger cooking, place a slice of ham on top of the burger as well as a slice of cheese. Put the lid back on the grill and let the cheese and ham warm up. Once the cheese is melted, place the burger on the bottom bun. Top with some train sauce and your favorite hamburger fixings (lettuce, tomatoes, etc.).