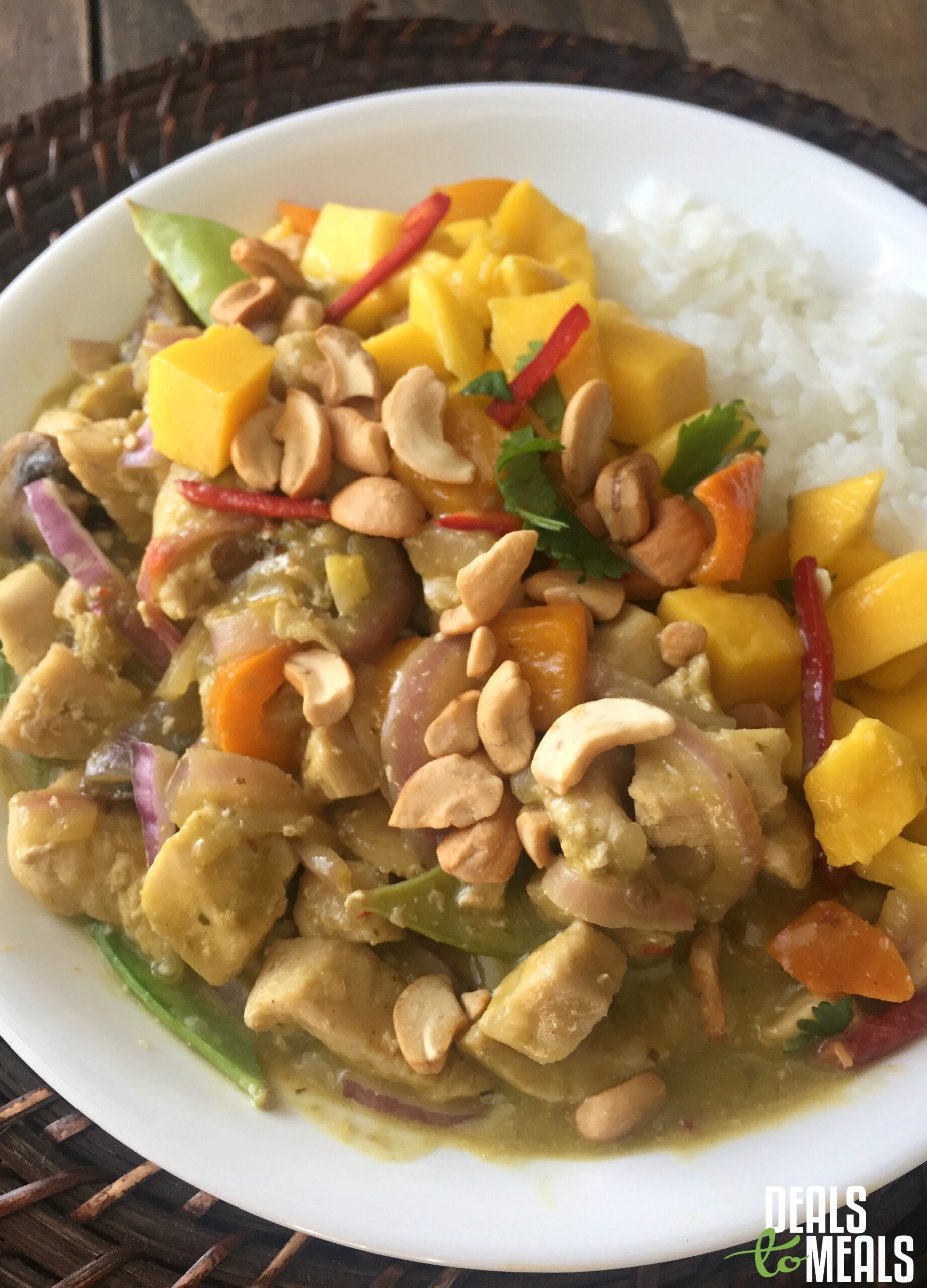 If you love Asian or Thai flavors, you're going to love this recipe for Thai Coconut Lime Chicken! This is a Cheesecake Factory copycat recipe and it's so amazing you will feel like you are eating out at your favorite restaurant. Although I have my favorites on the Cheesecake Factory menu, there are times I want to branch out a little and try a new meal. They had just added this recipe to their menu and I was excited to try it. This recipe did not disappoint.  It was so full of flavor, texture, sweetness, a little spicy, creamy and sweet. The mango salsa on top was one of my favorite parts. Add the spicy curry chicken sauce and it's delicious new recipe to help get your kids to eat their veggies; )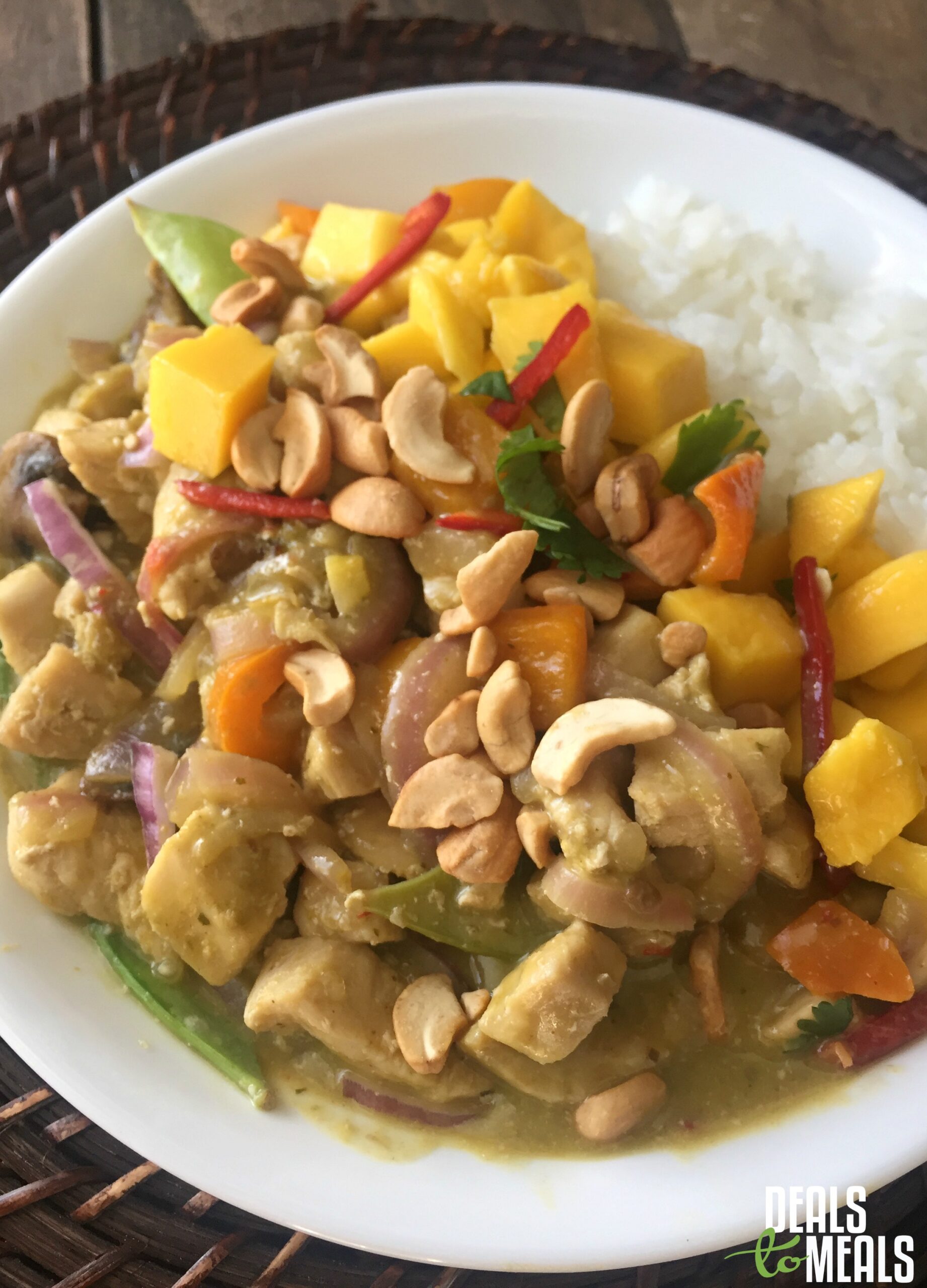 Visit www.dealstomeals.com for  this recipe, along with the other meal planner recipes for this week. If you are new to Deals to Meals or want to try a membership to our service, you can take advantage of this one-time low pricing rate! All you need to do is visit this post to find out how to sign up for $3.50 a month. That's the price of a gallon of milk. Start saving $100's on your groceries and learning to cook healthy, homemade, delicious meals like this recipe. Hope you enjoy 😉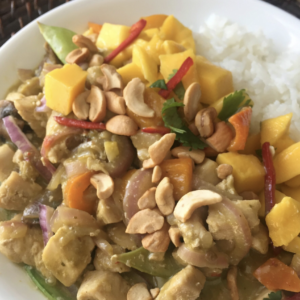 Ingredients
CURRY SAUCE:

2

cans coconut milk

1/4

cup

honey

3

limes

1 zested & 3 juiced

1/4

cup

rice vinegar

2

tbs.

green curry paste

1

tsp.

salt

or more to taste

1

tsp.

garlic powder

1/2

tsp.

cumin powder

1/2

tsp.

paprika

1/2

cup

cilantro

mango salsa:

3

mangos

diced

1

red onion

diced

2

tbs.

cilantro

chopped

1

jalapeno pepper

diced

STIRFRY:

8

oz.

white mushrooms

sliced

1

orange bell pepper

1/2

lb.

snap peas

chicken:

olive oil

2

tbs.

cornstarch

4

chicken breasts

diced

4

cups

cooked rice

1/4

cup

cashews

optional
Instructions
Start the rice in a rice cooker so it's ready to eat with the chicken mixture.

On a cutting board, cut the mushrooms into slices. Cut the bell pepper as well. Set aside the mushrooms & bell pepper. For the mango, peel and dice the mangos, chop the red onion and dice the jalapeno pepper, and place in a bowl. Chop the half cup of cilantro. Add 2 Tbs. to the mango salsa and set aside the rest for garnish at the end of the dish.

Dice the chicken into bite sized pieces, and remove any excess fat. Place the chicken into a bowl or Ziploc gallon sized bag. Sprinkle the cornstarch over the chicken pieces and toss. Heat a griddle or large saute pan and drizzle the olive oil into the pan. Turn to medium-high heat. Place the chicken into the pan, keeping them in a single layer. Brown the chicken on the bottom side and cook until golden brown. Turn the pieces of chicken to the other side and continue to cook until the chicken is just about cooked through. Add the mushrooms and bell pepper to the chicken and continue to cook until the mushrooms and pepper are just tender. Remove the chicken and mushrooms from the pan and set aside.

In the same pan the chicken was cooked in, add the coconut milk, honey, lime zest, lime juice, green curry paste, salt, garlic powder, cumin powder, paprika, and rice vinegar. Bring this mixture up to a boil and simmer until the sauce begins to thicken slightly. If the sauce doesn't thicken, add a little cornstarch in a small amount of water and add this slurry to the sauce. Once the sauce is to your desired thickeness, add the chopped cilantro. To keep the color vibrant, don't add the cilantro until just about ready to serve. Add the pieces of chicken, mushrooms and bell pepper to the sauce. Add the snap peas. Stir and let the mixture come to a low boil. Once it's all warmed and bubbly, it's time to serve over the cooked rice.

Serve this sauce and chicken over the cooked rice. Top the sauce with the mango salsa and some chopped cashews.