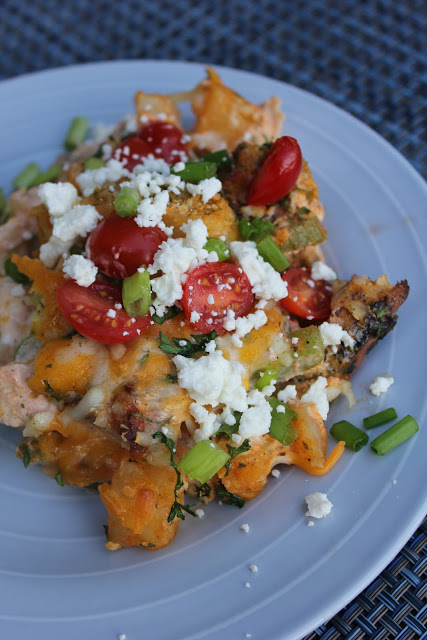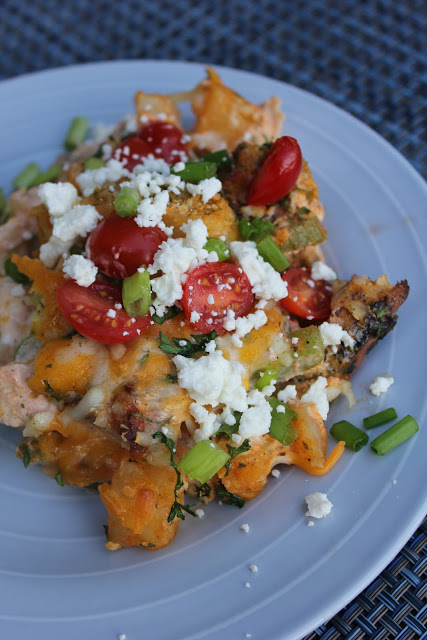 It's probably not a surprise to you, but I am addicted to anything buffalo, spicy and cheesy. Our Buffalo Chicken Salad is one of my favorite salads, and this dish has some of the same flavors, but smothered all over cheesy potatoes. If you are looking for a quick, weeknight meal, this is the one for you! I had leftover baked potatoes from a meal and used the frozen, grilled chicken from my freezer and this dinner came together in only a few minutes. Top the casserole with feta cheese and fresh tomatoes and it's a delicious casserole your family will love!
Cheesy Chicken Buffalo Casserole
5 large russet potatoes, cooked, peeled and cubed
3 chicken breasts, cooked, cubed and seasoned with salt & pepper
3/4 c. ranch (good quality)
1/2 c. sour cream
1/3 c. mayo
1/4 c. celery, diced small
1/3 c.-1/2 c. Franks hot sauce
2 T. fresh parsley, chopped
1 c. colby jack cheese, shredded
1 c. tomatoes, diced (I liked grape tomatoes)
1/4 c. green onions, sliced
Feta cheese, optional
Scrub the potatoes, poke with a fork and place in a microwave for 5-8 minutes, or until soft. Remove from the microwave and peel the skin from the potatoes. Cube the potatoes into bite sized pieces and place in a greased 9×13 dish. Cook the chicken breasts, season with salt & pepper and cube. Place the chicken over the potatoes. Slice the celery, and add to the mixture. In a bowl, mix together the sour cream, ranch and mayo. Pour over the potatoes, chicken and celery and coat with the creamy mixture. Sprinkle the shredded cheese over the potatoes, and sprinkle the parsley over the cheese. Bake for 25-30 minutes, or until the cheese is melted and slightly golden brown. Once the casserole is cooked, garnish with sliced green onions, feta cheese and diced tomatoes.