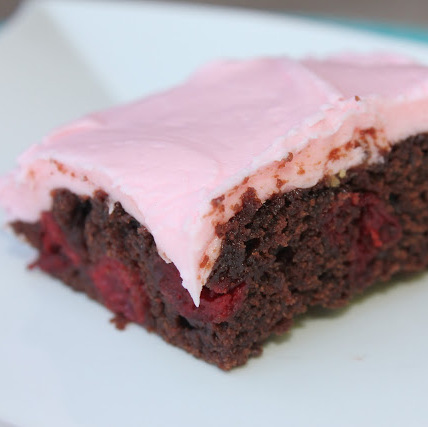 Thanks to those of you who came and visited our charity bake sale.  We had an absolute blast!  It's amazing how great service feels.  We were all nothing but smiles, and sometimes tears at how generous and kind people are.  It is a great reminder that even though there is a lot of bad and ugly things in the world, that people are legitimately kind and good hearted. There were many times we were choked up when people would hand us $40 for a plate of cupcakes, or a $100's for a plate of cookies.  We were all touched and thankful for so many who came and supported this great cause!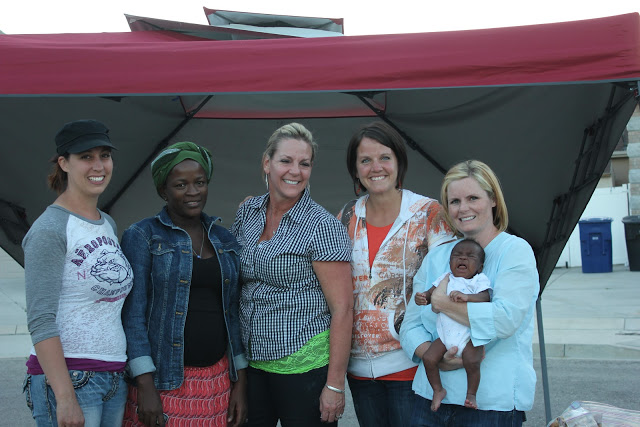 If any of you feel inclined to start this tradition in your neighborhood, I would say do it!!  It was a great bonding experience for all of us, as well as our kids to work on this project together.  We were thrilled when we found out we raised just under $1,000!  We can't wait to see if we can do even better next year 🙂 I am grateful for great friends who are so supportive of our crazy ideas! We were so glad our friend Millan and her baby Rodney (from Haiti) could be there to see everyone's support.
We kept losing Blake with all of the people, so someone had a brilliant idea to tie balloons to him so we would always know where he was.  I need to do this more often!!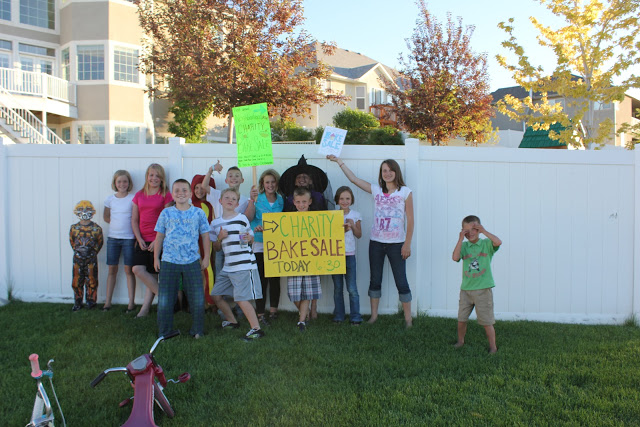 The kids had a fun time on the corner trying to direct traffic to our sale.  A few of them even thought if they dressed up in costumes they would get more customers.  I think the hot dog costume did the trick :O)
Now..let's talk amazing food!  We had seven tables filled with some of the most delicious treats and food we have ever tasted. Several items were huge hits!  Homemade wheat bread were some of the first to go, we will have to make several more loaves next year.  My friend Camille's Cinnamon Rolls were gone before you could blink an eye.  We also had banana bread, chocolate chips cookies, pizza rolls, calzones, chocolate mint brownies, breadsticks and MUCH more!
I am excited to share two new recipes that were sold at our bake sale that were BIG hits!  First, are my friend Betsy's Cherry Brownies.  They are super simple to make, but so moist and delicious we all couldn't get enough.
The second recipe we all loved was my friend Chrystal's recipe for Butterscotch Bars.  They are buttery, rich & amazing! The jelly roll sized pan was sold before the first 15 minutes were up.  Next year, we'll have to make a few more batches 🙂
[buymeapie-recipe id='595′]