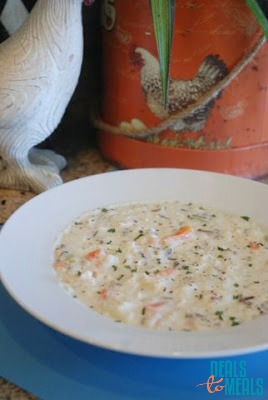 Onto our first, and one of my favorite, rice dishes of all time. I was given this recipe while I was at college, thanks to my roommate Emily. Let me tell you it was easy to win your heart over while being at school and living off of "college food." So when my roommate would bring it home from her mom, we would all try to be extra nice to win a bowl of this delicious soup. Since then this has become one of my signature dishes I make quite often. It is a great recipe that can be quickly made and brought to neighbors, friends or to a large gathering.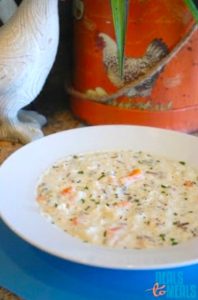 Whether you live in Utah like me, and are enjoying this winter wonderland in the middle of April (ugh!) or somewhere warm, you will love this creamy, rich soup. Adjust this recipe to your family's taste buds or likes/dislikes. I usually add whatever vegetables, milk or rice I already have in my fridge or freezer. This recipe also calls for half & half but if you are counting calories you can replace that with 2% milk (I wouldn't recommend skim), water & powdered milk, or whipping cream from your freezer. Whatever you use will turn out beautifully, it's a very forgiving soup 😉
One more tip, add a lot of black pepper, the extra spice gives this soup a nice flavor and kick.This soup will also need more salt than you would think–don't be afraid to over season this soup, it needs a lot of flavor with all of the cream and white rice. One other tip, use the shredded chicken from your freezer to help this meal come together in minutes. I love to serve this soup with our family favorite breadsticks!! Enjoy 😉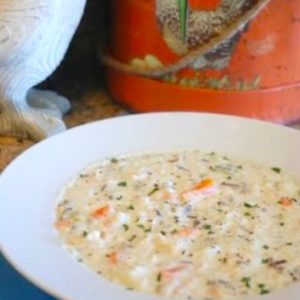 Ingredients
1

large onion

diced

2

cup

carrots

diced

1

cup

celery

diced

1

stick butter

melted

1

cup

flour

5-6

cup

whole milk

half & half, heavy whipping cream or water with powdered milk

1-2

cans chicken broth

start with one and see if you need the other

4

cup

cooked white rice

long grain, basmati, jasmine, etc. will work well

1/2

cup

cooked wild rice

4

large chicken breasts

cooked and shredded

2

Tbs.

salt

1

Tbs.

pepper

2

tsp.

garlic powder

Dash of cayenne pepper

2

Tbs.

dried parsley
Instructions
In a rice cooker, place the white rice and wild rice with water and let it cook until the rice is tender. While the rice is cooking, prepare the other ingredients.

Dice the onion, carrots and celery into small pieces. In a large soup pot, saute the carrots, celery and onions with the butter. Saute on medium heat until the vegetables are soft. Add the flour to the vegetables and season with salt, pepper, parsley and garlic powder (or fresh garlic). Combine until flour is evenly distributed on the vegetables. to the vegetables and flour mixture add the milk, chicken broth, cooked rice, cooked wild rice and stir until combined.

If you have frozen, cooked chicken in your freezer use that--if not, just saute or boil the chicken breasts and then shred or cube before adding to the soup. When chicken is cooked, add to the soup and stir.

Season the soup with all of the seasonings. If the soup is too thick, add more milk or chicken broth. This recipe can easily be adjusted with more broth or milk to make the soup to your desired consistency. Simmer the soup for 30 minutes on low heat until ready to serve. Taste soup to see if any more seasonings, salt or pepper are needed. Garnish soup with extra parsley (dried or fresh). **Soup will be as thick as the type of milk product you use. If you use heavy whipping cream your soup with be extra thick and creamy. Using 2% milk however, will give you a thinner soup but still be delicious. If your soup is too thin you can always add a little more flour or cornstarch to your soup and let it simmer.