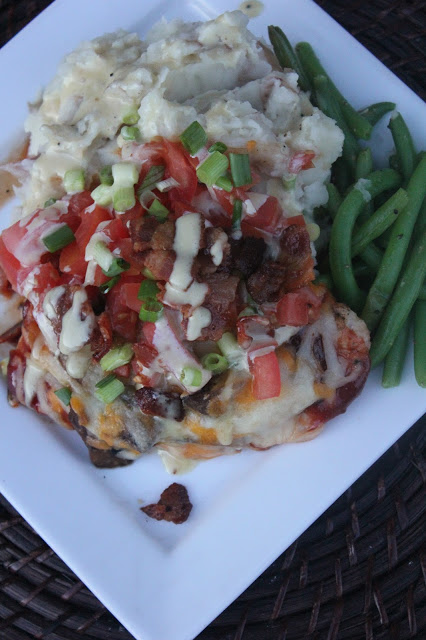 Isn't it funny how different recipes can trigger so many different memories and emotions? This smothered chicken has been in my life for a long time. We go WAY back 😉 One of my husband's and my first 'real' dates was to the Outback Steak House. I felt like we were high rollers when we went
there for the first time. I asked the waiter what his favorite dish was on
their menu and he said their Alice Springs Chicken. I felt like I had died and gone to heaven when I took my first bites. I had never tasted so many different flavors in one dish. You had the sweetness of the honey mustard sauce with the salty and crispy bacon, all covered in gooey cheese and topped with fresh tomatoes and green onions. I mean, this entire dish is like a party on a plate. There is nothing not to fall madly in love with. I felt the same way about my hubby all those years ago!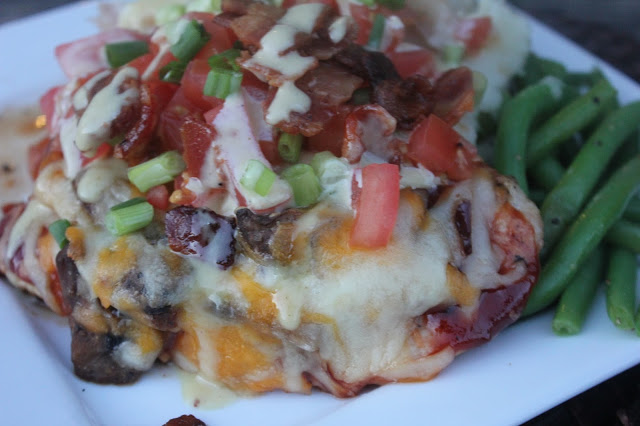 After our first date to the Outback, I then found a similar recipe on Chili's menu for Smothered Chicken. Our newly married budget could hardly afford the Chili's version, but I just 'needed' that dish in my life.  I remember one desperate dinner date with my hubby and three small children. I was thoroughly enjoying my Smothered Chicken when to my horror, our 3 year old son picked up a ketchup bottle (glass mind
you) and before we could stop him he chucked that bottle as hard, and far as he could. It ended up hitting this poor old, bald man smack dab in the middle of his head. Ah!! We were humiliated. We ran over, apologized, left Chilis  (with my plate nearly full—sad!), all three kids screaming and have never been back.  Not our best dining experience, that's for sure.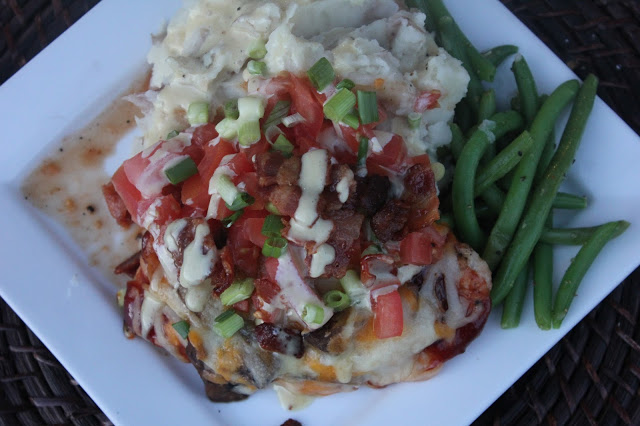 So, needless to say, I spent months trying to recreate
Smothered Chicken in the confines of our own home. Ketchup bottles all under lock and key in our fridge 😉 I am proud to say, this has been a favorite meal around our home ever since. We l.o.v.e. this meal!! It is my go-to crowd pleaser recipe and I can't count the amount of times I have catered this meal for large events. It's one of those flawless recipes that everyone will love. I know I shared this recipe with you many moons ago, but I thought it deserved another moment in the spotlight. I hope you love this dish as much as we do!
And the best part about it, is I made this meal for my family the other day and calculated it cost well under $15 to feed all 7 of us (with lots of leftovers)—that's less than the price of ONE plate at Outback—how great
is that?!?  This week chicken, bacon, mushrooms, tomatoes, potatoes, and cheese are all on sale. Thus…this meals is on our meal planner for your enjoyment this week! I can't wait to hear what you think when you give it a try. Login to Deals to Meals, to find all of the best grocery deals. Enjoy!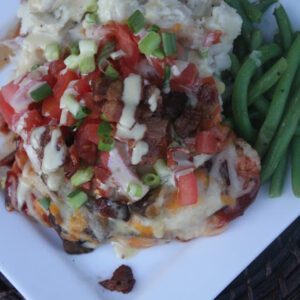 Ingredients
Montreal Steak Seasoning

1

Tbs.

olive oil

8

oz.

white mushrooms

sliced

1

cup

shredded colby or cheddar cheese

1/2

cup

green onions

sliced

1/2

cup

bacon

cooked and crumbled

1/2

cup

tomatoes

diced

1-2

cups

bbq sauce

HONEY MUSTARD SAUCE

1

cup

mayonnaise

1

cup

Dijon mustard

1/4-1/2

cup

honey

1/8

tsp.

cayenne pepper

1/4

cup

lime juice

1

tsp.

ginger powder
Instructions
Cut off any excess fat from the chicken breasts. Place one chicken breast at a time into a Ziploc gallon bag and flatten the chicken with a mallet to 1/4 inch thick. Remove the chicken from the bag and sprinkle with seasonings. In a skillet, brown the chicken in the oil for 4 minutes, or until golden brown (or you can grill the chicken breasts until just under done). In a separate saute pan, cook the bacon until crispy and then set it aside. Drain most of the grease from the pan, and then saute the mushrooms until tender.

Lay the chicken breasts into a 9x13 pan and drizzle on top of the cooked chicken a generous amount of bbq sauce. Then, top each chicken with the bacon/mushroom mixture, and top with the shredded cheese. Cover the chicken with tinfoil and cook until the chicken is done and cheese is melted, about 10 minutes at 350 degrees. When the chicken is cooked and out of the oven, add to the top the sliced green onions and diced tomatoes (for garnish). Serve with garlic mashed potatoes and honey mustard sauce. For the dressing: combine all of the ingredients together until smooth. Store in the fridge until ready to serve with chicken breasts.