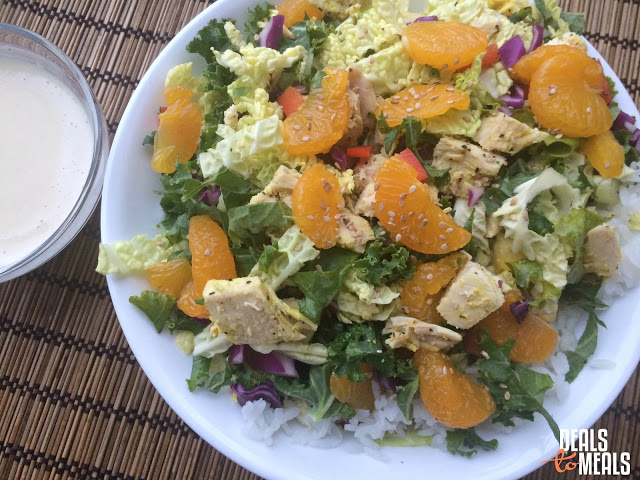 Do you ever have those recipes you mean to make for years but you just never get around to it? I have had this Applebee's Copycat recipe in my recipe files for probably five years now. I'm not sure why it's taken me so long to make this recipe, but I finally had all the ingredients tonight and threw this together for dinner. It was simple to make, made of delicious fresh produce I bought on sale today and was so delicious! Even though a salad wasn't comfort food on such a snowy, cold night, it was nice to eat some extra veggies and have a light meal. This salad is extremely healthy, especially if you use fat free mayonnaise. This is a great salad to add to your weekly meal planner. Hope you love this salad. Thanks for stopping by!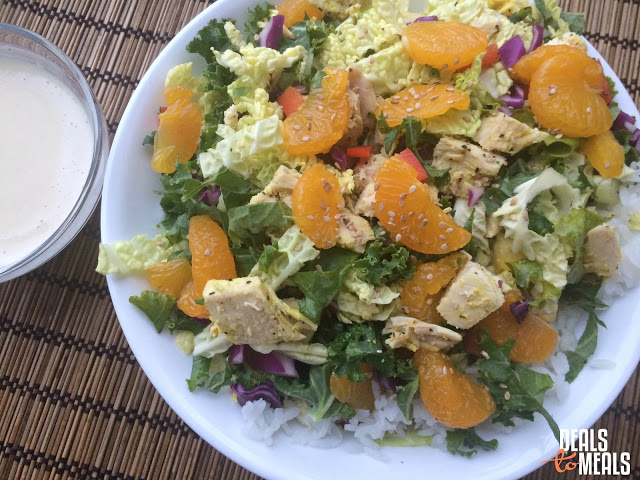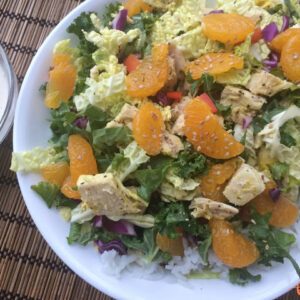 Ingredients
1/3

cup

honey

1/2

cup

rice vinegar

3/4

cup

mayonnaise

2

Tbs.

Dijon mustard

1

tsp.

sesame oil

Dash salt

1/4-1/2

tsp.

cayenne pepper

SALAD

4-5

boneless skinless chicken breasts

grilled

1

red bell pepper

diced

2

Tbs.

sliced almonds

1

head romaine lettuce

chopped

1/2

head red cabbage

sliced thin

1

head nappa cabbage

sliced thin

1/2

cup

carrots

shredded

1/2

cup

Chinese noodles

1

or 2 cans mandarin oranges

drained
Instructions
For the dressing, blend together all of the ingredients in a small bowl with a whisk or mixer. Refrigerate while you work on the salad.

If you like crispy chicken, bake some frozen chicken strips (from the store) or bread your own chicken strips and bake until cooked through. If you want a healthier option, grill boneless chicken breast and cook until no longer pink in the center. Season the chicken with salt and pepper. Dice the cooked chicken into cubes and set aside while you prepare the salad.

Chop and slice into thin strips the romaine, nappa cabbage and place in a large salad bowl. Slice the red cabbage super thin as well and add to the salad bowl. To the salad, add the chopped chicken, sliced almonds, sliced red pepper, shredded carrots, diced celery and drained mandarin oranges. Drizzle the salad with the dressing and top with the Chinese noodles.