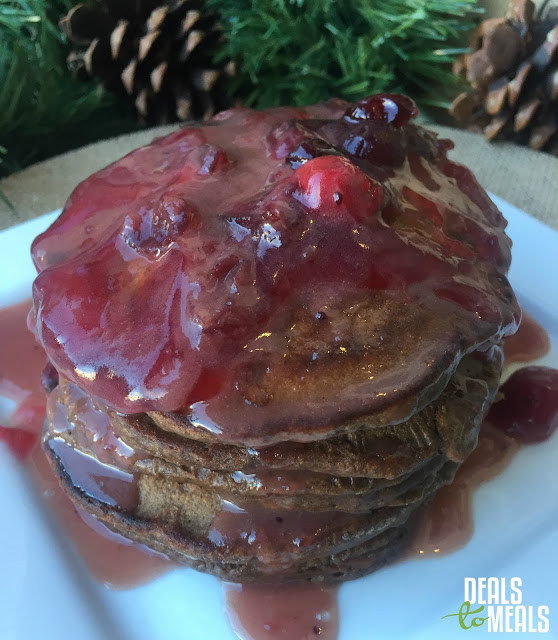 The holiday's are in full swing and I am loving spending my extra time with my family. This time of year is the really the best! This recipe for Cranberry Chocolate Pancakes with Cranberry Syrup makes life even better!
I love the combination of cranberry and chocolate. It makes for such a rich, dark pancake that is super moist and spongy. The sweet cranberry syrup is a perfect compliment for these pancakes, a little sweet and tart. These pancakes are a fun, holiday recipe to serve for a holiday brunch, Christmas morning or a quick, weeknight meal. Hope you enjoy!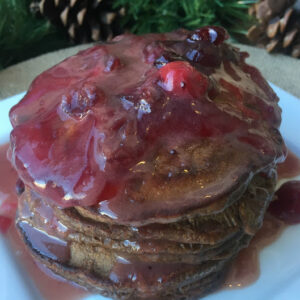 Ingredients
2

cups

milk

1/2

can

12-14 oz. cranberry sauce

2

eggs

2

tsp.

baking powder

2

tsp.

baking soda

3/4

tsp.

salt

2 to 2 1/2

cup

flour

1/3

cup

cocoa powder

CRANBERRY SYRUP:

1

stick butter

1/2

can

12-14 oz. cranberry sauce

1/2

cup

sugar

1

tsp.

vanilla extract

Dash of salt

1/4-1/2

cup

evaporated milk
Instructions
In a mixing bowl, with a whisk, whisk together the milk, canned cranberry sauce, and eggs until smooth. Add the remaining ingredients to the pancakes and continue to mix until well combined. For the sauce, put the ingredients together into a sauce pan and bring to a simmer. Once the sugar is dissolved and the sauce has thickened, remove from the stove and set aside while you make the pancakes. If the syrup is too thick, you can add more evaporated milk if needed to thin out the syrup.

Heat a griddle to medium heat and spray with cooking spray or a little bit of butter. Once the griddle is hot, pour a 1/3-1/2 cup of the pancake batter onto the surface and cook until the under side of the pancake is golden brown. Once it is, flip the pancake and cook on the other side. Continue to do this for all of the pancake batter (you can freeze extras of the pancakes for later). Serve the pancakes with the cranberry syrup.
If you have Thrive Life's Cranberries in your storage, they work perfectly in this recipe as well! I love using their Powdered Milk in pancake recipes to save me from having to buy more milk at the grocery store. Their milk is SO easy to add to recipes. Simply add the powdered ingredients to the recipe and then water. No need to mix up before hand. Their eggs work great in this recipe as well! Simply add the dry and wet the same you would as the milk. So simple!