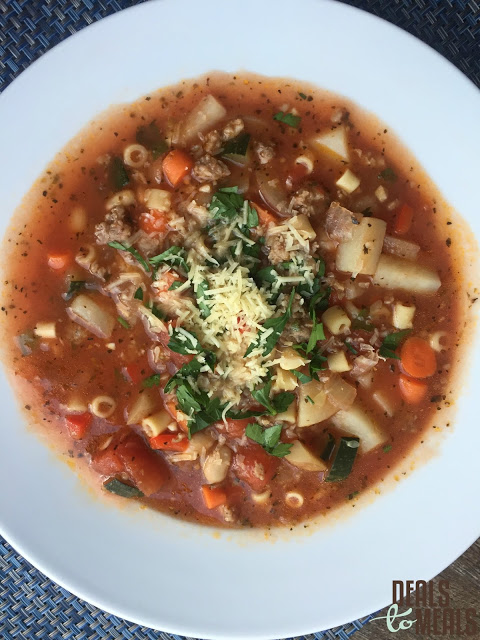 There is something about this time of year that makes me want to eat soup and homemade bread every night. It makes for a simple meal plan because soups are easy to make with most basic ingredients you have on hand in your food storage or fridge. The other day I was needing something quick and easy, that would also warm our bellies on a cold, winter night. I remembered a soup I had made a long time ago with pasta, beans and potatoes in it. It's one of those soups that 'stick to your ribs' without being overly fattening or creamy. I love all the vegetables in this soup, but the meat and carbs make it so my husband likes it too. Serve this soup with some of your favorite bread recipe. Here are our favorites: BREAD RECIPES.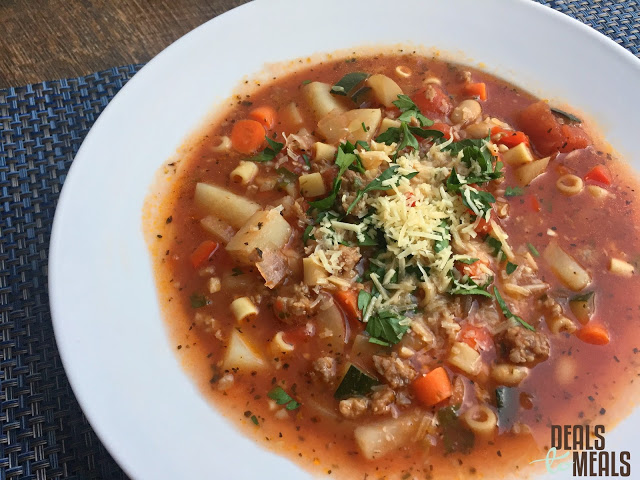 Nearly all of the ingredients you will need for this recipe are on sale this week. You could easily make this soup for less than $10 and have plenty to serve a family of 6-8 people. Login to Deals to Meals to see all of the best grocery deals in your area–along with our new, delicious meal plan to make your cooking life easier 😉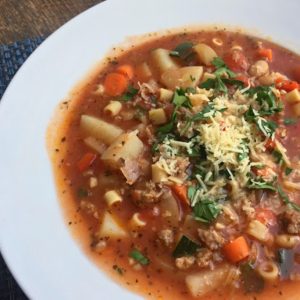 Ingredients
2

tsp.

olive oil

1

lb.

Italian sausage

1

onion

chopped

4

garlic cloves

minced

2

15 oz. cans diced tomatoes

4

cup

chicken broth

2

15 oz. cans white beans, drained

1

tsp.

dried basil

1

tsp.

dried oregano

1/2

tsp.

red pepper flakes

Salt & pepper to taste

1

cup

small pasta

tube, macaroni, etc.

1-2

cup

fresh baby spinach

chopped into large pieces

2

Tbs.

fresh parsley

or 1 t. dried parsley

1/2

cup

parmesan cheese

garnish
Instructions
Heat the olive oil in a large pot over medium heat. Add the diced onion and sauté for 3-4 minutes or until softened. Add the sausage, and cook until done and well crumbled. Add the garlic and stir constantly for 60 seconds then add the chicken broth. Pour the tomatoes and their juices into the pot. Add the drained beans and seasonings to the soup and simmer partially covered for 1-2 hours. When you are ready to eat, turn the soup up to a slow boil then add the pasta and cook until the noodles are al dente. Taste the soup and re-season if needed. Once the pasta is cooked, add the fresh spinach and parsley. Serve with a bit of Parmesan cheese on top.
Notes
Be careful not to add more pasta because it will thicken up the soup too much.