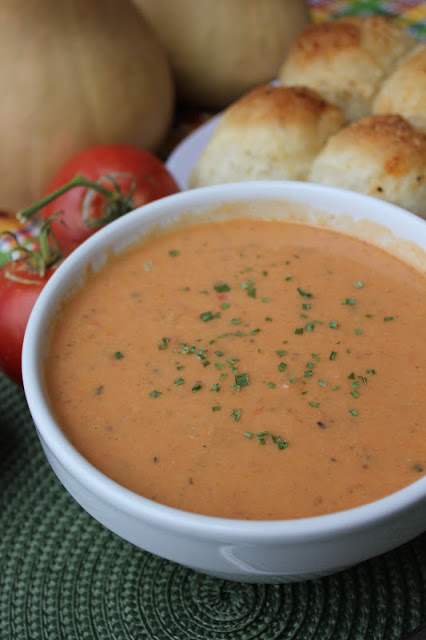 Thank you to everyone for all of your delicious butternut recipe ideas. It seemed a butternut soup was definitely going to be on my list of recipes to try since we harvested 15 butternut squash's from our garden. I planted this plant on a last minute whim and was shocked to see that I had 15 of them up in my garden. My garden had a crazy year. I had few tomatoes, sub-par peppers, but my squash, zucchini's and carrots were on steroids (or something like that ;)! My children had their annual zucchini carving contest out of zucchini's that were larger than my son's leg–a highlight of their summer I am sure 😉 I can only make so many loaves of zucchini bread before I start to see them growing on my hips!!
So, the zucchini are all thrown away and I was now ready to experiment with butternut squash. I found a recipe from Melanie at Mels Kitchen Cafe for a tomato-butternut soup and I knew this was the version for me! I was looking for more of a savory soup and something that my kids would actually eat. My children love my Creamy Basil Tomato Soup, so I knew I would have better luck tricking them into a tomato soup verses a butternut squash soup. The orange soup color I think might have wigged them out!?!
I was right! They all loved this soup and had no idea there was a secret ingredient in there filled with lots of vitamins and goodness. We ate this soup actually for three days straight! We had it with warm rolls the first night, grilled cheese the second night and for lunch the third day. By the third day my family had all voted they didn't want to see this soup again…but lucky for me I froze the rest in the freezer for a later meal 😉

[buymeapie-recipe id='571′]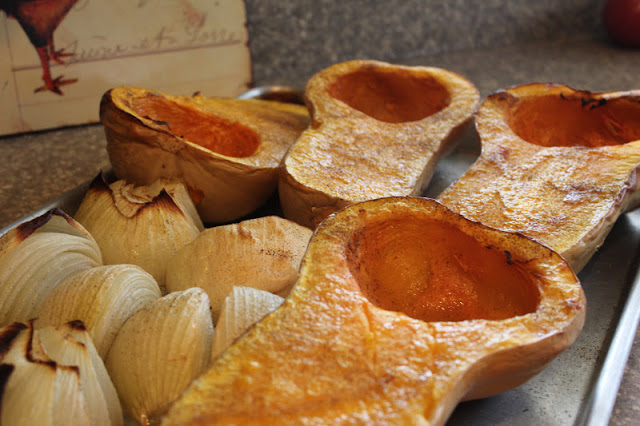 For a delicious roasted flavor, cook the onions and butternut squash on a cookie sheet and drizzle with a little olive oil. The squash melts soft like butter and you can easily scoop it out of the skin and into your soup. The onions also get nice and soft with a little roasted flavor from the cooked skin. These elements add a nice toasted flavor to the soup.