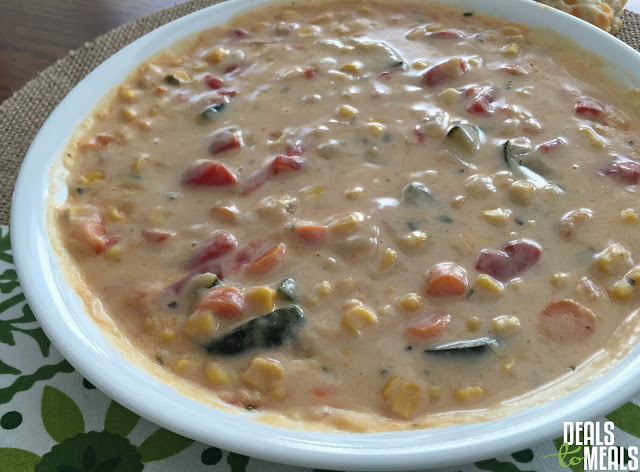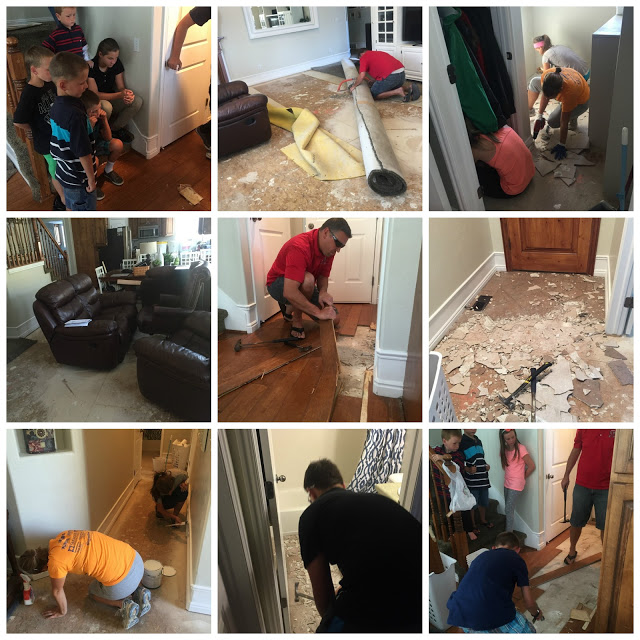 I just wanted to send a big THANK YOU to all of my 'angels' who came to the rescue today with the remodel of our home. Not to mention, my sweet sister made me the most delicious soup I think I've had in a long time. Not to mention it was healthy, made with all the veggies you might have growing in your garden, and a great meat-less meal your family will love. Not to mention she served this soup with homemade Red Lobster Cheese Biscuits which were heavenly. Good friends, a warm meal and I am counting my many blessings tonight.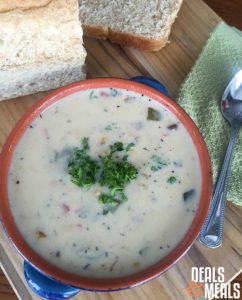 If you want to make someones day, make up a double batch of this soup and give it to someone in need. Homemade soup and bread makes everyone feel better, right? Hope you enjoy! 🙂
*Nearly all of the vegetables and ingredients for this soup are on sale this week (cheese, evaporated milk, zucchini, tomatoes, carrots, onions, frozen corn, etc.). You could easily make up a huge batch of this soup for under $10. Login to Deals to Meals to see where all of the best grocery deals are in your area.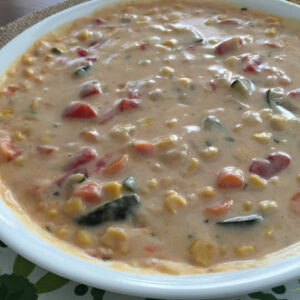 Ingredients
3

small zucchini squash

diced

2 to

matoes

diced

1

onion

diced

1

red bell pepper

diced

1

green bell pepper

diced

2

Tbs.

olive oil

3

garlic cloves

minced

1

tsp.

salt

more to taste

1

tsp.

Italian seasoning

1

tsp.

oregano

1/4

tsp.

cayenne pepper

1

tsp.

black pepper

1/2

cup

flour

4

cups

chicken broth

6

cups

milk

whole milk will be extra creamy but lowfat works too

2

cups

frozen corn

roasted

1/2

cups

parmesan cheese

1/4

cup

fresh parsley

chopped fine (garnish)
Instructions
Dice the zucchini squash into pieces. Dice the tomatoes. Dice the onion and bell peppers. Heat a large soup pot to medium-high heat. Drizzle the olive oil into the pot. Add the zucchini, tomatoes, peppers and onions to the pot. Saute the vegetables until they turn a nice, golden brown color (you want them a little caramelized). Add the garlic, salt, basil, oregano, pepper, and cayenne pepper to the pot and continue to stir. Add the flour to the vegetables and stir to coat the vegetables in flour. Once the flour has coated the vegetables, add the chicken broth and milk to the pot. Stir the soup until it begins to thicken and turn to medium-low heat to simmer. While the soup is simmering, pour the frozen corn onto a baking sheet. Spray the corn with non-stick cooking spray. Turn the oven to broil and bake the corn until the tops are dark, golden brown and roasted. When the corn is sufficiently roasted, remove from the oven and pour the corn into the soup. Stir the soup. Continue to simmer the soup until it becomes the thickness you desire. Add the parmesan cheese and fresh parsley right before serving. Serve soup warm with fresh, homemade bread.