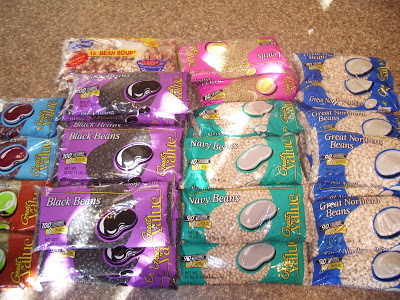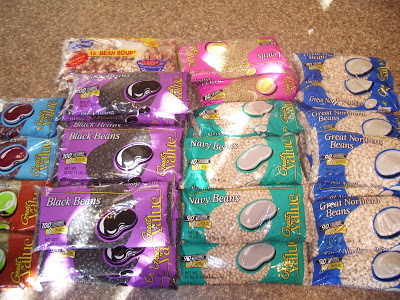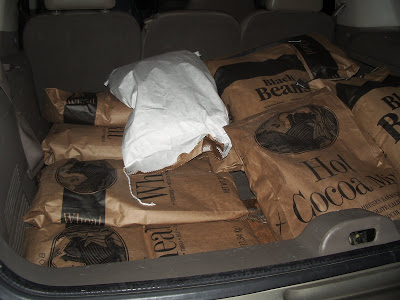 So…if you are like me and LOVE to cook, you know how many cans of black/white/navy/kidney beans you go through! I am always using my canned beans in TONS of delicious recipes, like Taco Soup, Creamy White Chicken Chili, BBQ Chicken Chopped Salad, Cafe Rio Salad/Burritos, Chili's, Taco Salad, etc. The other day I had a panic attack that my year supply of canned beans was not enough (if you know me, that's funny because I store A LOT of beans :0).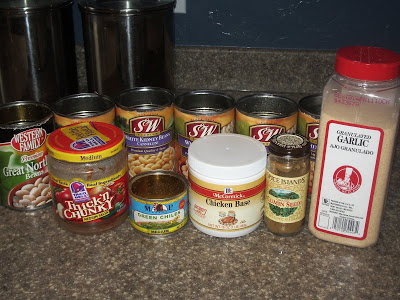 So, I have done a lot of research to find where you can buy your dried beans for less. I figure that my canned beans are great when I need them for quick meals or salads, but for when I am making a soup, chili or stew, I can sacifice a few hours and soak my beans and cook them from dry form. Why you ask? Because they are SOOO much less expensive! The cheapest place I have been able to find dried beans are at the LDS Cannery. They sell their black beans, pinto beans and white navy beans for MUCH less than you can find anywhere!! I LOVE the cannery! Buy the beans in BULK for only $12-$14 for a 25 lb. bag. If you don't feel like you will ever use 25lbs. in 30 years, buy your beans at Walmart for only .98 for a 1 lb. bag. This is more than the cannery, but is still a good price for dried beans! These will last for 30 years and are an important part of your food storage. Beans have a lot of protein and nutrients and are great for you! Another added benefit of using dried beans instead of canned beans is that you save yourself all of the sodium that comes from canned beans. All around, beans are a fabulous item to have in your storage!!
Here is one of my ALL TIME favorite soups! It is SO easy to make (with or without dried beans) and tastes delicious on a cold winter night. This recipe is also a great food storage recipe because everything can be found in your food storage (if the chicken in your freezer was gone you could use the TVP Chicken or canned chicken as a substitute)–of course you probably wouldn't be able to get avocados or sour cream, but it would still be great!!
[buymeapie-recipe id='701′]