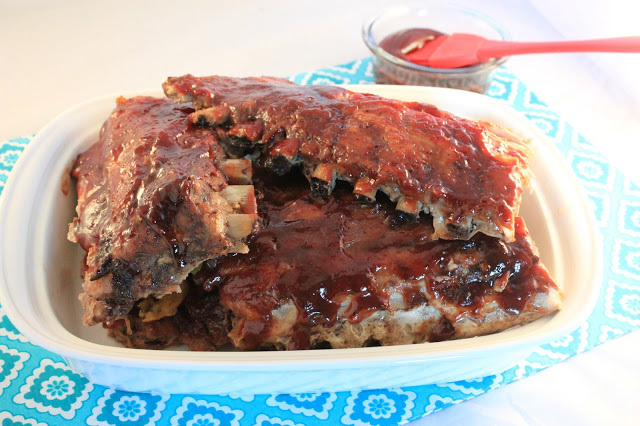 I am super picky when it comes to ribs. I want the meat to just fall of the bone, I like them to be sweet and juicy and most of all I don't want to deal with the sticky mess that they can make on the grill. So after years of trial and error I figured out what I think is the best way to cook baby back ribs. The recipe is really more technique based so please feel free to change up the spices and sauce to your liking. Some people love spicy ribs, and other like dry rubs so knock yourself out. I however love anything that has sugar in it so I went with a sweeter type BBQ sauce. These ribs are a family favorite and are requested from friends and neighbors all the time. I also love that you can throw them in the oven and leave for 5 hours to run errands and you have perfectly cooked ribs when you get home. This recipe is for 3 racks so keep in mind you can get away with cooking them for less time if you are only making 1 rack. The best consistent price on baby backs I have found is at Costco or Sams club and they come in a package of three, so I just cook them all and if I happen to have leftovers I either share the wealth or have them for a picnic the next day. Enjoy!
[buymeapie-recipe id='509′]
Fathers Day Tribute for My Perfect husband
Every time I make these ribs I think back to a day a few years back when my husband got a promotion and asked me to make a special meal for all of his co-workers. What better man food than racks of delicious baby back ribs? My favorite part of cooking is to see the expressions on peoples faces when they take the first bite of something delicious that you have created just for them. Those moments are priceless to me. There is not a group of people I would rather treat to a great meal than a room full of soldiers.
My husband Richard is a BlackHawk pilot in the Utah National Guard and although deployment and military life in general is extremely challenging, I couldn't be more proud of the life my husband has chosen to lead. He is the most genuine, caring, spiritual, hard-working man I have ever met as well as extremely funny and incredibly handsome. Everyday I am in awe that he chose me to be his eternal spouse. What an honor that is!
The best part about my husband however is that he takes being a great father to a level I have never before witnessed. There is no doubt in my mind that the well-being of me and his beautiful three daughters is his top priority always. He is the type of man who rushes to get home everyday to spend time with his family, when he is out of town or out of the country for work he Skypes us every chance he gets and will read stories to the girls over the phone. He helps with housework, does whatever he can to lift the my burdens and the burdens of those he cares about. I really could go on forever about how great Richard is!
I am so thankful to have a spouse that serves his family so faithfully and who also has chosen to serve his country. He is my hero in so many ways.
Thank you Richard for giving me everything I have ever wanted in life. You are the type of man that fairy tales are written about. I love you! Happy fathers day!!!!