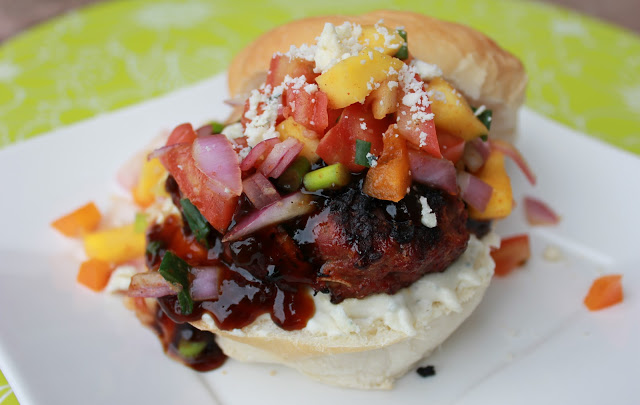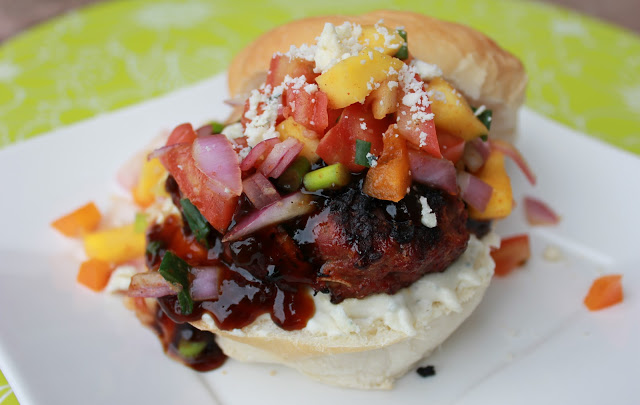 Memorial Day BBQ time is almost here! I love getting together with family & friends for a good old fashioned barbecue this time of year. It is so great to enjoy warm weather and to reacquaint ourselves with some of our favorite summer BBQ foods. We are BIG fans of homemade hamburgers around here and this new recipe does not disappoint! It may not be your traditional burger, but it is so chuck full of amazing Asian flavors that you will go crazy over how good these are. The combination of the creamy Gorgonzola mayo with the salty burger & the sweet and spicy salsa is an incredible party in your mouth. There are so many flavors going on that they all compliment each other perfectly. Even my husband (who hates fruit in his main dish–or most things sweet) had three of them and said they were actually VERY good. I brought one over to my sister's house and her husband ate his in less than 1 minute. He couldn't stop talking about them the rest of the night. They are really THAT amazing! If you want to wow your guests this weekend with a fun, new burger recipe, this is the one for you! Not only is is flavorful and delicious, but the colorful salsa makes you feel like summer is near 😉

Gorgonzola Teriyaki Burgers
Burgers:
2 1/2 lbs. lean ground beef
1/2 red onion, diced
1 T. Montreal Steak Seasoning
2 T. soy sauce
1/3 c. teriyaki sauce (you will need extra sauce for topping the cooked burger)–you can use store bought or homemade…homemade was worth the little extra effort!
2 garlic cloves, minced
1/2 t. ginger powder (or fresh)


Mango Salsa
1/2 red onions
1 mango, peeled & diced
3 tomatoes, diced
1/4 c. green onions
1 T. lime juice
1 T. rice vinegar
Salt & pepper to taste
1/2-1 t. cayenne pepper
1/2 orange or red bell pepper, diced
Hamburger Buns or Slider Rolls
Mayonnaise (about 1 c.) and 3 T. crumbled gorgonzola cheese (I added some salt & pepper to the mayo along with a dash of rice vinegar), mixed together
For the burgers, mix together all of the hamburger ingredients until combined. Form into small (or large) patties depending on which buns you will be serving on. Grill on the barbecue until browned on both sides and cooked through.
For the salsa, cut the onions, mango, tomatoes, bell pepper and green onions into small pieces. Add in a bowl and add the vinegar, lime juice and seasonings.
For the mayo, combine the mayo, gorgonzola, vinegar & salt and pepper.
Put together the burgers with a thick layer of the gorgonzola mayo on the bottom bun. Place the cooked hamburger on the bun and drizzle with extra teriyaki sauce. Spoon a good portion of the salsa on to the burger. Top with the lid, squeeze together and eat. Delicious!!