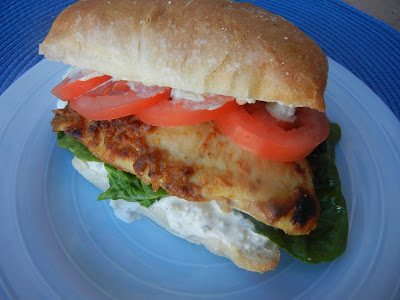 Yesterday I posted about the blackened fish & tartar sauce that my family loves so much. Today I wanted to share a quick leftover meal that is just as delicious. When I grill the fish I always put out 2 fish fillets for each person in my family. I then grill them all and save half of the fish for the next day's dinner (or a couple days later). I use the second batch of fish for these Seafood Po Boy's. They are saucy, full of flavor and great for a hot summer night. I am a fan of sandwiches for dinner, and these help switch up the mundane and add a lot of pizazz to our meal planner. Hope you enjoy!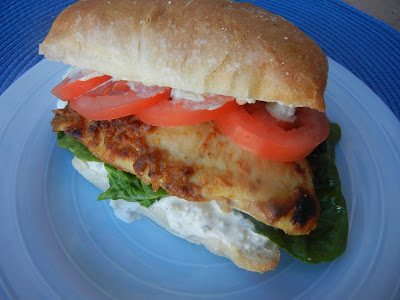 Seafood Po Boy's
1 fish fillet per person, blackened & grilled
2 tomatoes, sliced
6 large pieces romaine lettuce
Homemade tartar sauce
Pickles, sliced
Hoagie or ciabatta buns
Blacken fish on the grill on in the broiler, and set aside. Slice the tomatoes, pickles & lettuce. Prepare the tartar sauce. Slice the hoagie buns or ciabatta bread in half. Spread a generous amount of the tartar sauce on to one of the pieces of bread. Place a piece of the fish fillet on to the bread. Add the sliced tomatoes and lettuce on top of the fish. Serve the sandwich with the warm fish.