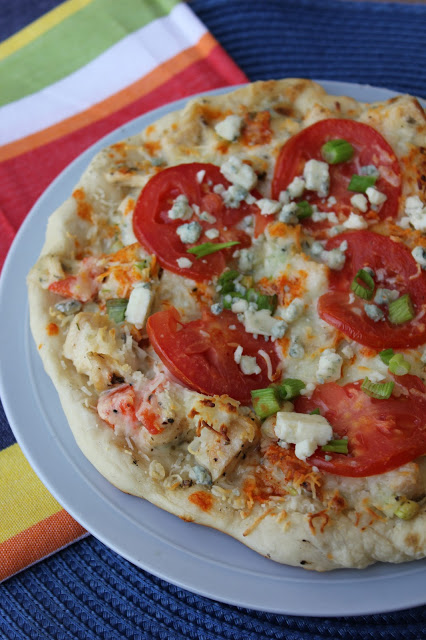 If you have not tried making pizzas on the grill yet, you are missing out! Spring sports have started which means dinner time needs to be quick, easy and something I can prep earlier to get on the table in a hurry before the nights activities can begin. Grilled pizza's are a great solution to this problem. I can make up the dough in the morning, let it rest in the fridge until I'm ready to roll the dough out onto the hot grill. The toppings to the pizza can be as simple or elaborate as you have time for. For this pizza I used the frozen, grilled chicken from my freezer which meant all that was left was slicing a couple vegetables for toppings and I was done. The grilled pizzas were delicious and I spruced up the 'adult' pizza to make them something even I can enjoy. Not that there is anything wrong with a good ol' pepperoni pizza, but sometimes my taste buds are wanting something a little more grown up.
How the vision for this buffalo pizza? As you know, I have an obsession with buffalo and blue cheese. I really can't get enough of those flavors. So, it is no surprise that when we go to our all-time favorite pizza resteraunt in town my plate fills up with their Buffalo Chicken Pizza. It is seriously one of the best things I have ever put in my mouth. I have been known to have a craving for this pizza late at night and have my poor (sweet) husband drive there and order me a large to go. The flavors of the spicy buffalo with the melted cheese, the grilled chicken and the fresh tomatoes on top are just pizza heaven. So, the other night I decided to try out my own version and, although they were not as good as Rock Creek's, they hit the spot and had the same great flavor! If you want to spice up your pizza night, try this grilled version and it will bring joy to your tastebuds!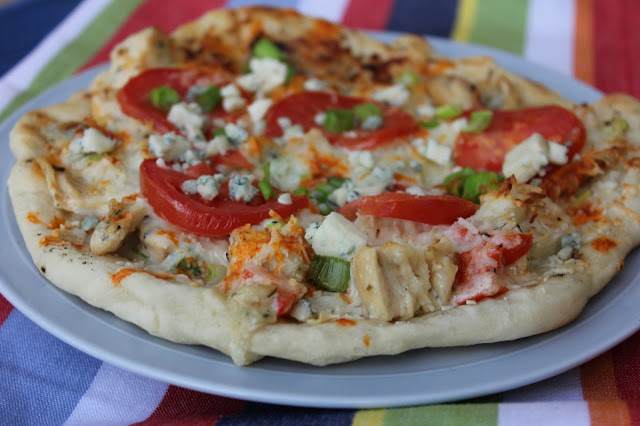 [buymeapie-recipe id='516′]
*Everything for this recipe is on sale this week: chicken, cheese, tomatoes, green onions, and ranch dressing. Login to our website to see where the best deals are in your area.