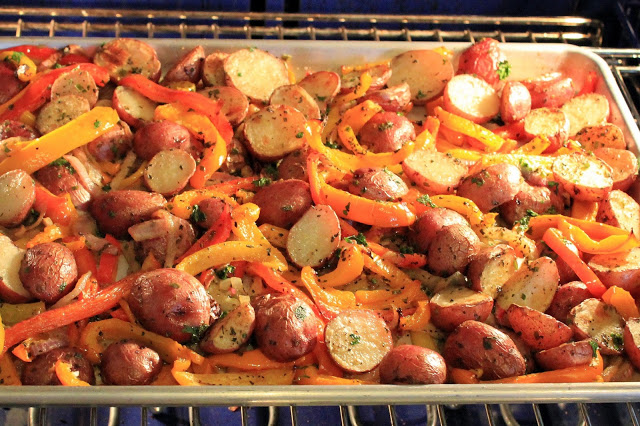 In my old neighborhood I lived across the street from a couple with Basque heritage that quickly became like an extra set of parents to me. Whenever there was a special occasion I always tried to throw together a Basque dish of some sort to show my gratitude for all the nice things they were constantly doing for me. I honestly can't remember a time when my husband was deployed that I ever had to take out the garbage or shovel snow, they where always doing everything they could to make my life easier.
A traditional Pipèrade is only roasted peppers, onions, and tomatoes but I decided to change it up a bit throw in some potatoes and lots of extra herbs to make a hearty side dish. I usually serve this with a simple grilled flank steak or a roast chicken. Its easy to throw together but is quite colorful and a beautiful dish you can serve to guests. The recipe serves 6-8, which I love because I think the leftovers are fantastic with some scrambled eggs for breakfast.
I didn't get a great picture of this lovely side dish because I had guests over and it was quickly scooped up onto plates the moment it came out of the oven!
[buymeapie-recipe id='517′]