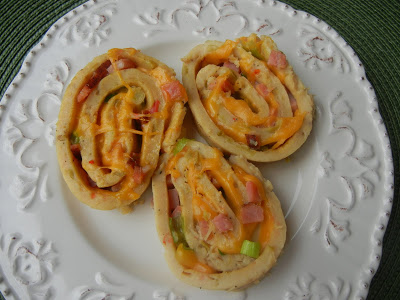 What is more Easter than ham & eggs? Why not throw the two together in a very quick and easy breakfast recipe. My neighbor brought me over a plate of these the other afternoon and I thought they were so cute and tasty. All of the neighborhood kids were scampering around her to eat one. They were a hit with all of the kids, as well as me! She used fresh eggs and milk, but you know me, I had to see if I could incorporate some of my food storage into this recipe. The results were exceptional! The only difference was the egg layer was a little more dense than hers were, but for using up my powdered eggs, it was the perfect solution! Try these Ham & Egg roll ups for your Easter breakfast, or for an easy dinner idea with your leftover ham. Super simple (my husband actually made these…sadly, that's more impressive than one of my kids making them–it's not his fault..I just don't let him in the kitchen very often ;), super fun, and super delicious!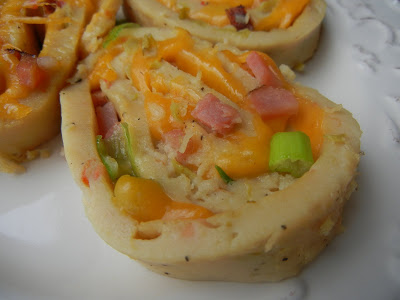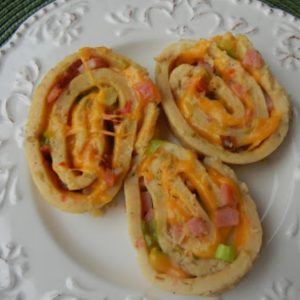 Ingredients
8

Tbs.

powdered eggs

1

cup

water

1/2

cup

flour

1 1/4

cup

milk

or 1 1/4 c. water + 4 Tbs. dry powdered milk

1

can diced green chilies

Dash salt and pepper

Diced ham

Green onions

sliced

Red peppers

diced

More green chilies

Shredded cheddar cheese
Instructions
Blend the first five ingredients together until smooth (with a hand blender, in a food processor or by hand with a whisk--just make sure you don't have any dry egg or milk clumps left). Once the mixture is blended, pour into a well greased cookie sheet pan (jelly roll size). Bake at 450 for 10-15 minutes, or until egg is set. Take out of the oven and sprinkle ingredients of your choice on the egg roll (ham, green onions, peppers, chilies, cheddar cheese, etc.).

From one end of the pan, carefully pull up the egg mixture and roll up into a long log (like you would a cinnamon roll). If your pan was sprayed sufficiently it should roll up quite easily. If there are any spots that are sticking to the pan, gently scrape them off with a fork or spatula. Roll up as tightly as possible for a prettier center. Cut the roll into one inch pieces and serve warm. (If the cheese needs to be melted more, you can throw the roll back in the oven for a few minutes to melt the cheese).