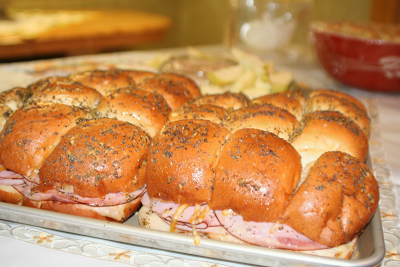 Throughout the summer there seems to be several occasions when you need a quick, yet impressive, dinner or lunch idea to 'wow' your friends & family. These Ham & Turkey Party Rolls are the perfect solution for a family friendly meal that everyone is sure to love, and takes only a few minutes to put together. The baked sandwich with the flavorful dressing drizzled all over the rolls is so juicy, cheesy and full of flavor. As soon as my friend Emily told me about this recipe I knew it was going to be great. How could a ham sandwich with three different cheeses and drizzled with butter not be good? This was a no brainer!
Take these party rolls on your next picnic, to your next family gathering, or serve them to your friends for a ladies lunch. Either way, these sandwiches are several BIG steps above your everyday ham & cheese sandwich and will soon be a favorite weeknight meal in minutes 🙂
[buymeapie-recipe id='865′]
I am, among many things, a lunchmeat snob! I despise most lunchmeats. I think they are slimy, tasteless and to be honest give me the heebie-jeebies. However, the Costco Kirkland Honey Ham and Turkey is a must-have in my freezer. It is only a few pennies more than the other lunchmeats but has such great flavor it is worth the extra money. Pretty much this entire recipe is least expensive at Costco (the sliced cheese, rolls, meat, etc.) Want to save a little money? Make a batch of
Lion House Rolls
and these sandwiches will be even better!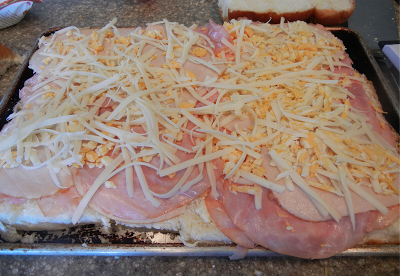 Layer the sandwich with the three different cheeses and then carefully place the top of the rolls back on top of the meat. Drizzle the dressing over the rolls and then cover and keep in the refrigerator until ready to bake and serve.