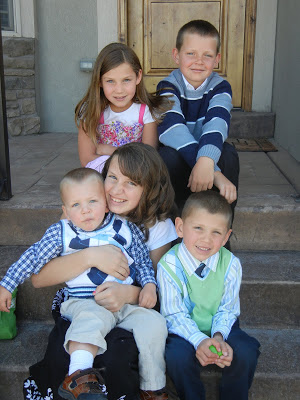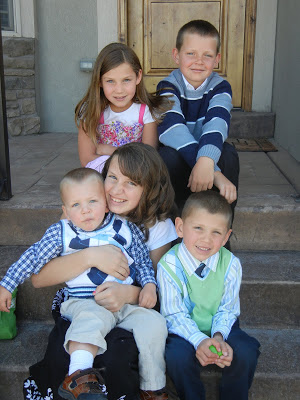 Hope you had a wonderful Easter weekend! We had a great time being together with family, enjoying Easter Egg Hunts with the kids, Easter breakfast, bike rides, yard work, and going to church to celebrate the true meaning of Easter. We try and do all of our fun activities on Saturday so we can enjoy Easter Sunday thinking about the things that really matter. If any of you have not already seen these Bible Videos, they are a great resource for family's during this time of year (or anytime). We had a great time discussing the events of Christ's life and all that that means to us. I am grateful for times when we are able to slow down and spend quality time with family (I need to do this more often!).
Anyway, hope you enjoyed your weekend and I had to share one of the most simple recipes I have ever made. I had planned on making eclairs but ran out of time and remembered this quick dessert that ended up being the perfect one for our Easter dinner. If you are ever in a pinch and need an easy dessert, this is the one for you!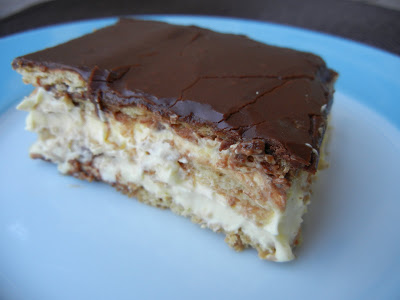 Easy Eclair Pie
2 1/2 pkgs. graham crackers (approx. a 14 oz. box)
2 (6 oz.) pkgs. Vanilla Cook n' Serve pudding (or you could use homemade or instant)
4 c. milk
8 oz. Cool Whip
In a medium sized sauce pan, whisk together the milk and pudding mix. Let the pudding simmer until it begins to thicken. Once the pudding thickens, place the pan in the fridge until it becomes cold & completely firm. Once the pudding is firm, fold in the Cool Whip and combine until smooth. Butter the bottom of a 9×13 pan and place a layer of graham crackers on the bottom of the dish (you may have to break a few pieces to make them fit flat). Spread half of the pudding mixture on top of the cracker crust. Place another layer of the graham crackers on top of the pudding. Spread the rest of the pudding on top of that layer of graham crackers. Prepare the frosting by adding the hot water and cocoa powder together. Whisk together until smooth. Add the remaining ingredients and whisk until smooth (you may need to use an electric hand mixer). Spread the frosting on top of the last layer of graham crackers. Keep in the fridge for 2-24 hours (works best overnight, but is great anytime!). Serve cold.
Chocolate Frosting:
6 T. cocoa powder
4-5 T. hot water (you need enough that the frosting can be easily spread over the top of the crackers)
4 T. butter, melted
2 1/2-3 c. powdered sugar
2 t. vanilla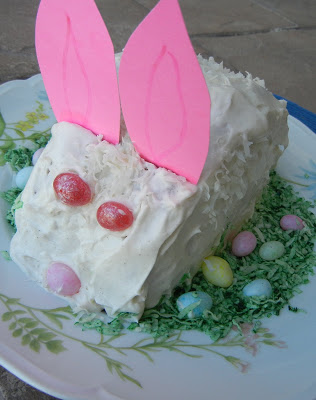 Here's another easy & cute idea for Easter. My Mom has been making these bunny cakes from the time I was a little girl. All you do is bake two round cakes, frost them together, cut them in half and lay each half of them on a plate (like you see above). Frost the cakes with frosting, cover with a little coconut (for hair) and decorate your bunny and the plate as you would like. So cute and a hit with all of the children! (One cake makes 2 bunnies)