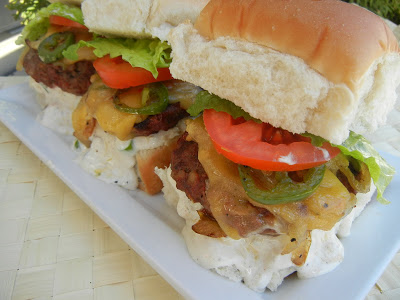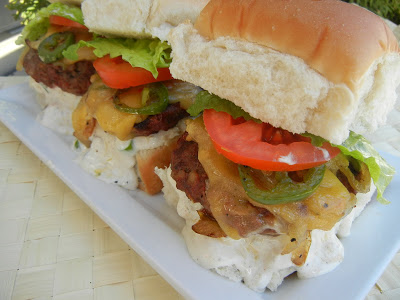 In Utah yesterday it was a beautiful 78 degrees..that is the temperature it's going to be in heaven I decided–not too hot, not too cold, just perfect! We spent the last day of spring break riding bikes on the Jordan Parkway, eating lunch at a park, eating popsicles on our back swing and were devastated when the night started to wind down and thoughts of school & homework resurfaced. We decided to throw a last minute bbq and squeeze every last bit of blue sky and sunshine out of our day. These Jalapeno Sliders were the perfect homemade hamburgers for our bbq. They were easy to throw together and had an incredible combination of spices & flavors. My husband & son can't get enough spice, so the added jalapenos & onions on top of their sliders were the perfect combination of heat & flavor. I can't handle quite as much heat, but surprisingly the coolness of the Green Chile Mayo evens out the spice very nicely. Even our four year old ate his burger without any complaints. Try these Jalapeno Sliders, they are sure to kick up the notch of your next bbq!!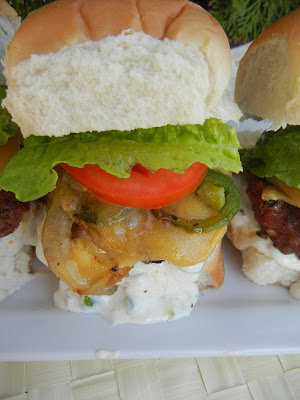 Jalapeno Sliders
1 1/2 lbs. lean ground beef (or turkey)
1 lb. spicy pork sausage (I like Jimmy Dean the best)
1 jalapeno, chopped fine (I kept the seeds in)
1/2 onion, chopped
1 can diced green chiles
1 t. garlic powder (or 1 clove fresh garlic)
2 t. Montreal Steak Seasoning (or salt & pepper)
1 egg
1 T. Worcestershire sauce
1 t. horseradish
1/3 c. breadcrumbs
Combine the above ingredients in a large bowl, and mix together until all is incorporated. Form the meat mixture into 2 1/2-3 inch patties (if serving on a regular sized bun, make into 4-5 inch patties). Prepare the rest of the ingredients and then 15 minutes before serving, grill the burgers on a hot grill on both sides until they are no longer pink in the center (10-15 minutes).
12 rolls or 6 hamburger buns
12 slices of cheese (I used Gouda, but pepperjack, cheddar, provolone, would all work great)
2 tomatoes, sliced thin
Lettuce leaves, broken into pieces
1/2 onion, sliced
1 jalapeno, sliced (seeds left in if you like more spice)
2 T. butter
In a saute pan, saute the onions and jalapenos in the butter until golden brown and soft. Set aside. Once the burgers have been grilled on both sides and are almost cooked through, add a few onions & jalapenos on top of each burger. Top with a slice of cheese and let the cheese melt on top of the onions/jalapenos. Once the cheese is melted, serve the burgers on the rolls/buns with lettuce, tomatoes and the green chile mayo (below).
Green Chile Mayo
1 can diced green chiles
2 stalks green onions, sliced thin
2/3 c. sour cream
2/3 c. mayonnaise (don't use lowfat, you don't want a sweet flavor to your sauce)
1/4 t. horseradish
3/4 t. seasoning salt
1/2 t. black pepper
Slice the onions and place in a bowl with the remaining sauce ingredients. Keep in the fridge until burgers are ready to be served.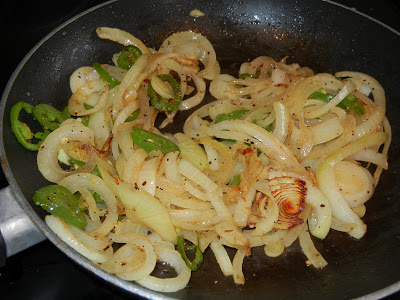 Saute the onions & jalapenos in a little butter until they are golden brown. These make for an amazing topping to these sliders.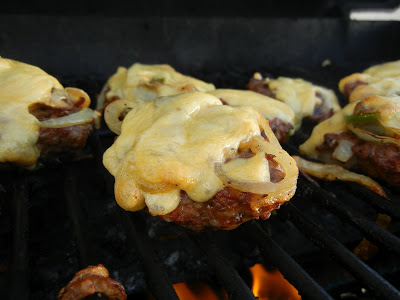 Smother the burgers with the onions, jalapeno & cheese of your choice. These sliders are so full of flavor you are going to love every bite!!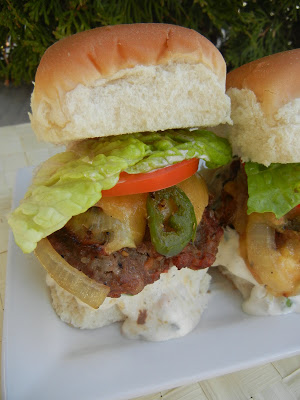 My husband asked if we could eat these sliders once a week for the rest of the summer. I would be totally okay with that! They were amazing 😉