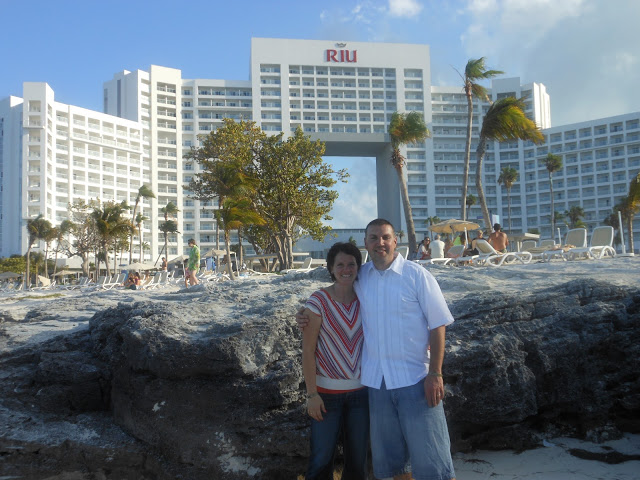 So, you may or may not have noticed, but I have been pretty much m.i.a. this past week. For years my husband and I have been saving up to go on a romantic get-away to Cancun and the much anticipated time finally came. We spent this past week in absolute paradise. Our last couple trip was when I was pregnant with our third child (almost 10 years ago) and so we were thrilled to have a chance to get away and spend time with each other. With our busy lives and crazy work schedule, we had such a great time spending a week of total relaxation. We stayed in a new hotel on the Cancun Penninsula and it was amazing! It was all you could eat (I am still scared to stand on the scale!!) and we ate ourselves sick. The food was great and I ate chocolate covered strawberries for breakfast, lunch and dinner. Our other favorites were their guacamole, fresh salsa and their coconut ice cream–we ate WAY too much of all of it this week! Besides the delicious food and time with my hubby, we were able to travel around and see many of the Mayan ruins. We went to Chichen Itza, Coba, Ek-Balam (amazing!), swam in cenotes, went snorkeling, ate at cute little local restaurants and enjoyed every minute of our hotel.
Thanks for being patient with me as I get back into normal life and have to make food for myself again, so I can blog again. I was spoiled for a week to be waited on. After not cooking for a couple weeks after my burn, I don't remember if I know how 😉 I'll get back into the swing of things and post some yummy re-creations I had in Cancun that I want to try and make at home! Have a wonderful week and I hope you get to enjoy a little sunshine and happiness where ever your daily paradise is 😉 Here is a quick travel log of our favorite moments of our trip.
Underground cenotes that were so fun to swim in. The water was all fresh water, clean and such a pretty crystal blue color. These were water holes that allowed the ancient Mayan people survive for so many generations.
Here we are at one of the six resteraunts at the hotel. The steak was incredible as well as our favorite pork dish called Cochinita Pibil. I have been searching for a copycat recipe but I need achiote paste. Anyone know where to buy that? So yummy!!
Isn't the Carri bean the most beautiful place ever?!? It is such a turquoise blue it looks like blue jello. It was incredible and so much better than our cold weather here at home.
This was Sunday morning before we went to an LDS church in Cancun. We drove around the city and it was humbling to see the neighborhoods and surroundings these people live in. Their homes (if they had them) were made of sticks/wood or cement. To us these homes wouldn't even be worthy of being a shack, and yet families of several people lived in them. So sad! The Mexican people were so humble and sweet. My husband served an LDS mission in Honduras so he felt homesick for all the people he loved in that country. It was fun to hear him speak to all of the people and get to use his Spanish again. We had an amazing time visiting with the local people of that area, we met some amazing people. We are so blessed here in America, we all left feeling so guilty for everything we've been given. Seeing the way others live in this country helped give us all a healthy dose of perspective.
Chichen Itza–so incredible! If you are going to this area, email me and I will give you the name of our tour guide. He was so full of information and history we were soaking it all in. He gave us all a private tour of all of the ruins in the area and we loved every minute it! If you need a good referral, I would be happy to share his info with you 😉
I need to send out a HUGE thank you to my sisters and Mom who stepped in and watched all of the kids for us. My poor sister Diana was stuck at home with a home full of 7 sick kids with the flu. We left and everyone got sick. She had a week of throw up, sleepless nights and sad kids while we were out playing. Our friends brought her a homemade pina colada to help her feel better just as the school called and told her she needed to come pick up our son who had thrown up at school and needed to come home. Poor Diana! You were a trooper. Thank you so much!
Want a piece of Cancun at home? Make some homemade guacamole, fresh salsa , fajitas, tres leche cake, pineapple coconut waffles, or pineapple coconut bread pudding 🙂 I am going to miss all the fresh fruit and vegetables!