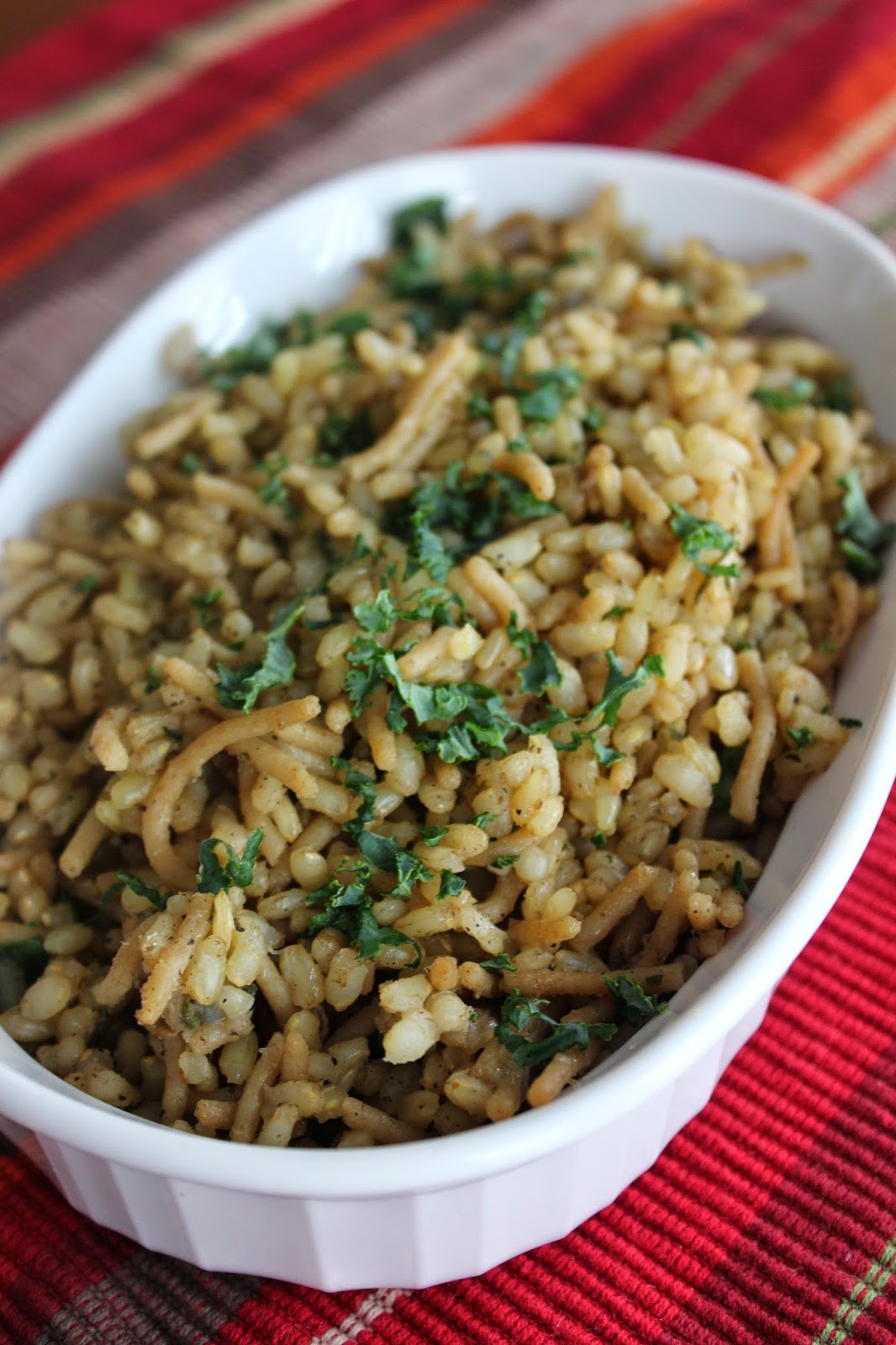 Who doesn't love Rice-a-Roni? I am one who would prefer almost everything from scratch, but there is something about the salty, rice in Rice-a-Roni that I actually really like (call me crazy?). It is also such a simple and quick side dish on those nights you don't have a lot of time. Well, with it being a new year, and trying to eat a little more healthy, I knew the white rice, lots of sodium in boxed rice mixes would not be a good choice. So, I set out to create a healthier option for homemade Rice-A-Roni. We loved the results! In fact, my kids had NO idea this rice was made with brown rice and whole wheat pasta. There was enough flavor, that the combination was everything they thought it should..with the added benefit of being MUCH healthier and MUCH less expensive. It's a win-win. I hope you love this recipe as much as we did!
*Bonus: this recipe can be made solely from your food storage, so it's a great recipe to learn how to use and cook up those whole grains in your storage. Pasta and rice are both on sale this week (during case lot sales), so stock up you pantry and food storage so you can make delicious recipes like this for very inexpensive 😉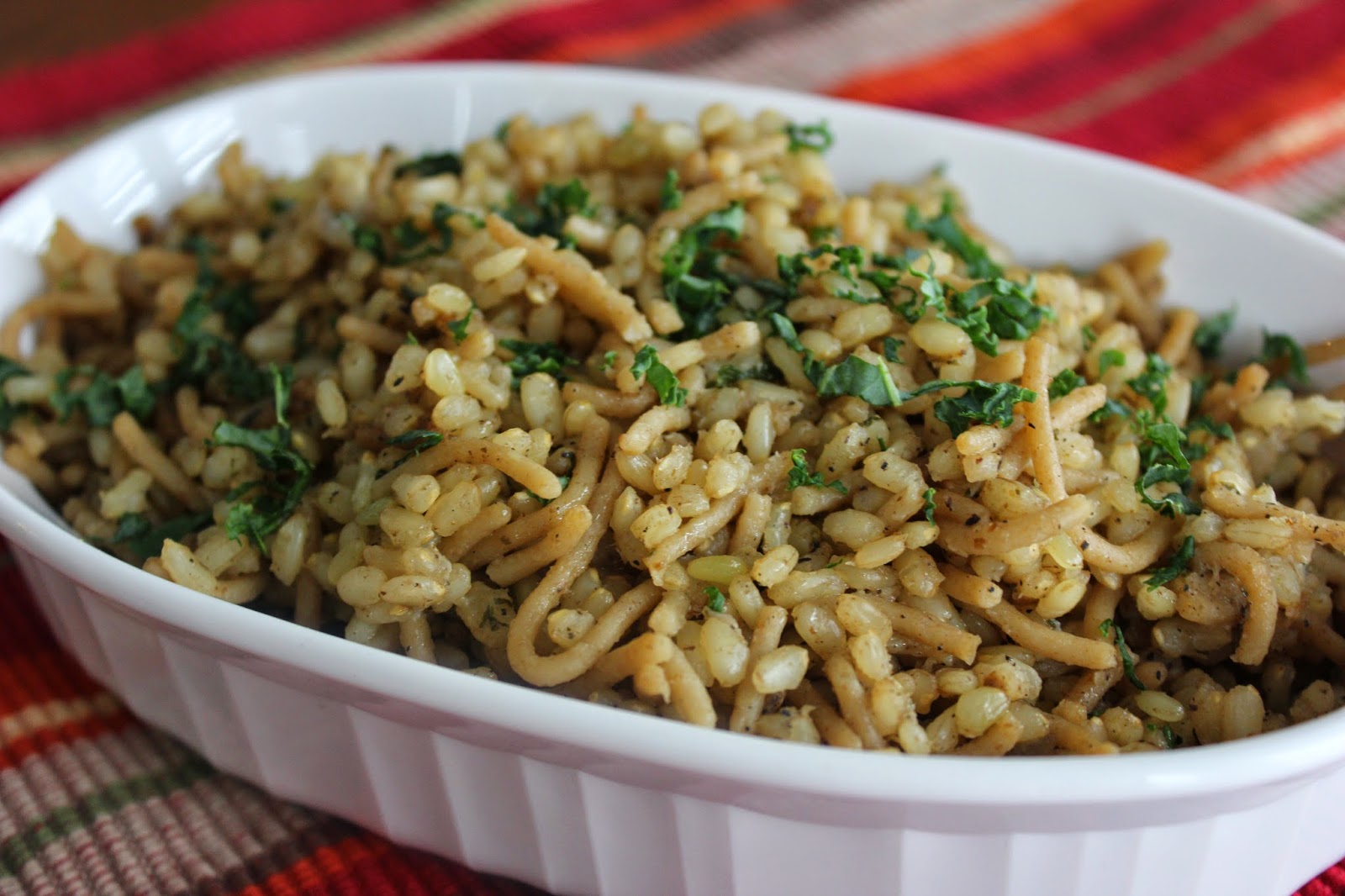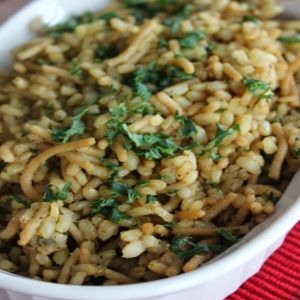 Ingredients
3/4

cup

whole wheat spaghetti noodles

broken into 1/4 to 1/2 inch pieces

4

Tbs.

butter

1/2

red or white onion

diced

1

Tbs.

chicken bouillon

1

tsp.

black pepper

1

Tbs.

dried parsley

1/2

tsp.

garlic powder

1 1/2

cup

short brown grain rice

3

cups

hot water

1/4

cup

green onions

sliced

Fresh parsley

chopped
Instructions
In a sauce pan (with a lid), heat the butter with the onion. Saute the onion until they are tender and soft. Add the seasonings to the onion and continue to saute. Break up the noodles and add the rice and the noodles to the hot butter and onion mixture. Cook on medium heat until you begin to smell the rice and it starts to become slightly toasted. Add hot water to the pan and bring the mixture up to a rolling boil. Once the mixture is boiling, put the lid on the pan, turn to medium-low heat and let the rice simmer for 30-45 minutes. This time will depend on the type of brown rice you buy. Some brown rice cooks a little slower, so check the rice after 35 minutes or so. If the rice is fluffy, then the rice is done. If it's still a little firm, put the lid back on and let the rice continue to cook. I like to cook this in a pan with a glass lid so I can see when the rice is cooked and tender/fluffy. Once the rice is cooked, remove from the stove and fold in the sliced green onions and chopped parsley for garnish. Serve warm.