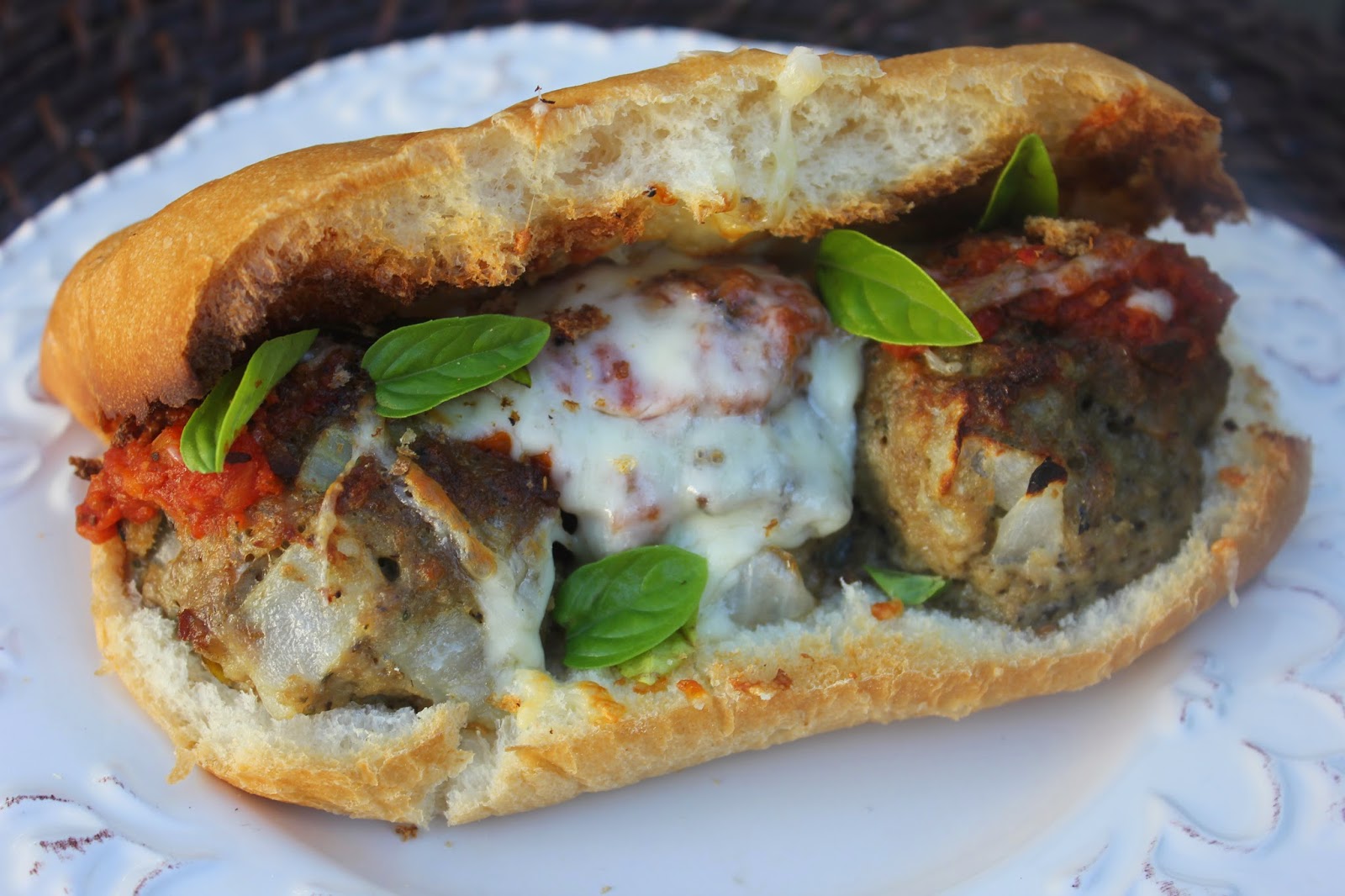 It's the New Year and one of the easiest changes in my diet to save on calories is replacing ground beef with ground turkey. I know a lot of people don't love the flavor of ground turkey, but I actually love it! I almost always do half ground beef and half turkey, but today I am excited to share a couple tips with you to help make ground turkey edible (not only edible, but awesome!!).
The two most common problems with turkey is it has a higher liquid content and it has much less flavor than beef (less fat makes for less flavor). That's easy to fix! I always drain my turkey to remove as much of the juices as I can. Drain the excess juice before you add all of your seasonings. The second problem is turkey has a lot less flavor than beef. So, spice up the turkey to your hearts content! The more spices the better. Add lots of garlic, seasonings and some bread crumbs to give your turkey lots of delicious flavor. The fresh basil, cheese and marinara sauce makes these meatball subs something your whole family will love!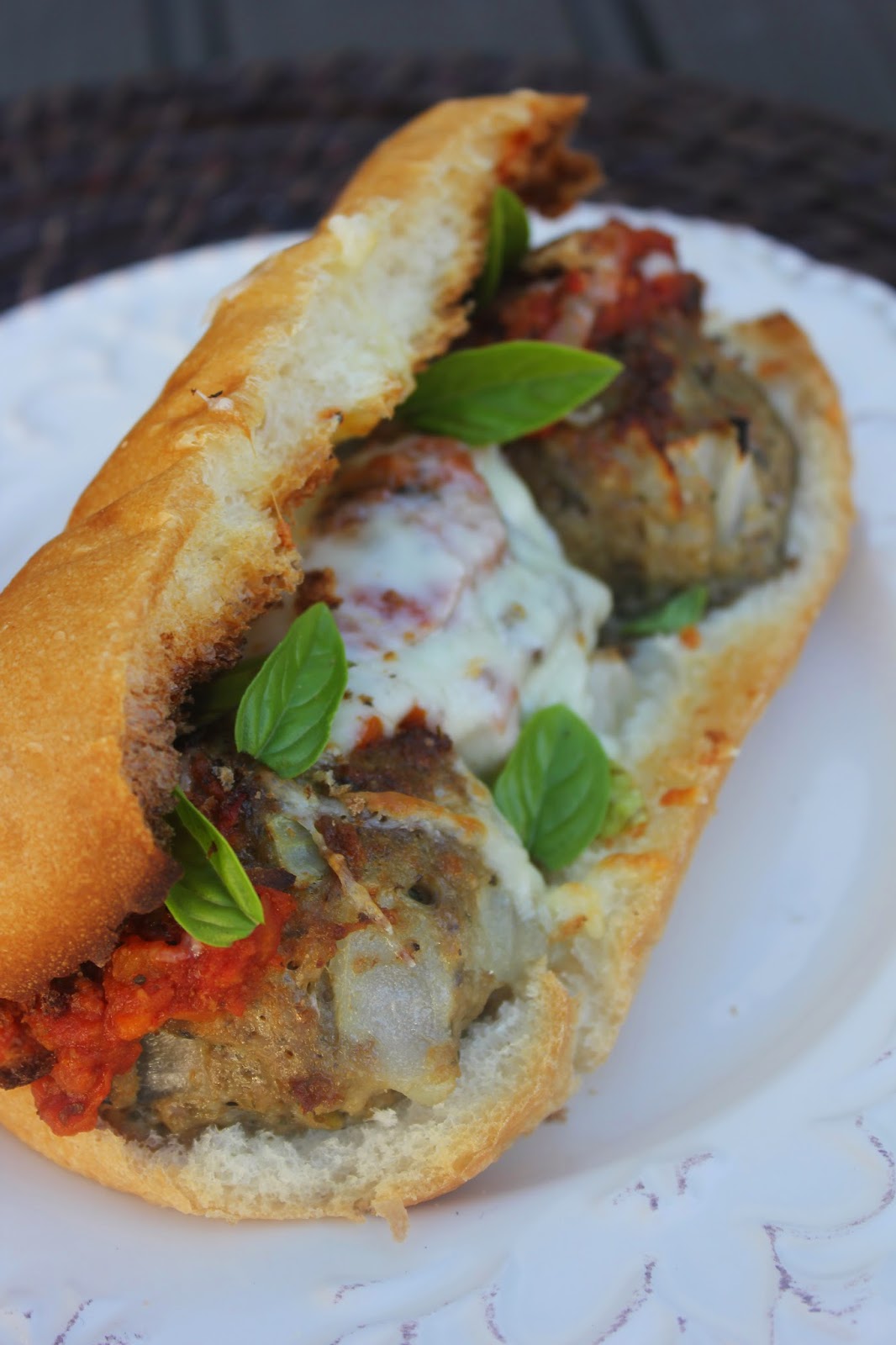 Ingredients
MEATBALLS:

3

lbs.

ground turkey

1

onion

diced very small

4-5

garlic cloves

minced

1/2

cup

panko crumbs or breadcrumbs

1

tsp.

oregano

2

tsp.

Italian seasoning

2

tsp.

parsley

Dash cayenne pepper

1

tsp.

black pepper

1/2

tsp.

baking soda

2

tsp.

salt

SUBS:

6-8

hoagie buns

2-3

cups

marinara sauce

homemade or store bought

1/4

cup

fresh basil

optional

6-8

slices

mozzarella cheese
Instructions
Place the ground turkey in a large piece of cheesecloth (or even several layers of paper towel). Squeeze the turkey to remove as much of the juice/water out as you can. Place the turkey in a large mixing bowl. Chop the onion and garlic and add to the turkey. Mix the turkey with the onions and garlic and stir until combined. Add all of the seasonings to the meat and mix thoroughly.

Heat your oven to 425 degrees. Spray a cookie sheet heavily with nonstick cooking spray (or drizzle with olive oil). Roll the turkey into golf ball sized balls and place on the cookie sheet. Bake at 425 until the tops of the meatballs are nice and golden brown, about 15-20 minutes. Because turkey crumbles easily, you won't be turning the meatballs. They will just get nice and browned on the top 2/3 of the meatball. For the subs, this works great. Once the meatballs are browned and cooked through (you may want to break one open with a fork to make sure the center of the meatballs are no longer pink). Place the cooked meatballs on the sub rolls and top with the sliced cheese, warmed marinara sauce and fresh basil. Serve immediately.
Notes
HEALTHIER OPTION: Omit the cheese and serve the meatballs without a bun or on whole grain pasta.