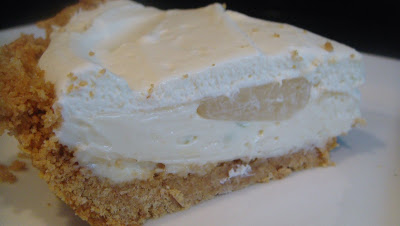 (Sorry for the dark picture–it doesn't do it justice! My key lime 'layer' looks more like a blob in this picture–next time I will take more time spreading it out more evenly 🙂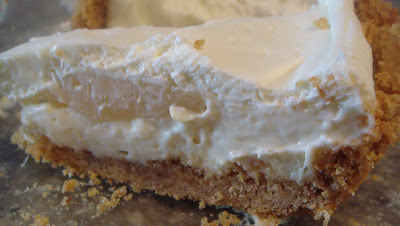 For my High School graduation trip my parents took me to Key West, Florida. Among the beautiful beaches and warm weather, the key lime pies were the highlight of our trip. We went to several different restaurants who claimed they had the 'world's best' key lime pie. Some were pretty good and others were only mediocre. The component of these pies that was missing was the tang and pucker pour. NOTHING can be sour enough for me, so I decided to try to make a key lime pie that had the right amount of spunk. This pie has it! The pie itself is not overly sour, but the thin layer of sour lime custard gives it the perfect flavor. Key lime pie is also my Dad's favorite dessert, so for Christmas Eve I made this pie and he said it was perfect. I have made MANY key lime pie recipes, but this one is now my fave!
Here is this AWESOME recipe. If you are like me and crave sour, I would maybe even double or one and half the custard portion of the pie to make it even more sour.
[buymeapie-recipe id='727′]