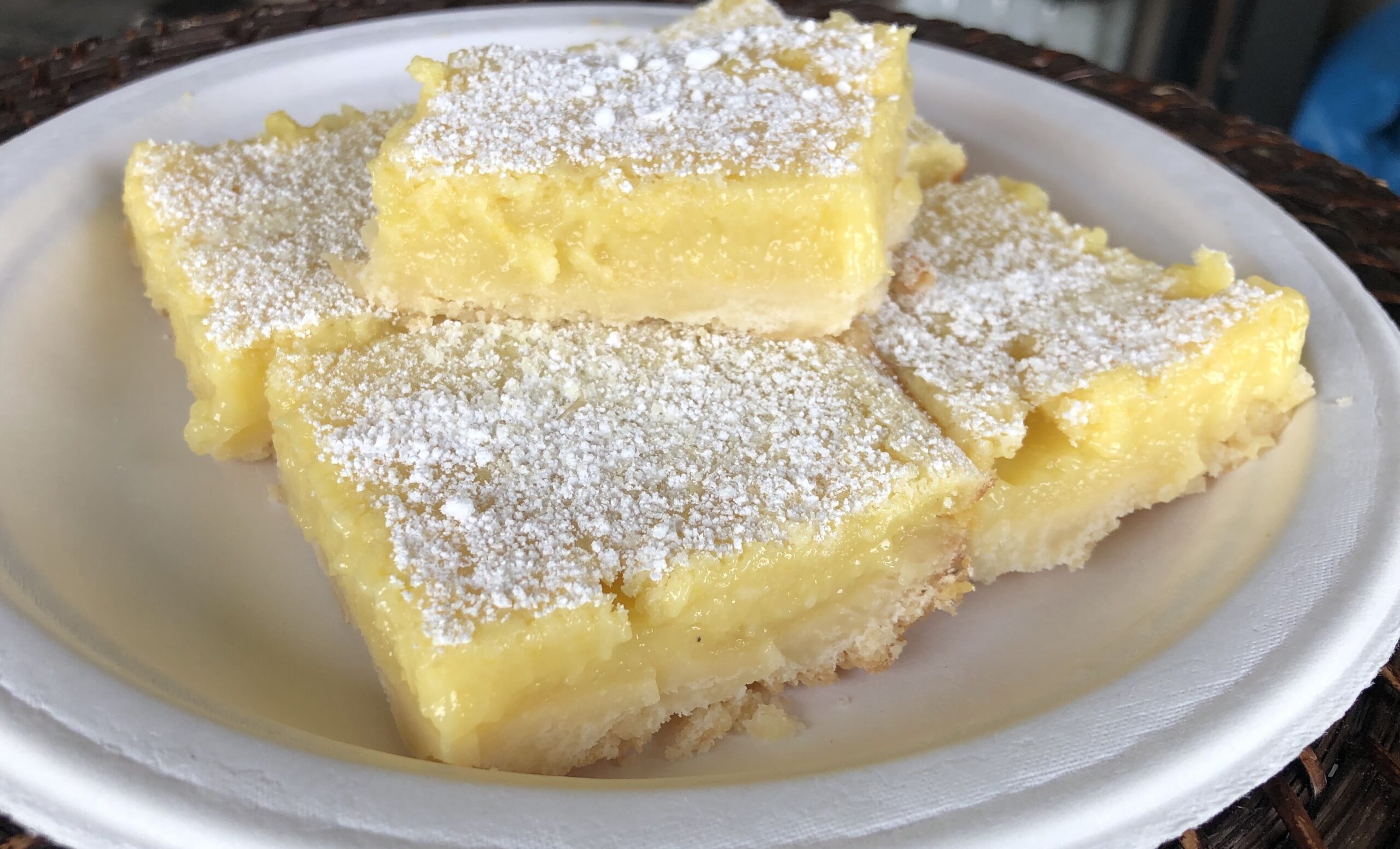 Lemon bars are the best way to take a sour situation and make it sweet. These past couple weeks have been a roller coaster of emotions. Our oldest daughter left a week ago for her mission for our church and flew to Mexico for 6 weeks and then onto the Dominican Republic. We are so excited for her, but also missing her so much. We feel so blessed that she is willing to put her college life aside for 18 months and go share the good news of Christ's restored gospel with the sweet people of the DR. Getting her ready, enjoying every last minute together as a family and starting the summer craziness has left little time to blog, meal plan and create recipes.
For Kierra's farewell Sunday gathering I cooked up 45 lbs. of pork and I think we've eaten that for the past two weeks straight. It was so awesome to watch the deals and get all of the pork we needed for only $0.99/lb. Check out our Deals page to see all of the best grocery deals in your area for free!
Who doesn't love a big plate of these bars?! I couldn't believe after all these years I hadn't blogged about my lemon bar recipe. Well, here it is friends eleven years later….and you're going to LOVE it!! My favorite trick is sprinkling lemonade drink mix powder on the top of the bars to give it an extra zing of sour. If you like sour, you're going to adore these bars. Enjoy!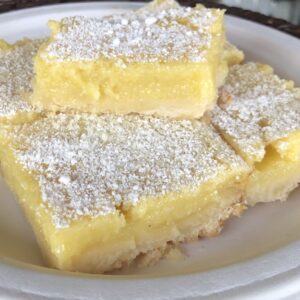 Ingredients
Crust:
2/3

cup

powdered sugar

2

Tbs.

granulated sugar

1/2

tsp.

salt

2

sticks butter

2

cups

flour
Filling:
2

cups

granulated sugar

6

large eggs

5

Tbs.

flour

Zest of 6 lemons

1

cup

freshly squeezed lemons

about 6

1/2

cup

milk

1/4

tsp.

salt

1

Tbs.

dry lemonade mix powder

like Countrytime for top of bars when cooked
Instructions
Preheat oven to 350 degrees.

For the crust, place the butter in a mixing bowl and microwave for about 30 seconds, or until slightly soft. Add all of the crust ingredients to the bowl and mix together with a pastry knife or two forks and blend until just incorporated. Place the crust mixture into the bottom of a 9x13 pan that has been sprayed with cooking spray.

Press the crust evenly into the bottom of the pan. Bake the crust for 15-20 minutes or until lightly golden brown. Once cooked, remove from the oven and set on aside while you make the filling.

For the filling, whisk together all of the ingredients until smooth. Make sure and measure the lemon juice carefully. If you add too much juice your bars won't set up. An exact cup is important. If you need to substitute a small portion of the juice with bottled that is fine but not ideal.

Pour the filling mixture over the crust and return to the oven and bake for about 20-25 minutes, or until the mixture sets up firmly.

Remove the bars from the oven and let sit for 5 minutes. Once they have rested, dust the top of the bars with a thin layer of powdered sugar. If you like extra sour flavor, dust the top with a lemonade dry powder mix for extra sour power 😉 A brand like countrytime lemonade mix works perfectly!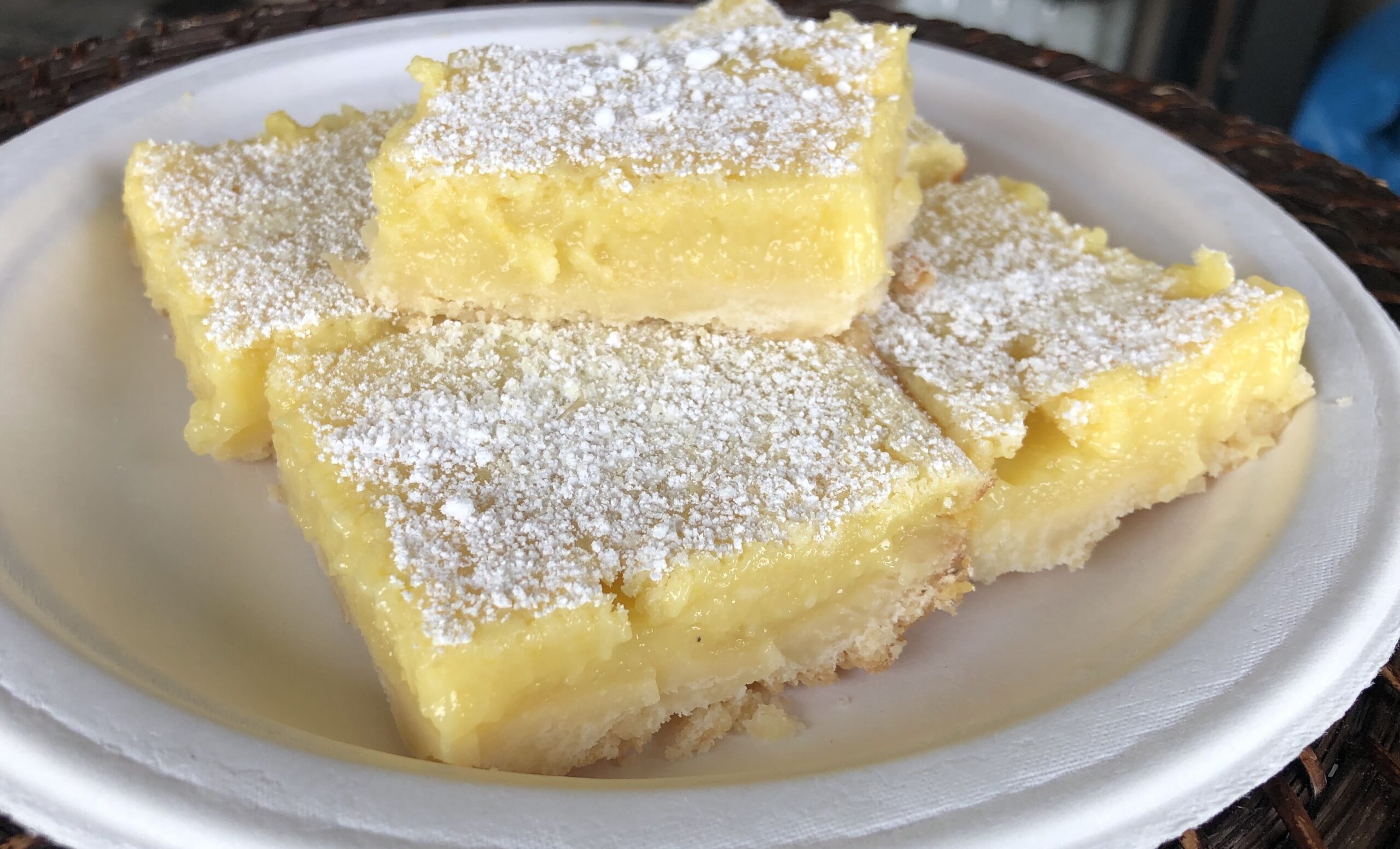 Here is a link to some of our other favorite bar recipes.