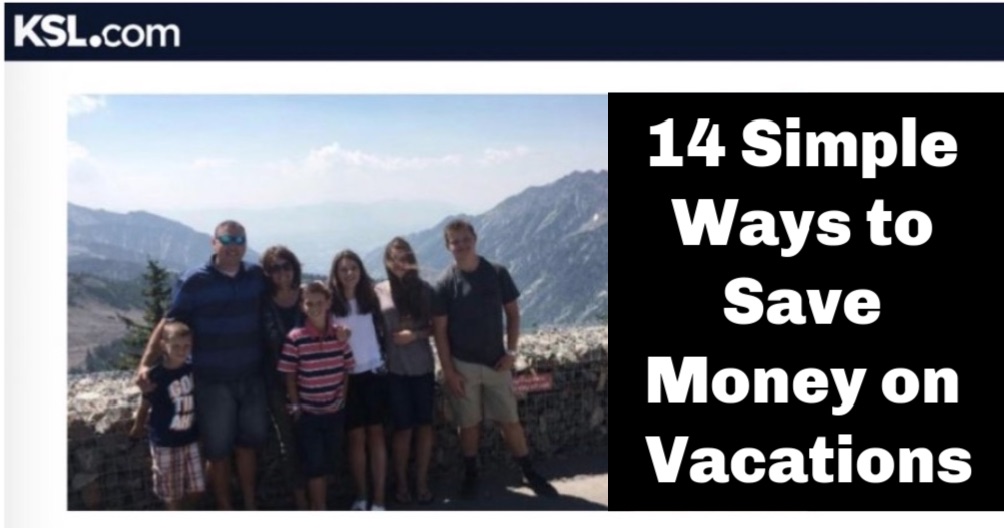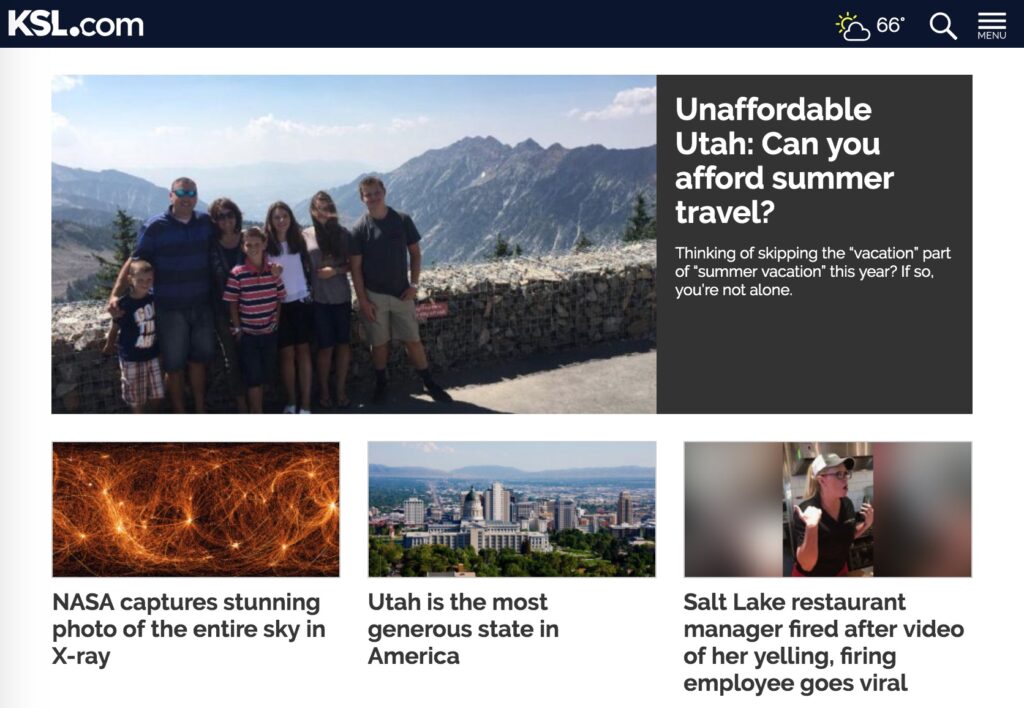 Read below for simple tips I shared on how to save money on vacations–especially your food costs. It's not very often you find your family picture on the front page of the most popular news station in the state. My kiddos thought that was pretty cool and I loved sharing some easy tips and tricks to help families save money on groceries. Pretty sure I talked the news anchor's ear off. Thanks Ladd for listening!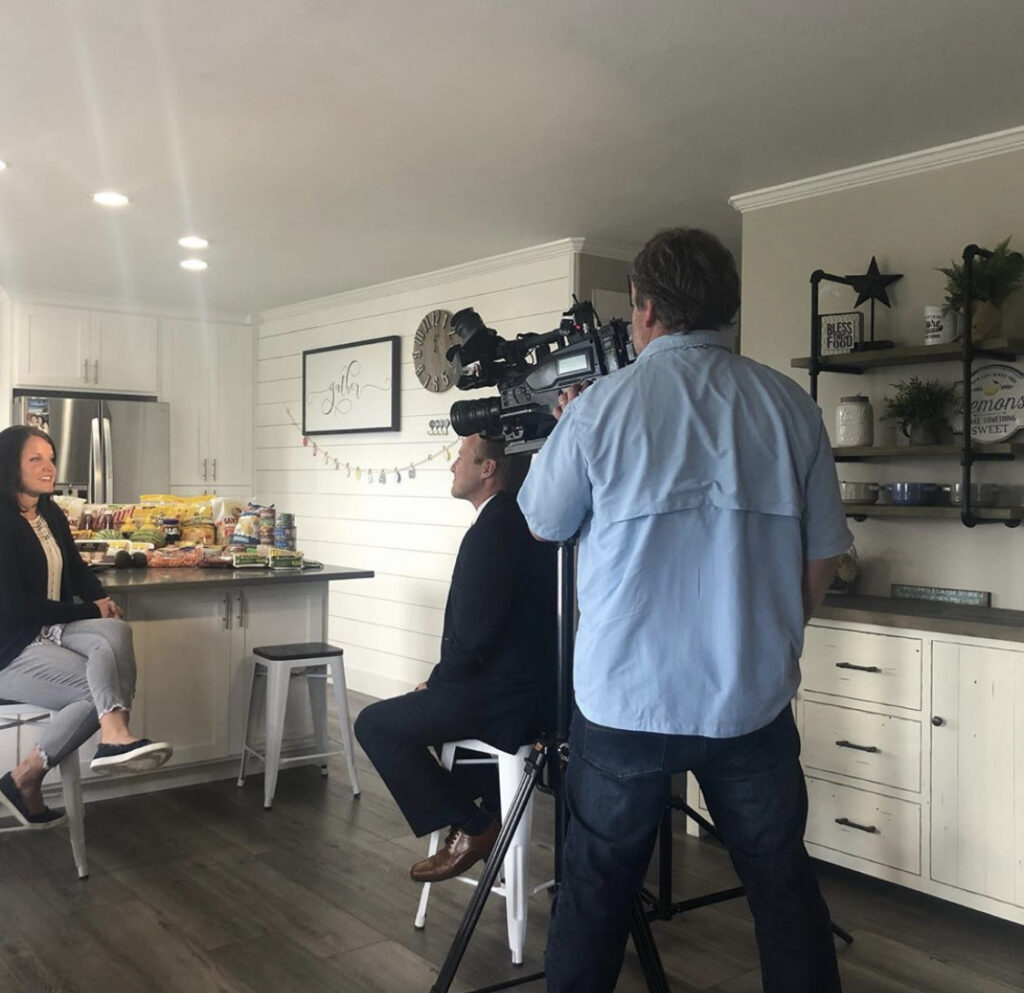 I was able to be interviewed by Ladd Egan from KSL5 News to help them with a story on how to help Utahn's save money on food while on vacation. The interview was over an hour but of course they are only able to use 5-10 seconds. So, I thought I would share my entire list of tips with you to help you save BIG money on vacation!
If you are new to Deals to Meals and what we do, we'd love to offer you a TWO WEEK FREE TRIAL to see how we can help you save money and time! If you are anxious to get going and try our service for 6 months to a year, we are offering our LOWEST PRICE EVER just for you! Email save@dealstomeals.com to get our service for only $3.50 a month! This is a 25% discount and we will also throw in our E-Book for our 28 Day Healthy Meal Plan valued at $9.95 for FREE.
Now, let's use these 14 simple ways to save on food on vacation and have a wonderful (and inexpensive) summer!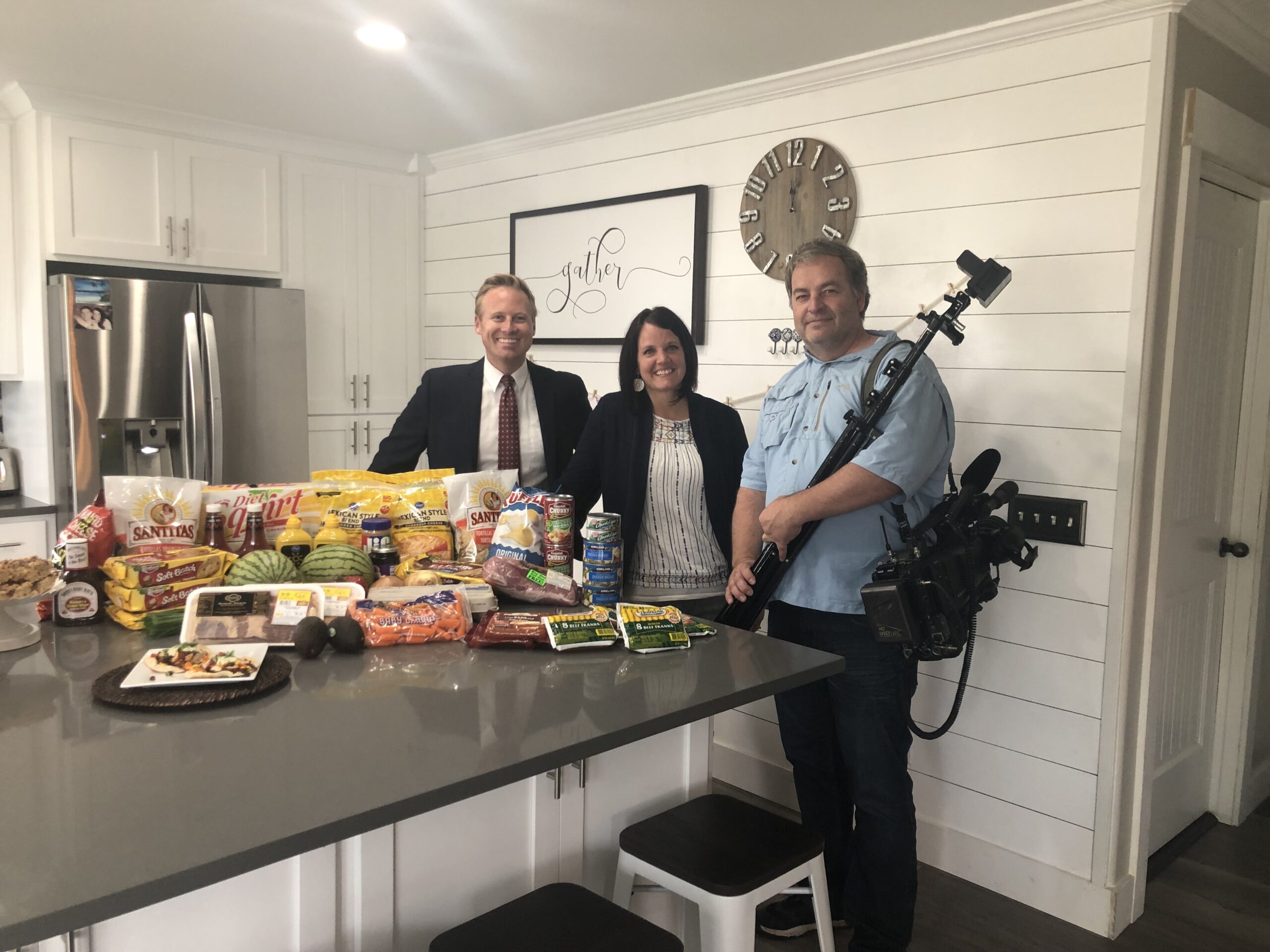 1-HAVE A PLAN: Make a plan before you leave. Know when and where you will be eating out and which meals you'll eat in. Find coupons online for restaurants near your vacation destination to save money. Know your budget before you leave.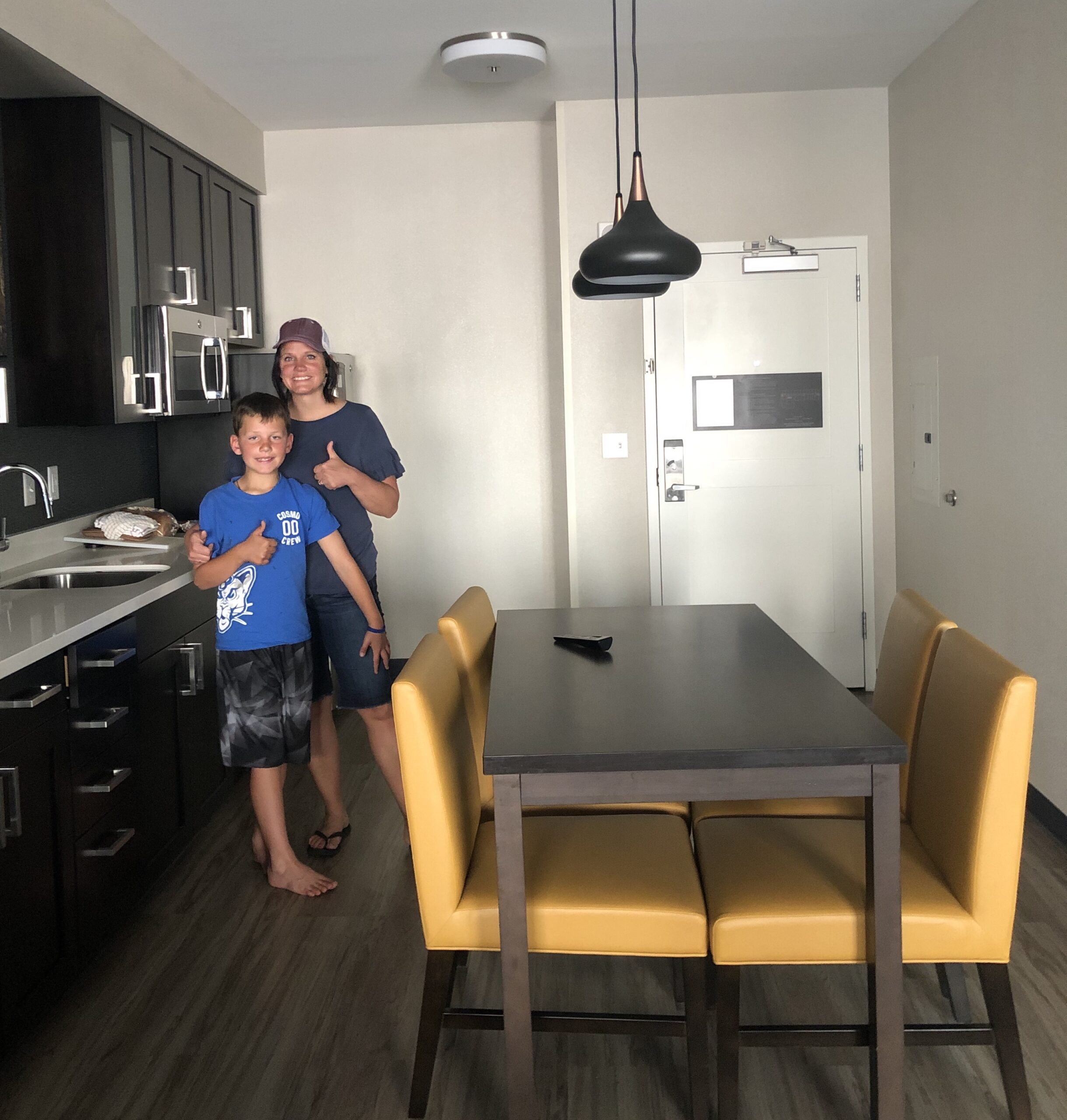 2-FIND A HOTEL WITH COOKING OPTIONS: When choosing a hotel, choose one with at least a mini fridge and a microwave. If you have the budget and can afford a full kitchen, even better! The money you'll save by eating in the hotel will save you $100's on food.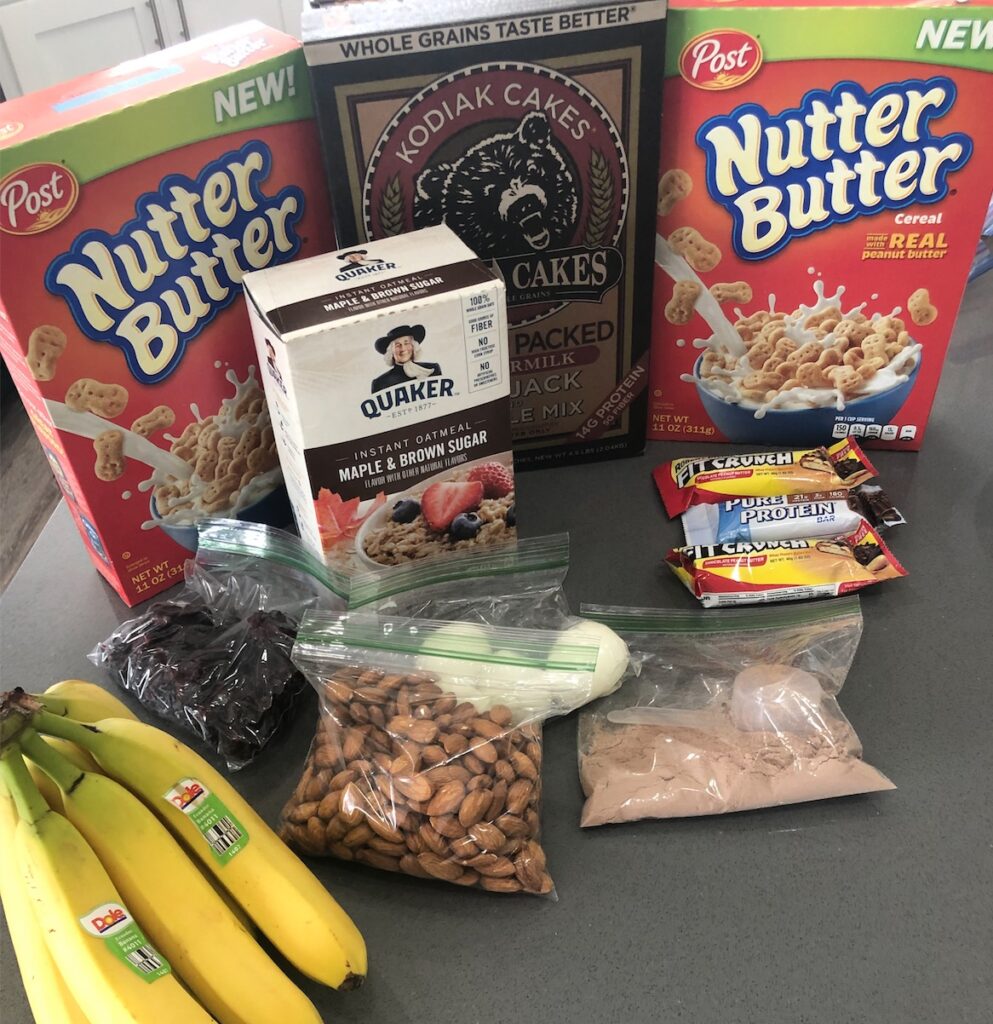 3-FREE BREAKFAST: Find a hotel that offers a free continental breakfast. For a family of 7, this could save you $25-$50 each day. If you can't find free breakfast, this is the least expensive meal, so buy cereal, keep milk in a cooler and you have a quick and easy meal without much prep. Bagels and cream cheese, fresh fruit, yogurt and granola are all easy breakfast options you can keep in a cooler or mini fridge.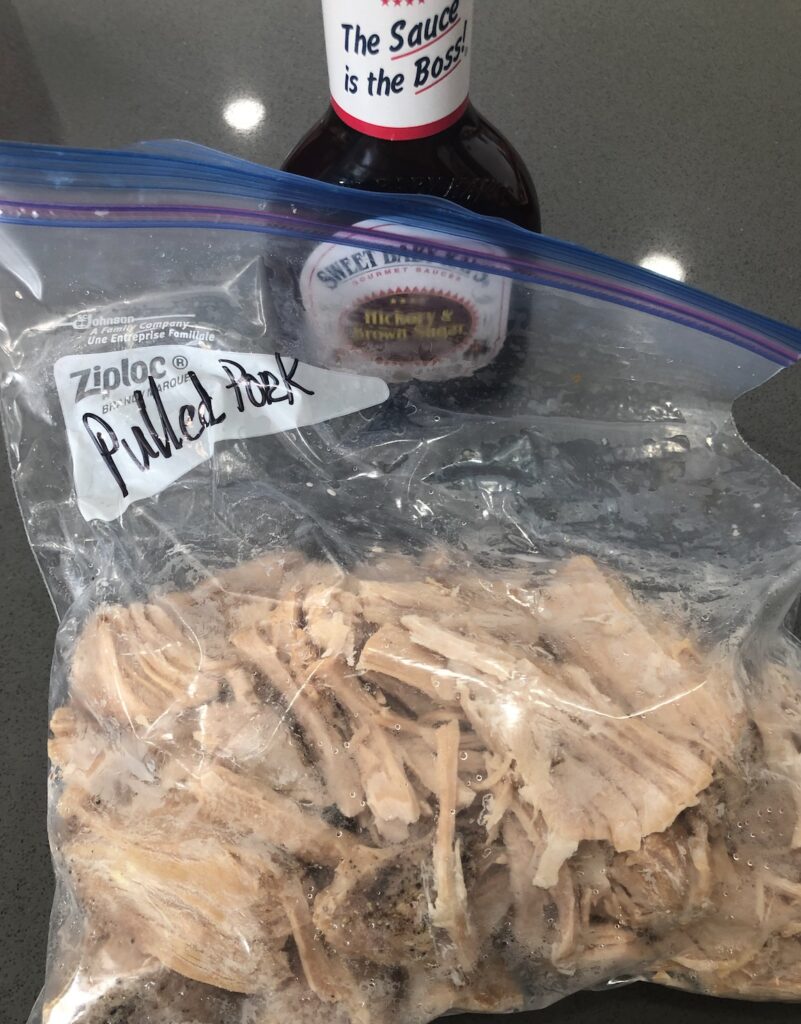 4-PREPARE SOME MEALS BEFORE YOU GO: Prepare a few meals at home, freeze, and bring on vacation (assuming you stay local). Any freezer meal that needs to only be warmed through in a microwave, in a skillet or on a stove are easy to bring on a trip. My favorites are pulled pork bbq sandwiches, taco meat made ahead of time works great, chicken salad sandwiches, soups, chilis, stews, etc. Warm them up and eat in the hotel to save BIG money!
5-STOCK UP: Prices for groceries in a resort or destination area are MUCH more expensive than they would be at home. Use Deals to Meals to find out where the best deals are on groceries BEFORE you go to save hundreds of dollars.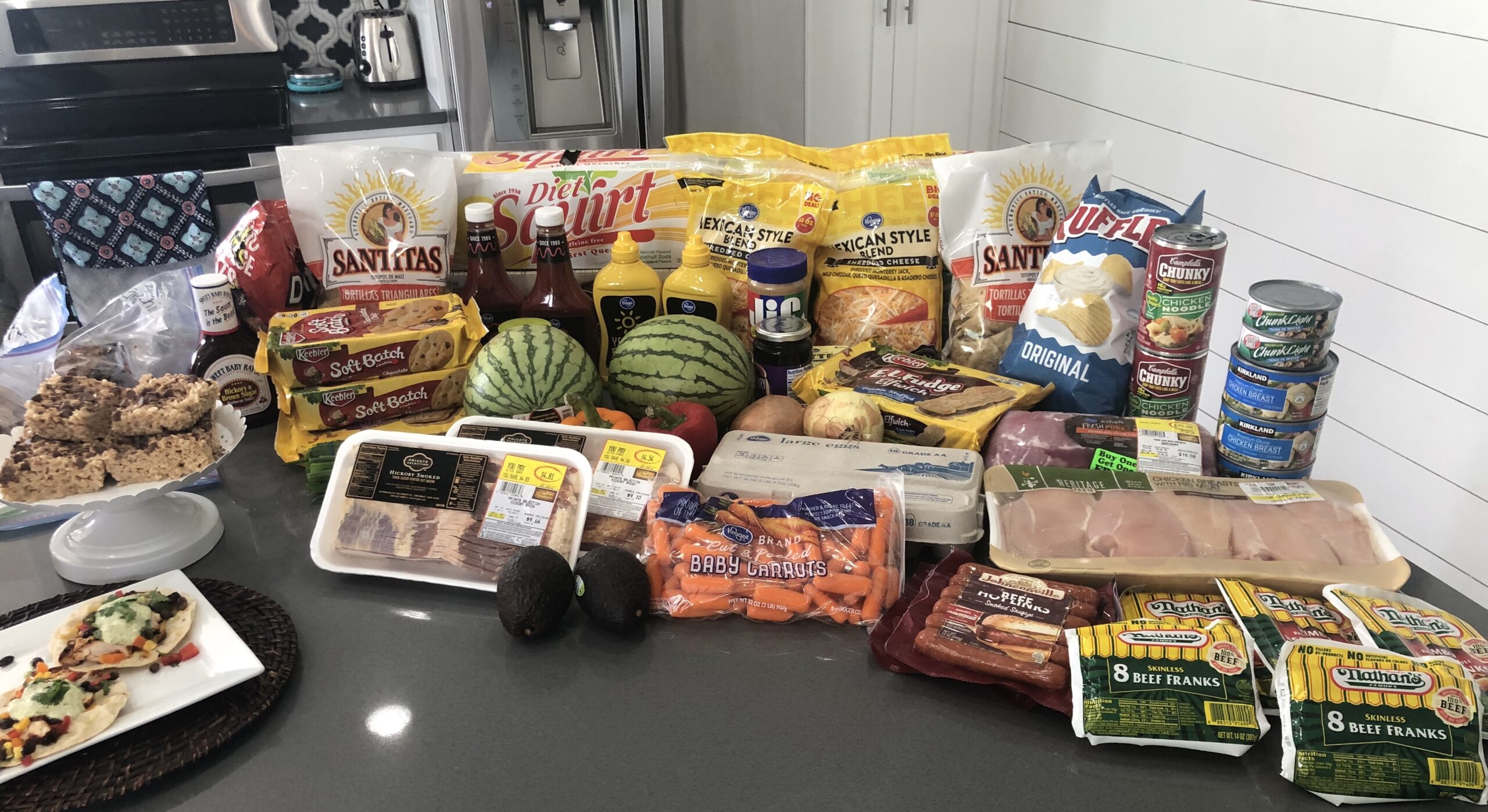 We bought all of the groceries pictured for a family getaway and spent well under $100! Remember, if you travel anywhere in the U.S. Deals to Meals can help you find the best grocery deals in the area of your trip.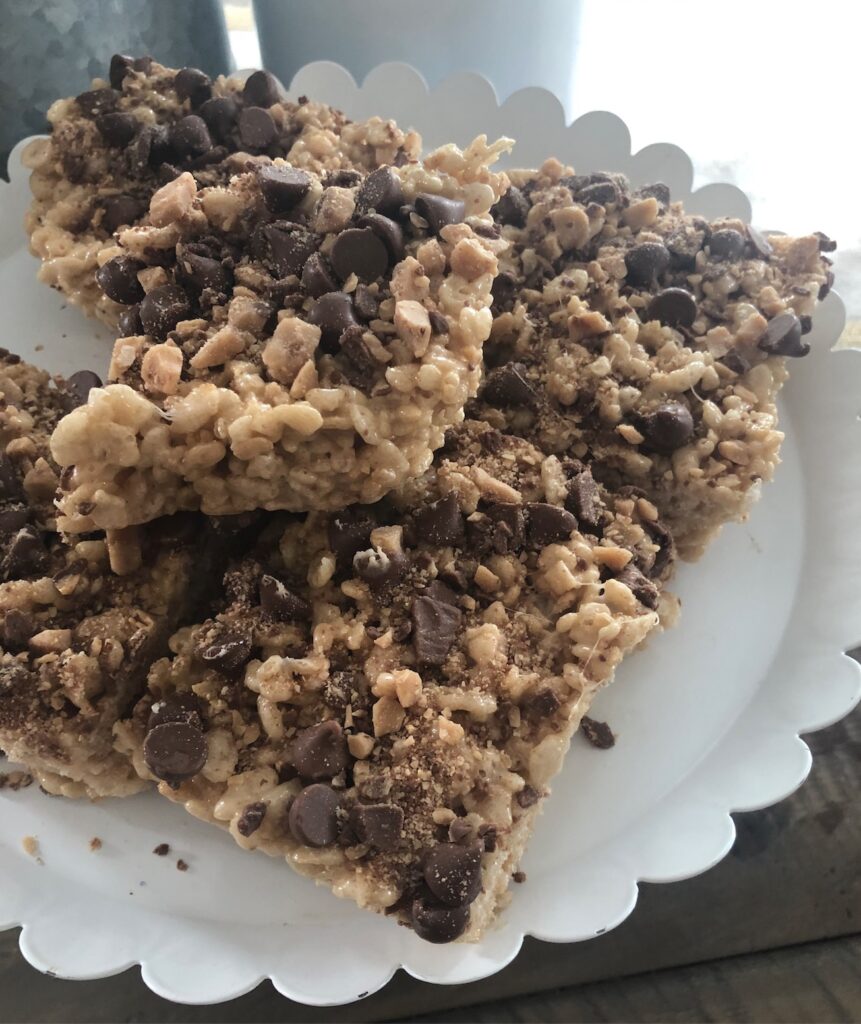 6-MAKE HOMEMADE SNACKS:Instead of buying prepackaged snacks, take a few minutes before you go and make them yourself. Snacks and treats always go on sale this time of year for the best prices, so if you don't have time to make them, watch the deals and stock up. Login to Deals to Meals to see where the best treats and snacks are on sale in your area.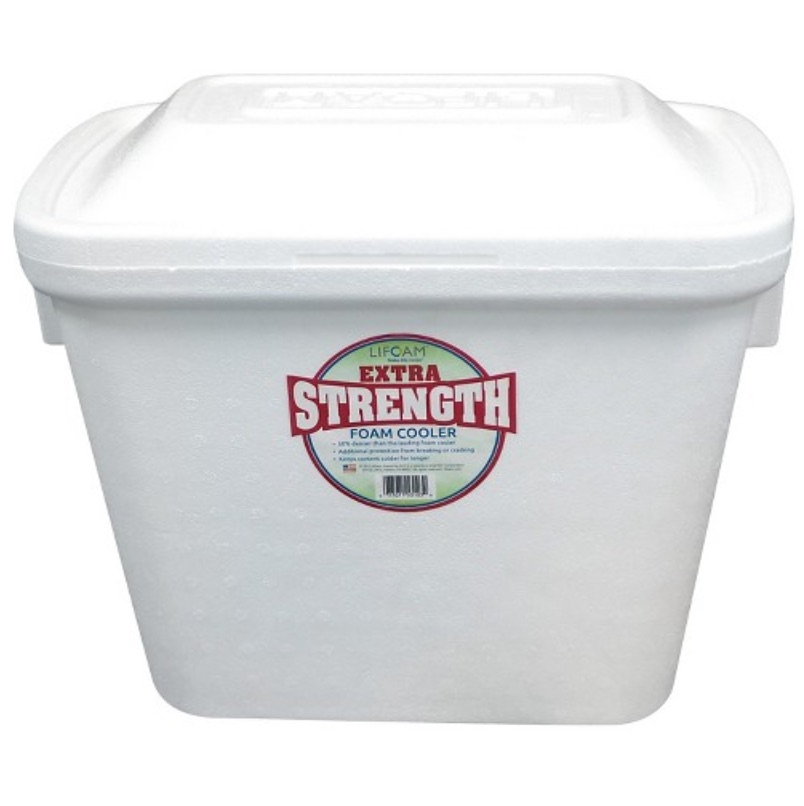 7-USE A COOLER: Even if you're flying somewhere, you can buy an inexpensive styrofoam cooler at a local grocery store to keep some essentials cold. Your hotel will offer free ice, so this is a simple way to keep basic groceries cold (milk, cheese, lunchmeat, yogurt, etc.).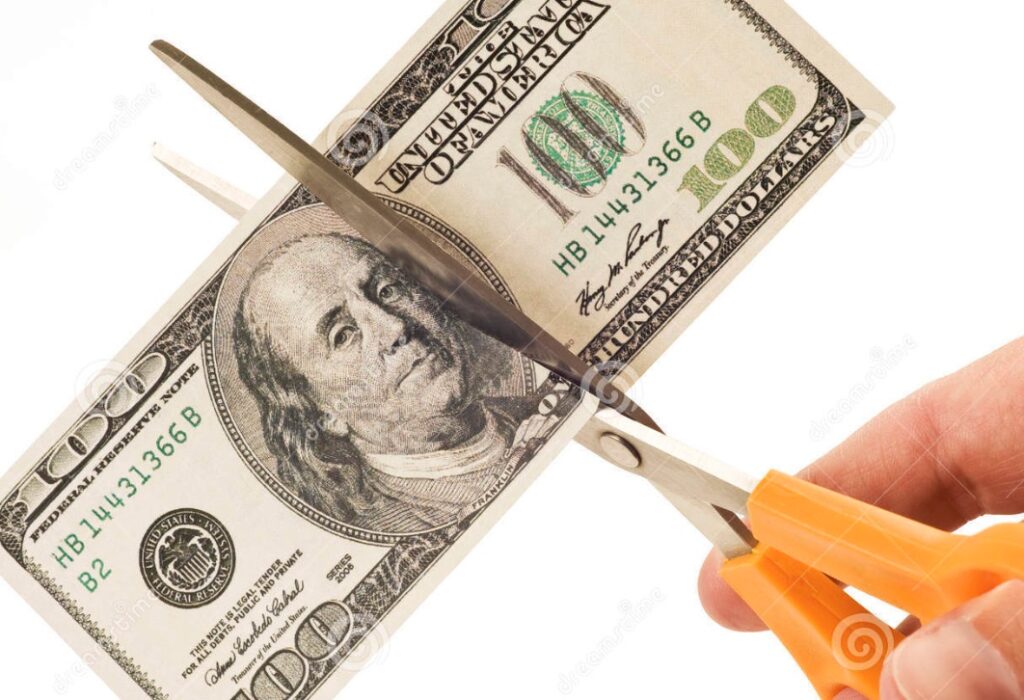 8-CUT OUT A MEAL: Yes, eating less will save you money. If you eat a hearty breakfast, most families can skip lunch and eat an early dinner. This will save $5-$15 per person per day.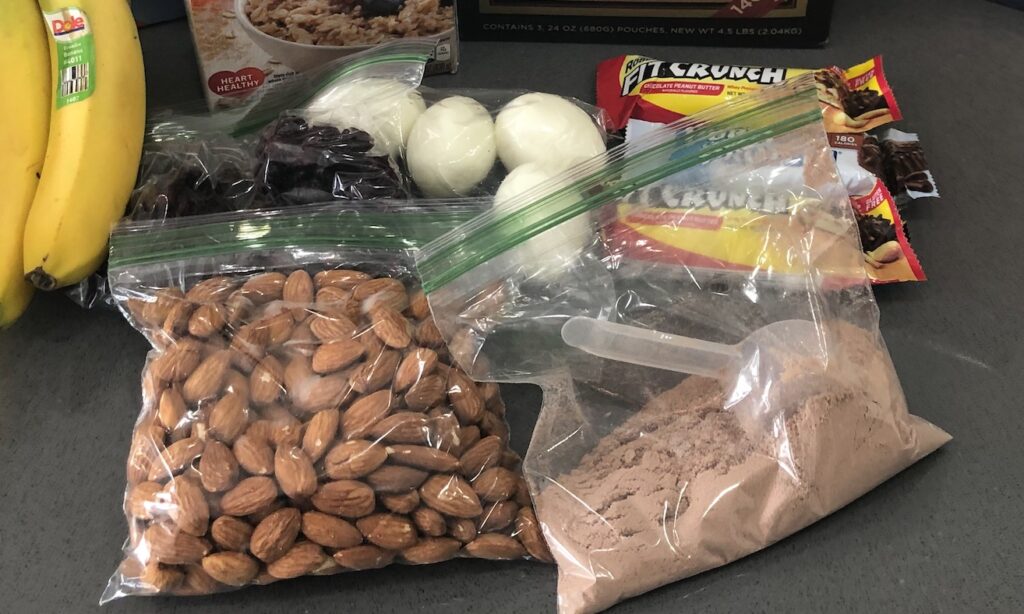 9-HIGH PROTEIN SNACKS: If you are choosing to skip one meal a day, you can use high protein snacks to help you feel full longer. Choose things like nuts, dried fruit, string cheese, protein bars, protein drinks, etc. to help keep you full.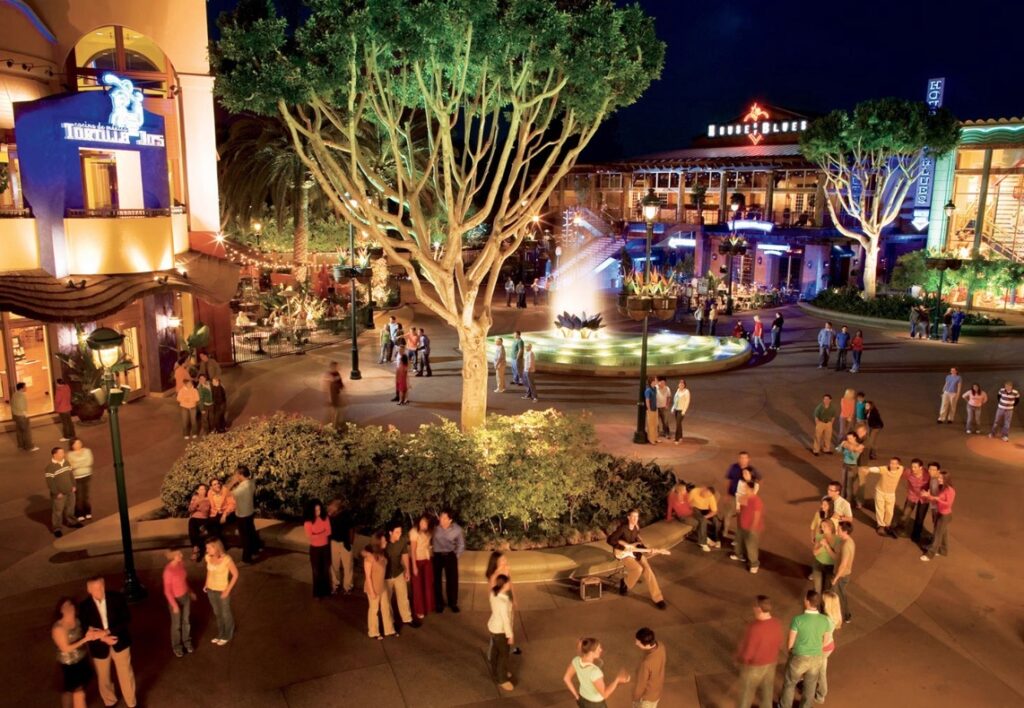 10-EAT AWAY FROM TOURIST AREAS: Eating near (or in) a tourist area will cost more than if you drive out 3-5 minutes and buy food there. Ask the locals where they like to eat and you'll find better food at better prices–and ditch the crowds.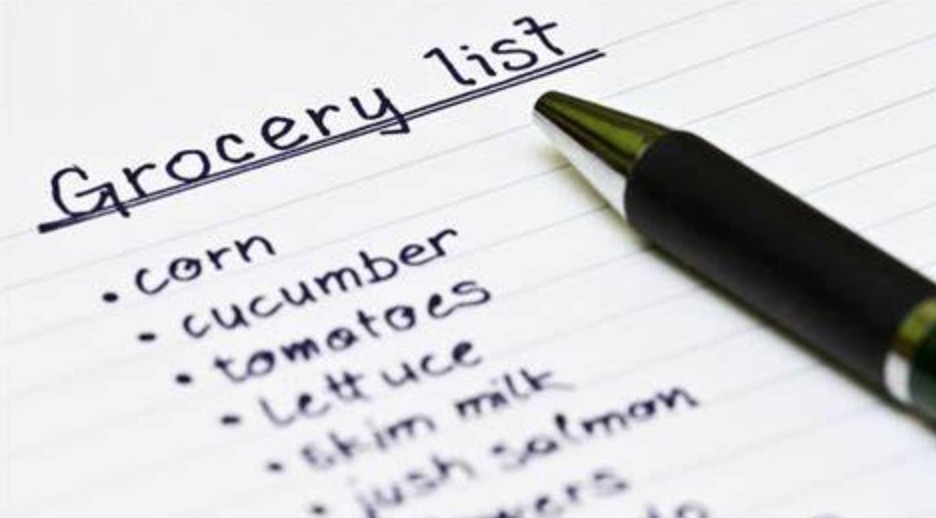 11-GROCERY SHOP: Make a quick stop to a local grocery store for food basics for your trip. If you can't bring food from home, you can still get some grocery basics to make lunches or breakfasts in the hotel. Make a grocery list before you shop to save you money and time.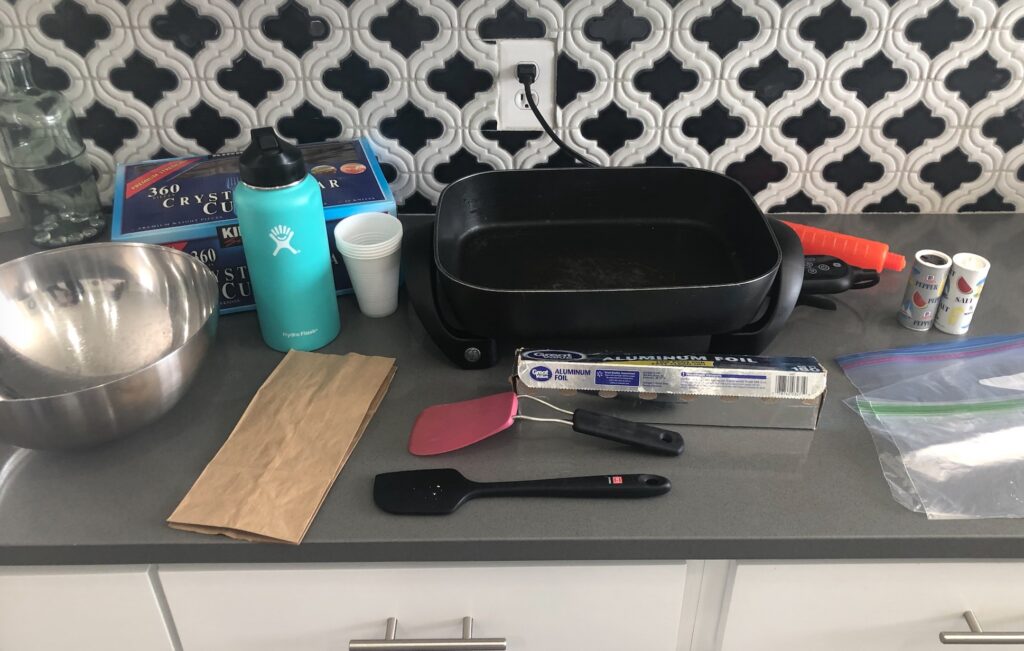 12-BRING KITCHEN BASICS: By bringing some basic kitchen items you can make food prep a cinch in your hotel. An electric skillet makes warming up food a breeze. Salt, pepper, a large bowl, spatula, sandwich bags and foil are all kitchen basics that will help food prep easy.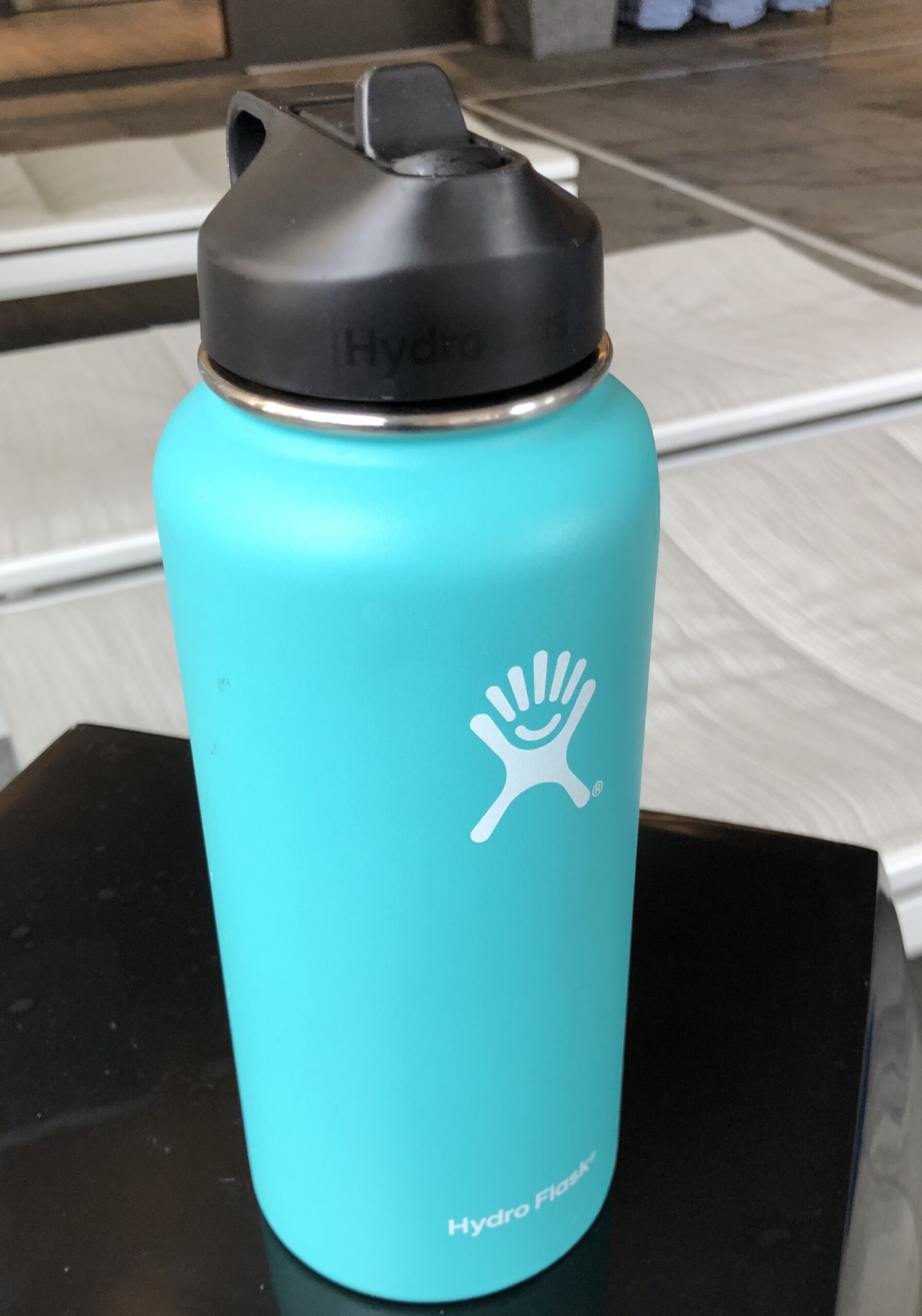 13-SAVE ON DRINKS: Bring plastic, reusable water bottles to refill with water so you don't have to buy drinks for every member of your family. If you are a soda drinker, bring cans or bottles of soda from home so you don't have to buy fountain drinks every time you're thirsty.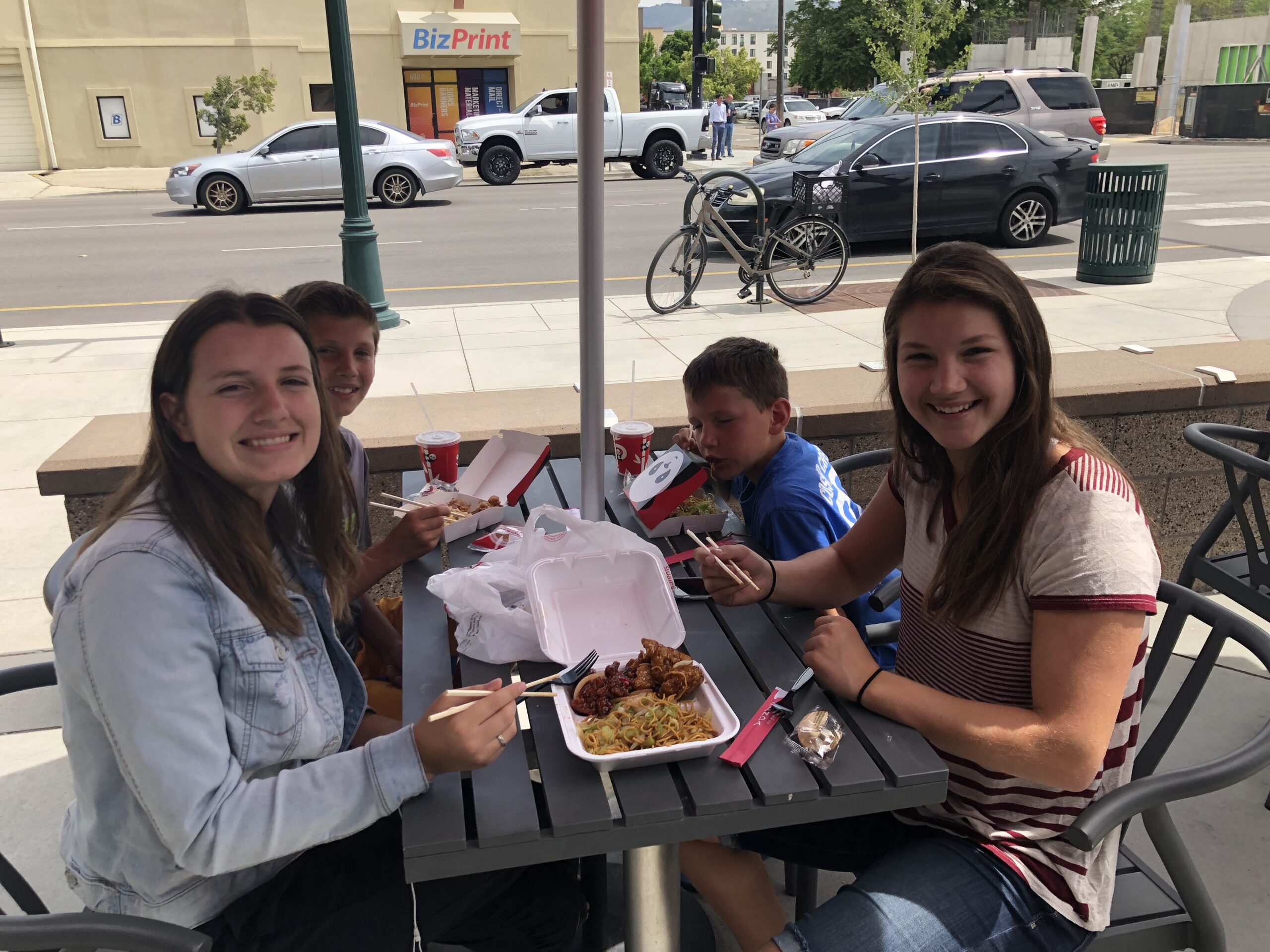 14-EAT A LATE LUNCH: Most restaurants offer the same meals for lunch at 25-50% off their dinner pricing. Eat a late lunch/early dinner to save money and have a small snack before bed to cut costs on eating out.