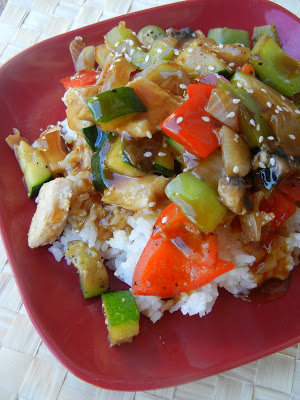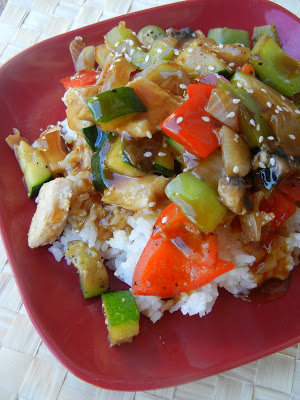 If your garden is like mine, your fridge is most likely popping at the seams with zucchini, bell peppers and yellow squash. This is my favorite time of year, just looking at my garden makes me giddy! I love the abundance of fresh fruits and vegetables, the warm weather, and the blue sky. Call me crazy, but I feel like a healthier person in the summer. Whether it's the fact I actually get off my behind and exercise every morning or the fact I am eating fresh vegetables on a regular basis. No matter what it is, I am just grateful for another beautiful summer and the chance to work and till my own garden. Even if my cabbage has been eaten by aphids (ew..those nasty critters!) and my zucchini is covered in squash bugs (yuck!). I am just glad to have enough zucchini and bell peppers to make two of my favorite summer time meals.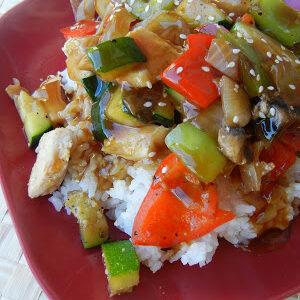 Ingredients
1/4

cup

lime juice

1/4

cup

canola oil

1

Tbs.

cumin

1

Tbs.

chili powder

1

tsp.

garlic powder

Salt and pepper

LIME RICE

2

cup

water

1/4

cup

lime juice

1 1/2

cup

white rice

uncooked

1/4

cup

cilantro

chopped

Dash of salt and pepper

VEGETABLES

1

medium zucchini

cut into long strips

1

red bell pepper

cut into long strips

1

green bell pepper

cut into long strips

1

onion

cut into long strips

Optional: other colored bell peppers

yellow squash, mushrooms, etc.

2

+ T. butter
Instructions
Marinate the chicken in the lime juice, oil and seasonings for 2-24 hours. When ready to cook, remove chicken from marinade and grill until cooked to perfection. Let the chicken sit on a plate until the veggies are cooked and then slice and place on top of fajitas.

Lime Rice: Bring the water and lime juice to a boil. Add the rice and cilantro. Stir and then cover the rice with a lid and simmer for 15-20 minutes or until rice is tender.

Cut the onions and slice the peppers. Saute the onions in the butter and season with Montreal Steak Seasoning (or salt/pepper). Once the onions are slightly soft, add the sliced peppers and zucchini. Saute until the peppers are barely tender (don't over cook them or they will be mushy). Add 1-2 c. of shredded cheddar, pepper jack or Monterrey jack cheese to the vegetables. Cover and remove from heat.

Slice the chicken into long strips. Slightly warm the flour tortillas. In each tortilla place a large spoonful of Lime Rice, sauteed vegetables and pieces of chicken. Garnish the fajitas with sour cream, salsa and guacamole.
Now for another garden favorite meal. This meal couldn't get easier, especially when you use your pre-grilled chicken from the freezer. Here is an easy recipe for Garden Vegetable Stir-fry, hope you enjoy!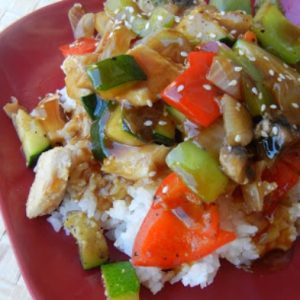 Ingredients
2-3

grilled chicken breasts

cooked and cut into one inch pieces

1

medium zucchini

cut into bite size pieces

1

onion

diced

1

green bell pepper

diced

1

red bell pepper

diced

8

oz.

mushrooms

quartered

1

can chunk pineapple

drained (or fresh)--optional

1

recipe for homemade teriyaki sauce

or use store bought

3

c.

cooked rice

INSTRUCTIONS
Instructions
In a large saute pan, saute each vegetable separately with a little drizzle of olive oil or butter until the vegetables are tender, but not over cooked. Season each vegetables with salt/pepper or Montreal Steak Seasoning. Place each vegetable in a large bowl as they finish cooking. Cooking the vegetables separately will insure they are not over cooked or turn mushy. In the same pan, make the teriyaki sauce and when the sauce is thickened, add back to the pan the sauteed vegetables and diced chicken. Remove from heat, stir together, and serve over cooked rice.