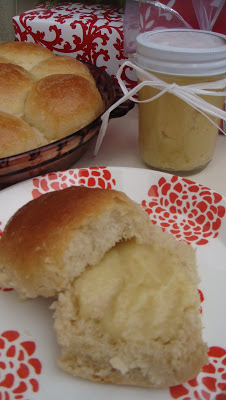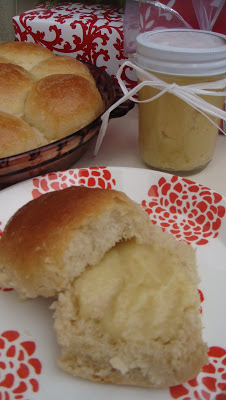 The holidays are wonderful for many reasons, and one of those being the amount of baked goods, treats, and candy you accumulate during the holidays. Surprisingly, even I can only have so many goodies before I feel like I never want to see another sweet until the new year. Treats from neighbors have diminished since our neighborhood does our annual food drive instead of treats. However, there are still plenty of treats to go around.
There comes a point in December I can't stomach making one more plate of treats, or I am going to be sick. This is when I choose to make and give away one of my favorite (and easy) gift ideas: homemade bread/rolls & specialty butter–honey, strawberry, raspberry, cinnamon, etc.
I love the Strawberry Butter I blogged about last year, or the Lion House Honey Butter recipe, or Texas Roadhouse's Cinnamon Butter. ALL of which are absolutely delicious! I have found yet another version of a honey butter that melts in your mouth! This recipe is similar to the Lion House honey butter, but has marshmallow cream in addition to the honey and butter. This is my friends recipe and it is smooth, rich, sweet and has a wonderful soft and fluffy texture. Serve this butter on top of warm bread, on rolls, or even over French toast. It is fabulous!!
Whipped Honey Butter
1 lb. butter, softened
1/2 cup honey
8 oz. marshmallow cream
Dash salt
1 tsp. vanilla
1 egg yolk
Whip together the butter until it's fluffy and turns a white hue. And the honey and continue to whip until soft. Fold in the marshmallow cream, salt and vanilla. Add the egg yolk and continue to whip. Mix until the butter is airy and fluffy. Keep in the fridge until ready to serve.