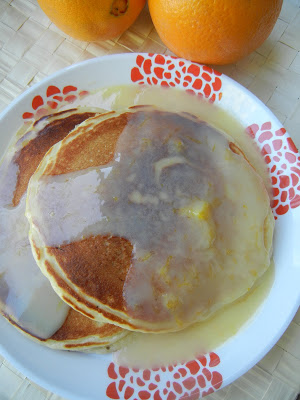 Citrus week continues with these pancakes you are sure to love! If you like those orange creamsicle popsicles you will LOVE this recipe. These pancakes are perfectly fluffy, soft, sweet and sour. Have these for a weekend breakfast, a brunch, or a quick weeknight dinner. You know me with butter syrup (I can't get enough), this orange butter syrup melts in your mouth 😉 Enjoy!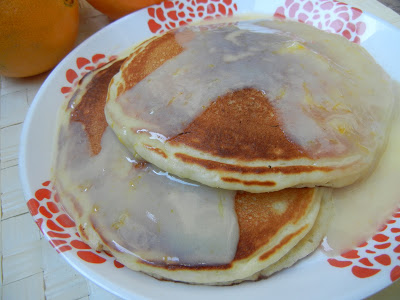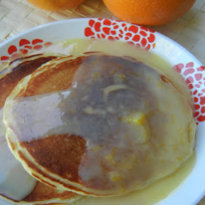 Ingredients
PANCAKES:

3

cups

white flour

1 1/2

cups

wheat flour

or white flour

6

teaspoons

baking powder

4

teaspoons

salt

1/2

cup

sugar

3

Tablespoons

vegetable oil

1 1/2

cup

sour cream

6

eggs

1 1/2

cup

milk or buttermilk

1

cup

orange juice

3

teaspoon

vanilla

Zest of one orange

ORANGE SYRUP:

1

stick butter

1

cup

sugar

1/2

can sweetened condensed milk

1/2

cup

orange juice

3

teaspoon

lemon juice

Zest of one orange

Dash of salt

2

Tablespoons

sour cream
Instructions
In a large bowl, mix together the sugar, oil, sour cream and eggs. Beat until smooth. Add the milk, orange juice and the remaining ingredients until well mixed. Heat a hot skillet. Grease lightly with cooking spray or butter and place 1/2 c.-1 c. of the batter on the skillet. When the bubbles begin to pop on the top of the pancake, flip the pancake to the other side. Continue to cook until the center of the pancake is cooked. Serve with the Orange Syrup below. For the syrup, in a sauce pan, place the butter and the sugar. Cook on low heat until the butter and sugar begins to dissolve. When the butter is melted, add the orange juice and lemon juice. Turn the heat to medium heat and let the syrup simmer at a low boil until the sugar is completely dissolved. Add the sweetened condensed milk, sour cream, zest and salt to the syrup. Leave the syrup on very low heat to keep warm until ready to serve on the pancakes.