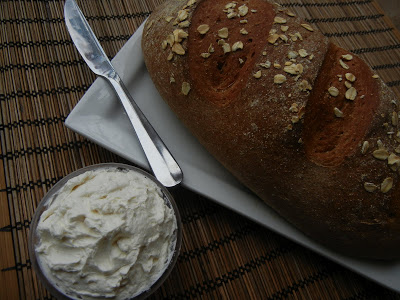 Does anyone LOVE the pumpernickel bread from Outback or The Cheesecake Factory as much as I do? I could eat an entire loaf all by myself. I am new to the whole grain rye, but have found it has a delicious flavor that I am quickly learning to love. Rye used to be the grain of peasants and many people refused to eat this grain. It has quickly become popular as people are learning the nutritional benefits of rye flour. Rye has many vitamins, minerals, fibers and antioxidants, similarly to wheat.
There are many health benefits to eating rye (information from this article):
*Promotes weight loss
*Helps prevent gallstones
*Lowers risk of type 2 diabetes
*Fights cardiovascular disease and promotes gastrointestinal health
*Significant cardiovascular benefits for postmenopausal women
*Prevents heart failure
*High in fiber (about 24 g. of fiber per cup)–keeps you regular
*Anti-cancer activity equal to, or even higher than, that of vegetables and fruits
*Lignans protect against heart disease
*Helps prevent breast cancer
*Highly protective against childhood asthma
Now if that doesn't spell healthy, I don't know what does! This month I will be introducing new recipes and ways we can incorporate rye into our daily diet. I feel like I have wheat down pretty well, so now I am going to start trying new and different grains. I hope you enjoy this bread as much as we do! This bread is great with honey butter or with plain butter. If you do not love a strong rye flavor, leave out the caraway seeds. When I want this bread with honey butter I usually only use 1/2 t. caraway seeds. When I want rye bread for Reuben Sandwiches (recipe coming later this week), then I use 2 t.-1 T. caraway seeds. No matter what you are using this bread for, I know you will LOVE it!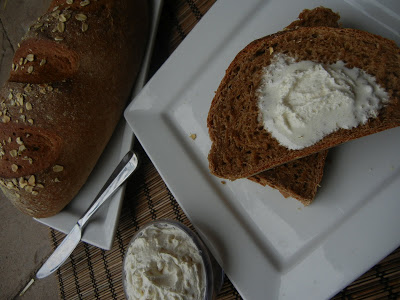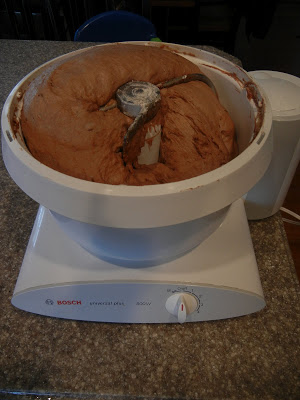 Let the dough rise for 10-15 minutes until it reaches the top of the bowl. The dough will be super soft and a little sticky.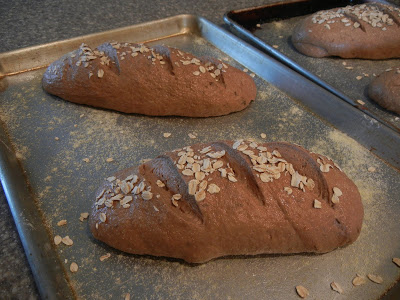 Roll the dough into long french bread loaves and slice the tops of the bread 3-4 times. Bake and serve with
delicious honey butter.
Enjoy 😉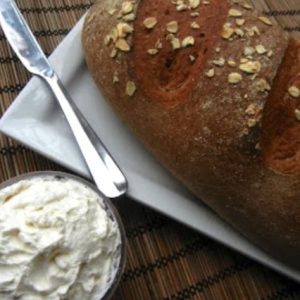 Ingredients
4

cup

warm water

2/3

cup

powdered milk

or use 4 1/4 c. warm milk

3/4

cup

brown sugar

1/3

cup

cocoa powder

2/3

cup

oil

3

Tbs.

yeast

1

cup

molasses

3

cup

wheat flour

4

cup

rye flour

5

cup

white flour

or any combination of 12 c. of flour

1/2

tsp.

allspice

1-2

tsp.

caraway seeds

optional..more for a savory bread than a sweet bread

1

Tbs.

salt
Instructions
Mix the first seven ingredients into a large mixing bowl (Bosche or Kitchen Aid preferably--this recipes makes 4 large loaves). Mix the ingredients together until the mixture is smooth. Let this mixture sit for 5-7 minutes, or until the yeast begins to foam. To this mixture add the dry ingredients, while mixing on low speed.

Once all of the flour is added into the dough (you may need a little more or less flour, just add flour until the dough is soft, but still quite sticky). Let the dough knead for 5-8 minutes and then let the dough sit for 10 minutes. Once the dough has sat for the 10 minutes, empty the bowl out onto a greased counter. Cut the dough into four equal pieces.

Grease two cookie sheets with cooking spray. Sprinkle a few tablespoons of cornmeal on the cookie tray and shake the cornmeal from side to side until the bottom of the pan has a light coating of cornmeal on it. Roll each of the four balls of dough into French bread shaped loaves (about 9-12 inches long and 3-5 inches wide). Place two loaves onto each cookie sheet. Sprinkle a tablespoon of oats onto the top of each loaf of bread. Cut four slits on the top of each bread. Cover the bread with a thin cloth, or leave on the counter for 30-60 minutes, or until the loaves have doubled in size. The longer you let the dough rise, the softer and airier the bread will be.

Bake bread at 350 degrees for 30-35 minutes, or until the bread is firm and cooked through.