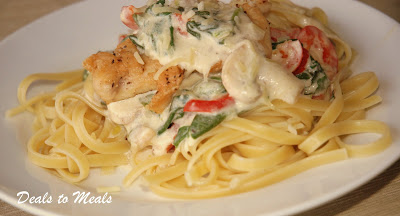 I don't know about you but trying new recipes are always fun. My husband and I really enjoy pasta dishes, but after years and years of cooking, I feel like it's hard to find recipes that are new and worth making. This week I found this recipe, Tuscan Garlic Chicken on a fellow food blog (which I love)…and I thought I'd give it a try. I did my fair share of changes and alterations to the recipe, so here is a new favorite recipe that will impress anyone. It was delicious with fresh spinach, red bell peppers and mushrooms…and don't let me forget the garlic! So here's to another pasta dish that will continue to make an appearance at our house.
Ingredients
3/4

cup

flour

1/2

tablespoon

salt

1

teaspoon

black pepper

1/2

teaspoon

dried oregano

5

tablespoons

olive oil

divided

1

tablespoon

garlic

minced

2

red bell peppers

cut into thin strips or chopped

8

oz.

white mushrooms

sliced

1/2

cup

chicken broth

10

oz.

fresh spinach

3

cups

half and half

or lowfat milk

1

cup

freshly grated parmesan cheese

1

lb.

fettuccini noodles
Instructions
Preheat the oven to 350 degrees F. In a shallow pie plate or similar dish, combine the flour, salt, pepper, basil and oregano. Dip each chicken piece in the flour mixture until both sides are well coated. In a large 12-inch nonstick skillet, heat 3 tablespoons of the olive oil over medium heat until the oil is hot and shimmering. Carefully place the chicken breasts in the pan, cooking them for 2-3 minutes on each side, until they are golden but not cooked all the way through (they'll finish up in the oven). Don't scoot the chicken around once you lay it in the hot oil! Let the oil work it's magic to sear the crust on the chicken. If you get all antsy and try flipping too early and/or moving the chicken around the pan, the breading is lightly to fall off. Gently remove the chicken to a foil-lined, lightly greased baking sheet and bake in the preheated oven for about 15 minutes, until the chicken is cooked through. Set chicken aside.

In a large pot, cook noodles until al dente. Also, wipe out the skillet with a couple paper towels and return it to medium heat, adding the remaining 2 tablespoons olive oil and 2 tablespoons butter. When the oil is hot, add the garlic, mushrooms and bell pepper, sautéing for 2-3 minutes.

Stir in two tablespoons flour and stir constantly while cooking for another minute. Add the chicken broth to the skillet and bring the mixture to a low simmer, whisking constantly, until slightly thickened, about 3-4 minutes. Add the spinach, milk and cream mixture to the skillet. Bring the mixture to a simmer and cook, stirring occasionally, until the spinach is wilted and sauce is slightly thickened, about 2-4 minutes. Stir in the Parmesan cheese. Drain pasta. Toss the pasta with half of the cheese sauce. Place some of the coated pasta on each plate. Top with a breaded chicken breast and spoon some of the sauce over the top of the chicken and pasta. Serve immediately.
Notes
HEALTHIER OPTION: Use fat free half and half (or a low fat milk). Reduce the cheese amount. Serve over a whole wheat pasta.