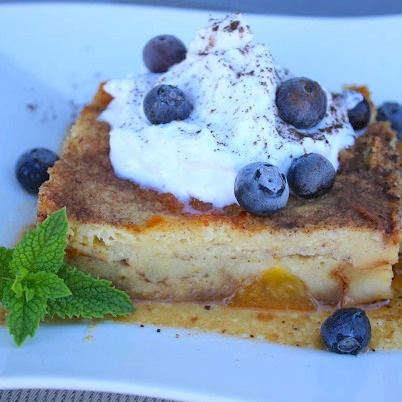 One of my favorite parts about the holidays is the fact our whole family is together. My sister comes into town with her family and all of my sisters and their family's get to spend time together. There is nothing better to me than just hanging out, visiting, letting cousins play and enjoying good food together. I know this chaos would drive some people batty, but I am strange in that way. The more people, the more laughs, the more messes, the more food, the more kids, the better.
My friend shared this recipe with me and I knew it would be the perfect solution to a family breakfast we all would love. We served this dish with lots of fresh fruit, juice and bacon/sausage. The great thing about this recipe is it can be made the night before, placed in the fridge over night and ready to go in the morning. I put this in the oven in the morning when we woke up to go on a jog, went out and enjoyed some fresh air and then came back and consumed all of the calories we had just burned on our run. It was WELL worth every calorie though!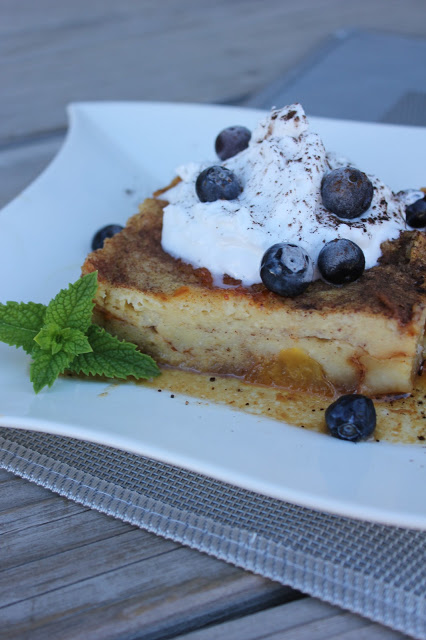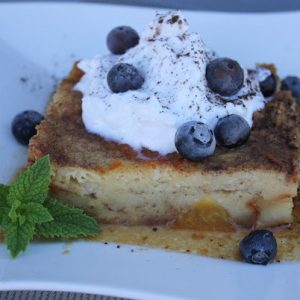 Ingredients
5-6

fresh peaches

peeled and sliced (or use canned peaches)

1

cup

brown sugar

1/2

cup

butter

6

eggs

1 1/2

cup

milk

1

Tbls.

vanilla extract

1/4

tsp.

salt

Dash cinnamon

9-12

slices

of white bread

Fresh fruit

peaches or blueberries

Dallop whipped cream or whipped topping
Instructions
Peel and slice the peaches (or drain a can of canned peaches). In a saucepan, heat butter and brown sugar. Once butter is melted, add 2 tablespoons of water and continue cooking until sauce becomes thick and foamy. Pour into a 9x13 inch baking dish and cool 10 minutes. Place drained peaches (or fresh) on cooled sauce and cover with thick slices of french bread or white bread. In a bowl, mix together the eggs, milk and vanilla. Whisk together and then pour over bread. Cover dish and refrigerate overnight (or bake right away). Bake at 350 degrees for 50 minutes, or until center is cooked through. Serve with a dollop of whipped cream and more fresh fruit (optional).
Notes
HEALTHIER OPTION: Serve with wheat bread instead of white bread. Use lowfat milk instead of whole fat milk.