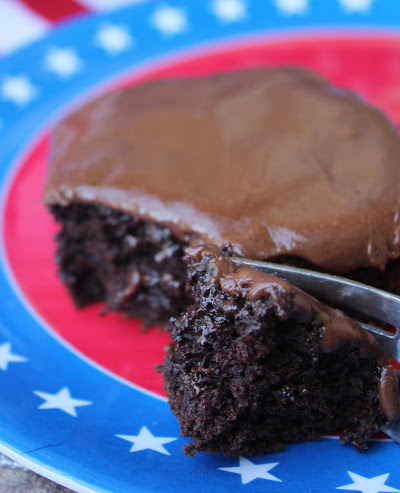 Let's talk fourth of July desserts. What is more American than a brownie? A gooey, homemade chocolate brownie is probably one of the highlights about hanging out at the park waiting for fireworks to start. My sister always makes an amazing batch of brownies, covers them in cream cheese frosting and decorates the top of the brownies like a flag with blueberries and strawberries. This year she has decided to break that tradition (grr!) and so it was up to me to provide the brownies for the park celebrations. However, I was plum out of berries and I wasn't about to venture to the store on one of the busiest shopping days of the year. So, we had to go with second best and that is a homemade brownie with soft, fluffy, homemade chocolate frosting. Really for me, the more chocolate the better, so these brownie babies are a sure bet to curbing my patriotic chocolate craving later tonight. Now, you can either serve our go-to-most-amazing-best-ever brownie recipe, or give these Zucchini Brownies a try. I picked my first two zucchinis out of my garden today and was so excited to make this awesome recipe for these brownies. They have much less fat than regular brownies and they are extremely moist and rich. Lower in fat…who doesn't need that this time of year?!?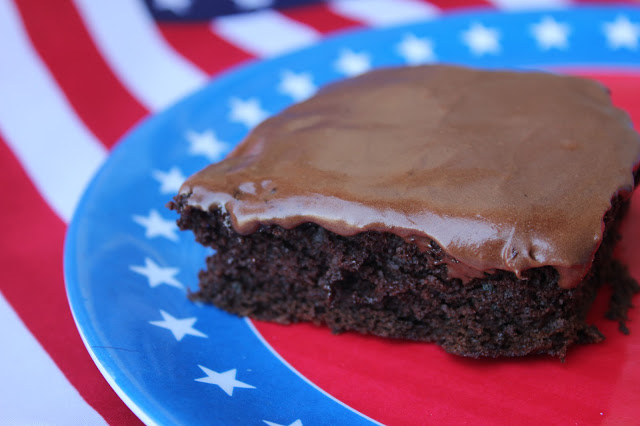 These brownies are so fudgy and moist you might just need a fork 😉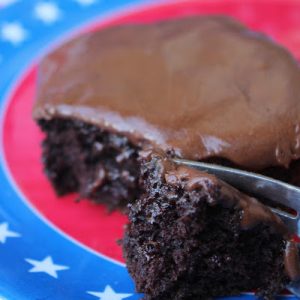 Ingredients
BROWNIE:

1/4

cup

butter

1/4

cup

applesauce

1 1/2

cups

sugar

2

tsp.

vanilla extract

2

cups

zucchini squash

shredded

2

cups

flour

1/2

cup

cocoa powder

1 1/2

tsp.

baking soda

1

tsp.

salt

FROSTING:

1

stick butter

room temperature

1/2

cup

cocoa powder

1

tsp.

vanilla extract

1/3

cup

milk

4-4 1/2

cups

powdered sugar

Dash of salt
Instructions
Brownie: In a mixing bowl, with an electric mixer, mix together the butter, sugar, cocoa and vanilla until completely smooth. Add the remaining ingredients and spread into a greased 9x13 pan. Bake at 350 degrees for 25-30 minutes (don't over bake but make sure the center is cooked through). Cool the brownies on the counter and then frost with chocolate frosting.

Frosting: In a mixing bowl, with an electric mixer, blend together the butter, cocoa powder, vanilla and milk until smooth and soft. Add the powdered sugar and dash of salt and continue to mix on medium-high speed until the frosting is light and fluffy, about 4-6 minutes. The longer you whip the frosting, the smoother and fluffier it will be. If your frosting is too thick, add a few teaspoons of milk or if it's too runny, add a little more powdered sugar. Spread over the cooled brownies.
Notes
HEALTHIER OPTION: Use half whole wheat flour instead of white in the brownies. Instead of serving with frosting, just sprinkle the top with powdered sugar.