What is your go-to families late night treat? These Peanut Butter No Bake Cookies are our quick and easy treat when we're in a hurry and want something sweet. They are also a treat I don't feel totally guilty in sharing with the kids because they at least have a little protein in the peanut butter and plenty of hearty oats to add some nutrients. Yes, they aren't totally healthy, but they are a super simple treat you can make with one sauce pan and one cookie sheet.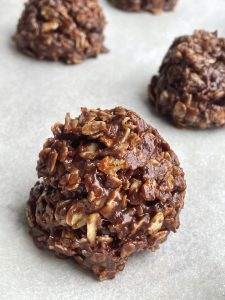 The combination of the peanut butter and chocolate make a wonderful combination that so many love–especially my hubby. He can't get enough of the PB & Chocolate combo. If you love that combination too, this is the recipe for you! The great thing about this recipe is the oats and peanut butter are on sale at Smith's. Peanut Butter is only $0.99 during their case lot sale this week. STOCK UP while prices are SO low on an item your family uses often. Buy as many as you can afford as this deal will most likely not be back for a long while. Login to see our Deals for FREE!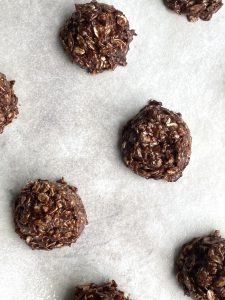 To make these cookies even easier, I love to use these parchment paper sheets so clean up is a cinch! Buy a 200 pack and it will last you a long time and makes cooking easier.