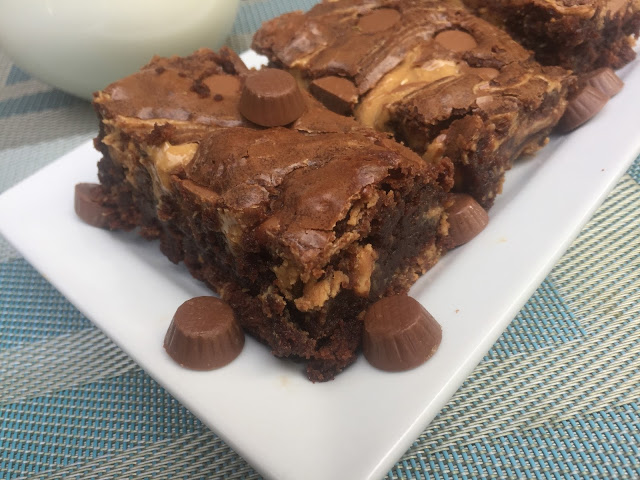 Fall is one of the best times of year to stock up on many of the baking items your family uses on a regular basis. Items like cake mixes, brownies mixes, powdered sugar, brown sugar, flour, evaporated milk and many other products are on sale this week. It's a great time to stock up your food storage and save money throughout the rest of the year.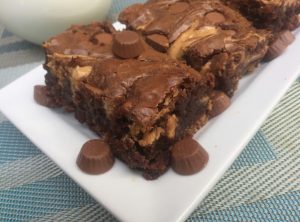 Now, for this simple and delicious recipe. It's a great week to make this decadent dessert because boxed brownies, eggs, peanut butter, powdered sugar and chocolate chips are all on sale. Yes, that's every item of this recipe ALL on sale this week! Not to mention, these swirl brownies are gooey, moist and filled with absolute peanut butter chocolate goodness. Give them a try, you're going to love them 😉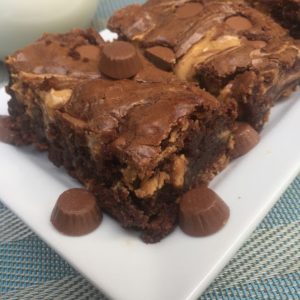 Ingredients
2

boxed brownie mix

1/2

cup

water

1

cup

canola oil

4

eggs

1 1/4

cup

peanut butter

2-3

Tbs.

powdered sugar

1-2

cups

peanut butter chocolate chips

or mini peanut butter cups
Instructions
Preheat the oven to 350 degrees. In a bowl, pour the brownie mix into the bowl. Add the water, canola oil and eggs to the brownie batter and mix until combined. Spray a 9x13 pan with non stick cooking spray. Pour the brownie batter into the bottom of the pan and spread until level. In the emptied out bowl, add the peanut butter and powdered sugar. Microwave the peanut butter for 30 seconds until soft. Whisk together the peanut butter and sugar until smooth. Place six blobs of the peanut butter on top of the brownies. With a knife, swirl the peanut butter around the top of the brownie batter. Bake the brownies for 28-33 minutes, or until the center is set. Don't over bake or the brownies will dry out.