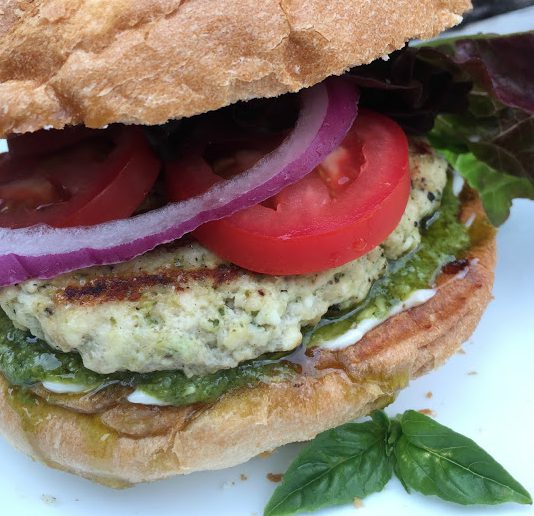 Oh, happy day! I can't wait to share this recipe with you. I was playing around in my kitchen the other day and decided to come up with a new way to use ground chicken. If you are new to using ground chicken, it is my new favorite thing. There are times I want the flavors and texture of a burger but not the calories of red meat. Using ground chicken is the perfect solution. Our local Sprouts had ground chicken on sale the other week for $1.99/lb. so I stocked my freezer and have loved experimenting with this new style of meat. The good news is, if you don't have ground chicken you can make your own. Just throw your thawed, chicken breasts into a food processor and pulse until chopped. Once the chicken is ground, you infuse the meat with amazing flavors like fresh basil, pesto, red onion and feta cheese. These flavors cook together and make for the most moist, flavorful burger you'll ever have. I served these burgers on a toasted bun with a pesto mayo, lettuce, tomatoes and fresh red onion. Oh man, it was so good! My hubby and I were in lunch heaven when we tried them Monday. He even agreed he didn't even miss the beef. These are a must-try. I can't wait for you to makes these burgers!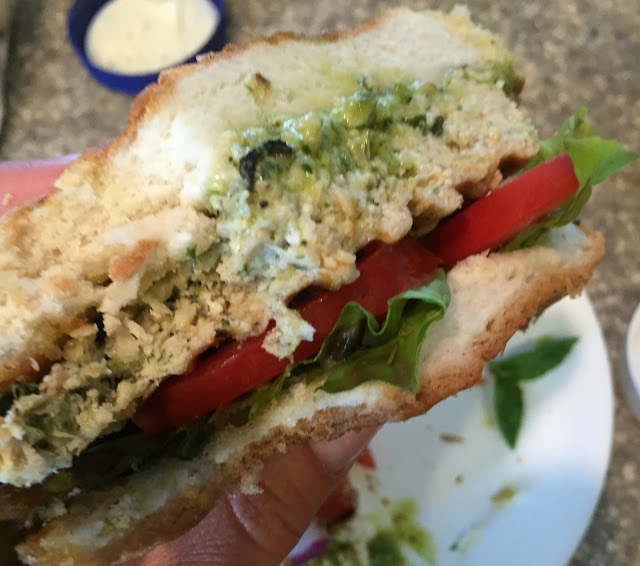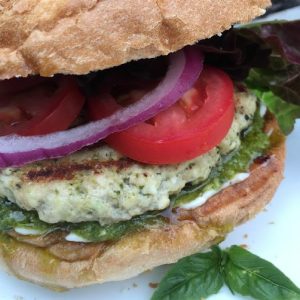 Ingredients
Burger Patties:

2-2 1/2

lbs.

ground chicken

1/2

red onion

diced small

1/4

cup

pesto

1/4

cup

feta cheese

1/4

cup

fresh basil

chopped

1

tsp.

salt

1

tsp.

black pepper

2

tsp.

parsley flakes

BURGERS:

8

hamburger buns or rolls

2 to

matoes

sliced

1/2

red onion

sliced

6-8

lettuce pieces

1/4

cup

mayonnaise

1/4

cup

pesto
Instructions
Dice the red onion and place into a bowl. Add the pesto, feta cheese, chopped basil, salt, pepper and parsley flakes. Add the ground chicken and mix until combined. Heat a panini grill, griddle or outdoor grill to medium-high heat. Brush the griddle or grill with a little olive oil to prevent sticking. Form the chicken mixture into 6 patties. Place the patties on the grill to cook. While they are cooking, slice the tomatoes, the other part of the red onion, and the lettuce leaves for assembly of the burgers. In a small bowl, combine the mayonnaise and the pesto (add more pesto if you like a lot of pesto). Spread this sauce generously on both sides of the bun. When one side of the burger is nicely browned, flip to the other side and continue cooking until the center is cooked through. Place the chicken burgers on each of the hamburger buns. Add the sliced tomatoes, red onion and the lettuce on the burgers and serve.