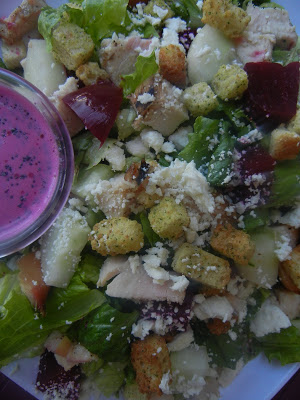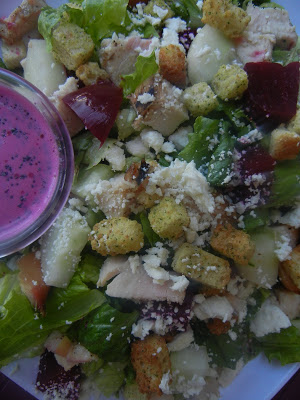 Pickled beets…now that food brings back memories! My Mom always had a can of beets in our fridge for her dinner salads. I don't think she ever had to share her beets with anyone in our family. They were never a big hit growing up. I do have to say, now that I am older and more mature (haha!), I don't mind pickled beets. In fact, after bottling them, I have had my fair share, and so have my kids. My daughters will eat them, but my three boys are pretty apprehensive still. Besides the fact they taste good, beets are incredibly healthy…a bonus! Here are a few articles on the health benefits of beets–here and here.
For some reason, when I planned my garden, I planted 9 square feet of beets. What was I thinking?? I have beets coming out my ears! You can only give beets away to so many neighbors. Most people are afraid of this strange looking pink potato root vegetable. So, I buckled down and spent the afternoon pickling my beets. I thought it would be much more difficult than it was. Surprisingly it went quickly and after the effort of bottling my beets I came up with an incredible salad to use all of my beets in.
Here is what I did to pickle my beets: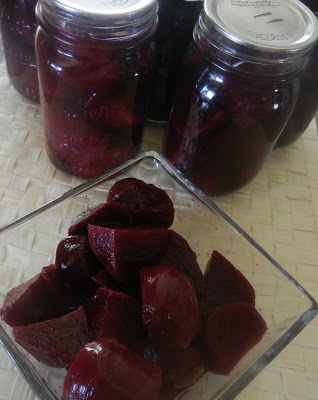 Cut off the leaves of the beets, leaving about an inch of stem. Cut most of the long root on the under side of the beet as well. Place the beets in a large pot and cover with water. Boil on high for 10-15 minutes or until the beets are soft and tender (but not overly cooked). Drain out the dirty water and let the beets cool.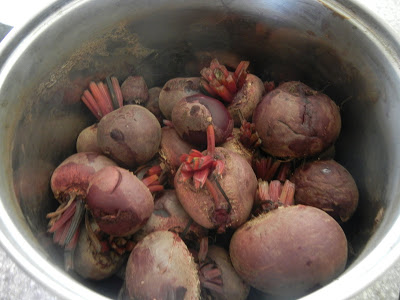 (Beets are pretty scary looking, aren't they?)
Once the beets are cool, cut off the tops and bottom portion of the beet and peel off the skin. If the beets are cooked to the right tenderness, the skin peels right off. After you have peeled the beets, cut them into pieces and place in a washed pint or quart jar. Set cut up beets aside. In a large bowl combine 3 c. apple cider vinegar, 2 c. hot water, 1 t. salt, and 1 1/3 c. sugar. Once the sugar is dissolved, pour enough liquid in each jar to cover the beets. Wash off the top of each jar (to insure they seal), put the lid on, and tighten the jar ring. Place in a wet bath and when the water comes to a boil, process for 30 minutes. When 30 minutes is up, take jars out of the canner and let cool for 24 hours. After 24 hours, remove the lids and store.
Try this recipe idea for a delicious summer salad that uses your pickled beets. The poppyseed dressing is one of the most colorful and prettiest things I have ever eaten. The dressing turns a bright fuchsia color and the sweet and tangy flavor goes perfectly with the beets and feta. This salad is not only pretty, it is healthy and amazingly delicious!!
Summer Chicken & Beet Salad
[buymeapie-recipe id='682′]