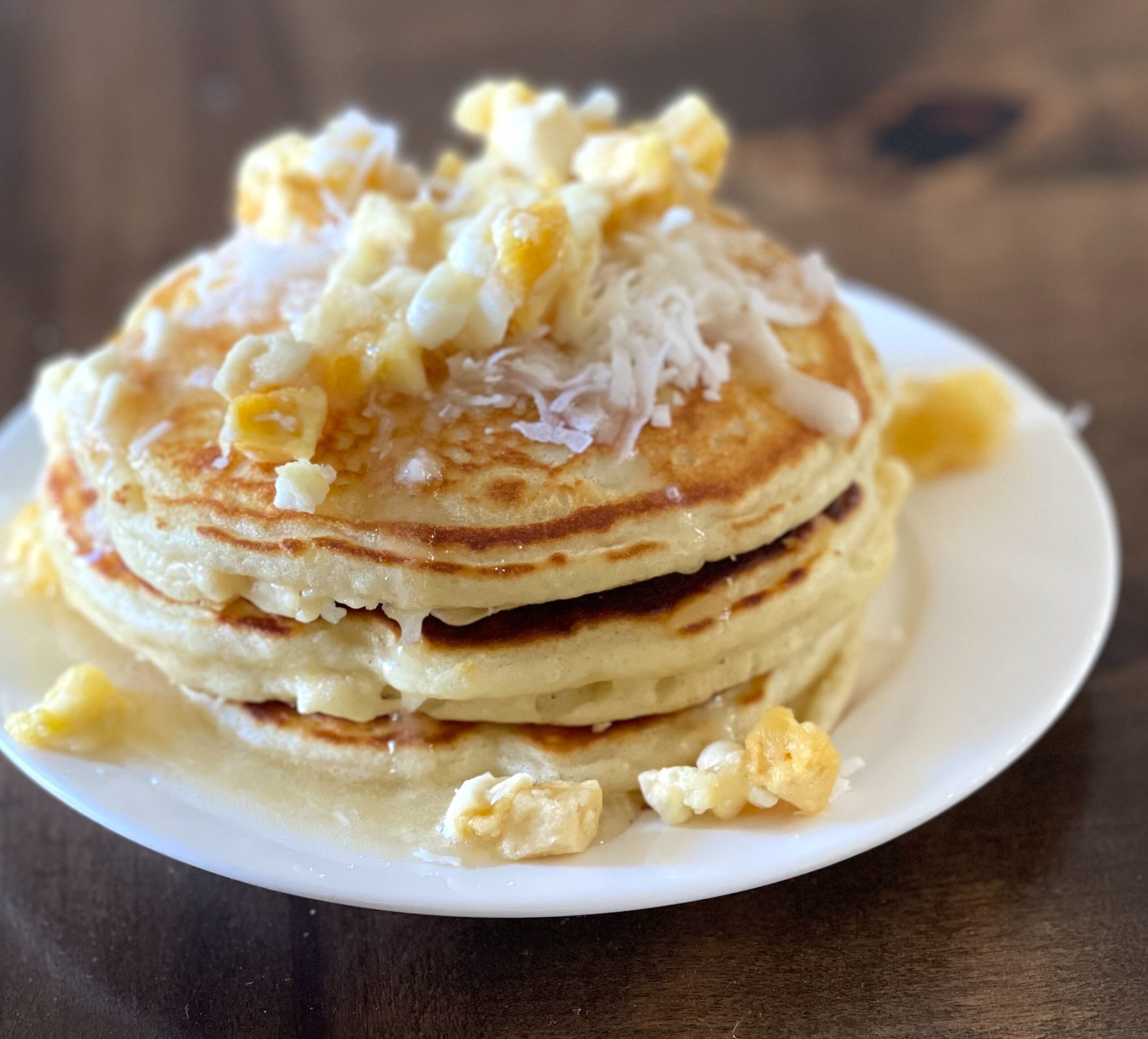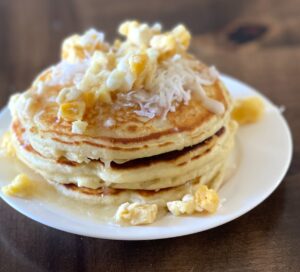 Take everything you love about the sweet and tangy Pina Colada drink and have that infused into the softest, fluffiest pancake you will ever eat. This recipe for Pina Colada Pancakes is one of my favorites. You can totally use canned or fresh pineapple in this recipe but I love to use Thrive Life's Pineapple Chunks because they are so easy to throw in and add big flavor and texture.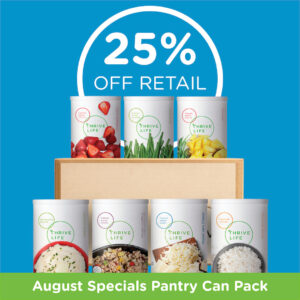 Thrive Life's Pineapple is on sale right now up to 30% off so it's the perfect time to add a few cans to your food storage. Use THIS LINK to get the discounted price when you sign up for a monthly delivery service. It's such a simple and easy way to build your food storage on a budget. No fees, no contracts, cancel at anytime but get FREE shipping on each order and enjoy the monthly deals each and every month.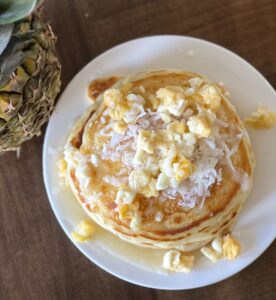 You can print all of my food storage recipes HERE for FREE! Also, remember to check out our FREE WEEKLY GROCERY DEALS each week so you know where to stock up on other food storage ingredients when they go on sale too. We are here to help YOU succeed and prepare your family. Thanks for stopping by!
Ingredients
2

cups

coconut milk

2

Tbs.

lemon juice

1

scoop vanilla protein powder optional

4

Tbs.

cooking oil

2

eggs

or use powdered eggs

2

tsp.

baking powder

1/2

tsp.

salt

3/4

tsp.

baking soda

1

tsp.

vanilla extract

2

cups

flour

1

cup

Thrive Life's Pineapple Chunks

1/4

cup

coconut flakes

Pineapple Syrup:

1

stick butter

1

cup

sugar

1/2

can coconut milk

1/2

cup

Thrive Life's Pineapple Chunks

1

tsp.

vanilla extract

Dash of salt
Instructions
For the pancakes, in a mixing bowl add all of the wet ingredients together and whisk. Add the dry ingredients (not the pineapple) and mix until smooth. Set the batter aside while you make the syrup.

In a medium sauce pan, bring the butter, sugar and evaporated milk to a boil. Once the sugar is dissolved (about 3-5 minutes), turn the heat down and add the pineapple, vanilla and salt. Blend with a hand mixer until smooth (or you can keep the chunks of pineapple if you wish).

When the syrup is finished cooking you can start making the pancakes.

To the pancake batter add the pineapple chunks and coconut and fold it gently into the batter.

Heat a flat griddle to medium heat. Spray with cooking spray. Pour about 1/3 cup of the batter onto the griddle and cook until the pancake is golden brown on the bottom and then flip to the other side to cook for another minute or two.

Remove the pancakes from the griddle and serve with the syrup.

If you would like to use powdered eggs, simply replace the fresh eggs with 2 Tbs. egg powder and 2 Tbs. water to the recipe as normal.