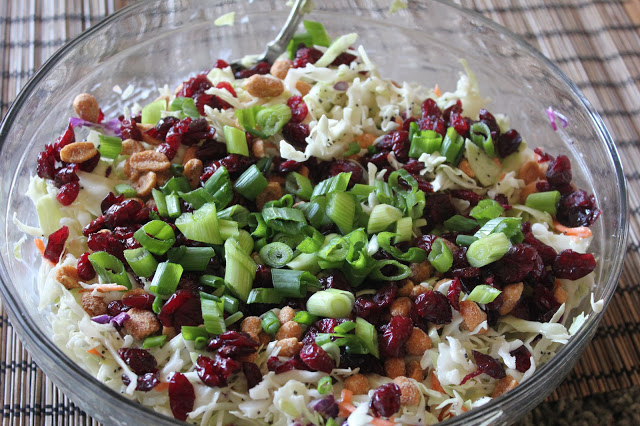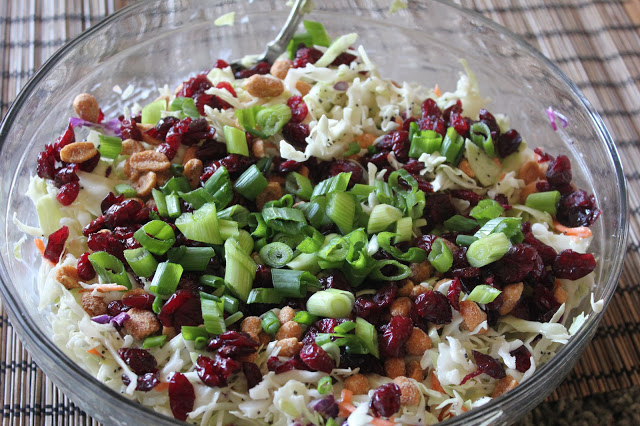 Growing up I was never a huge fan of coleslaw. Something has changed however, now that I am an adult with a little more mature taste buds. Good old green cabbage is not too appealing on it's own, but toss it in a fresh, sweet poppyseed dressing and it's hard for me to stay away! I got this recipe for this Poppyseed Coleslaw from my friend who is an amazing cook. She brought it to a girly friend lunch and we were all raving about it. When she told me what was in it I was shocked! It tastes like there is so much more to this salad than six ingredients. The craisins and honey roasted peanuts are kind of an odd combination, but the texture it brings to this coleslaw is what makes this recipe. If you need a REALLY quick and easy salad to bring to a party this week, this is the one for you! If you are in a hurry and don't have a few minutes to whip up your own poppyseed dressing you can just buy a store bought bottle and pour that on the salad. Either way, it is quick, fresh and delicious!!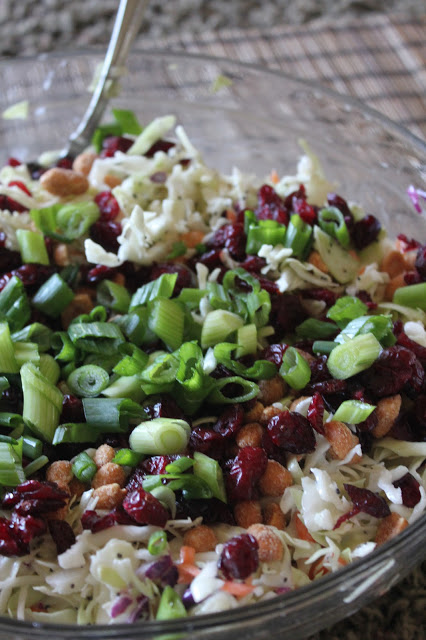 Poppyseed Coleslaw
1 bag of coleslaw mix (or chop your own carrots, green and red cabbage)
1 head romaine, chopped fine
1 c. dried cranberries
1 c. honey roasted peanuts
1/4 c. green onions, sliced
Poppyseed dressing (homemade or storebought)
Place the coleslaw and romaine in a large salad bowl. pour a generous helping of the poppyseed dressing over the salad and toss (just before serving). Top the top of the salad with the cranberries, peanuts and green onions. Serve immediately and enjoy.