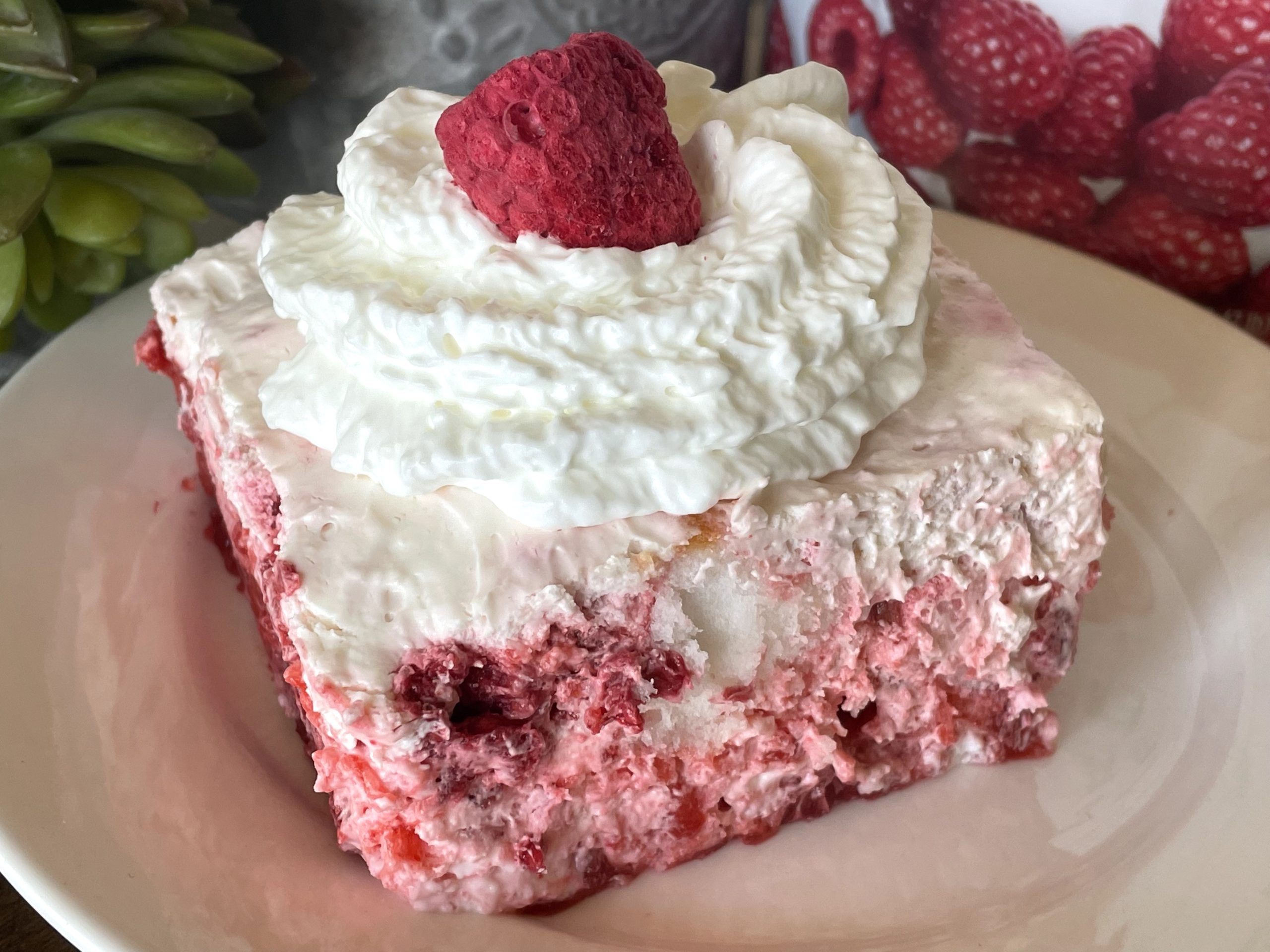 Angel food cake combined with jello you say? Um, YES! This dessert is one of my very favorite desserts my Mom used to make when we were younger. You can make this Raspberry Angel Food Cake Jello Dessert with any of your favorite berry combinations (mixed berry, strawberry, blueberry, etc.). I decided to use the amazing Thrive Raspberries and it made for the perfect sweet and sour pop. It balanced out the sweet dessert with a fresh, raspberry flair. This dessert is layered with fluffy angel food cake squares, a layer of raspberry jello, whipped cream and a raspberry cream layer. The combination is so fresh, light and airy. You feel like you can eat the entire pan with no guilt. It's the perfect dessert to serve in the spring or summer.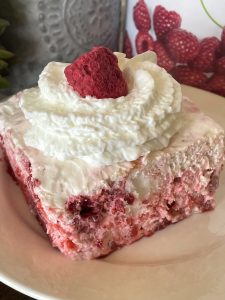 If you are looking for a way to add healthy, vitamin packed fruits and vegetables in your food storage, check out Thrive's sales this month! They have their Spring Sale going through April 25th with the following items on sale: Powdered Milk, Mushrooms, Blackberries, Strawberries, Green Beans, Peas & much more.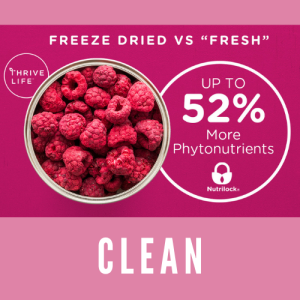 They also have one of my favorite products on sale through the 31st for their chicken. I LOVE their freeze dried chicken. It's so much better than canned chicken and will last in your storage for over 25 years. This month they also have their raspberries, onions, bell peppers and corn on sale for GREAT prices. Check out all of their sale prices HERE. If you are looking for bulk sales in your area, check out all of our bulk orders by city HERE. Bulk orders are a great way to get your favorite products for even less!

Here's the recipe for that delicious dessert!
Ingredients
2

bakery sized Angel Food Cake

precooked/made

1

large raspberry jello

2

cups

water

1

cup

ice

3

cups

whipping cream

whipped

1/2

cup

powdered sugar

½

cup

freeze dried or fresh raspberries
Instructions
Remove the angel food cake from the container and cut into one inch pieces. Place all of the pisces in a large, 9x14 glass baking dish. In a medium sauce pan bring 2 cups of water to a boil. Add the jello packet to the hot water, stir and remove from heat. Once the gelatin is dissolved, add the cup of ice to the pan. Add the cup of freeze dried raspberries (or use fresh) to the jello mixture. Place the hot pan into your fridge for about 30-40 minutes, or until the jello starts to set up but is still somewhat liquidy. Once the jello is starting to get firm, pour the jello over the diced angel food cake. In a bowl, whisk together the whipping cream and powdered sugar until it forms stiff peaks. Fold into the angel food cake and jello about half of the whipping cream. To the remaining half, fold in the remaining ½ cup of raspberries. Spread the raspberry/whipped cream mixture over the top of the dessert. Keep the dessert in the fridge for about 1-2 hours and then serve. You can serve with additional fresh or freeze dried berries.