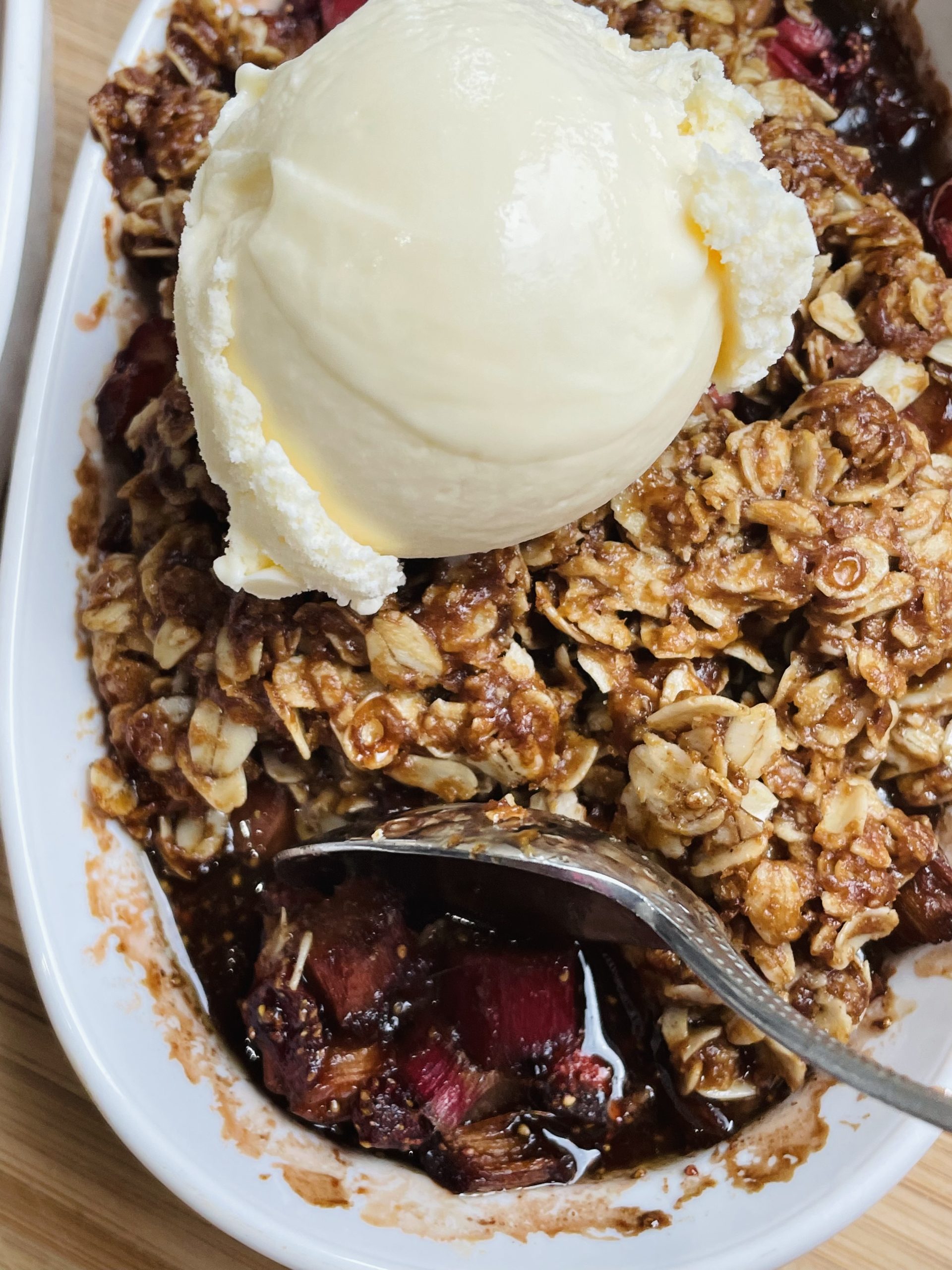 It is summertime and do you know what grows in summer? Rhubarb! Wahoo. Are you as excited as I am? Growing up we had a rhubarb plant that we would grab stalks of and snack on while playing in the backyard. Now as an adult I like a little sweeter flair to my Rhubarb and my favorite way to enjoy it is in this Rhubarb Strawberry Peach Crumble recipe. This combines everything you love about summer and summer fresh, fruits in one delicious dessert. You can of course leave out the peaches and have it be more of a traditional cobbler but I love the different flavor that the peaches add with everything else. I also used my Thrive Freeze Dried Strawberries that are on sale this month and it made this recipe even more simple and healthy.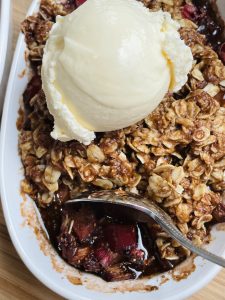 Another aspect to this crumble that makes it so special is I use only coconut sugar instead of regular sugar. Yes, you could use regular brown or white sugar, but I LOVE the caramel, nutty flavor of the coconut sugar. You don't have to use quite as much of it to get the caramel flavor you are craving in a dish like this. The syrup of the cobbler makes this crumble so heavenly, especially when you add a scoop of vanilla ice cream on the top. From start to finish this is a sweet treat that will please your friends and family for many summer's to come! Remember to check out the DEALS portion of our new website to find the best deals on groceries in your area. I was able to buy the peaches, strawberries, butter and ice cream all on sale this week. If you'd like help with your meal planning, you can also check out our weekly meal planner we offer through Prepear. Have an amazing week!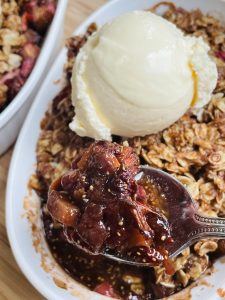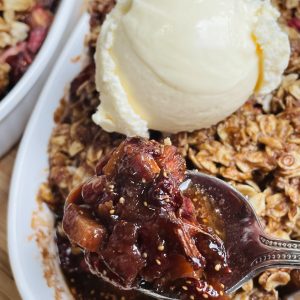 Ingredients
4

cups

rhubarb

diced

2

cups

strawberries

core removed and diced

2

cups

peaches

diced

1/2

cup

coconut sugar

Dash salt

1

Tbs.

lemon juice

2

Tbs.

cornstarch

Crumble:

2

sticks butter

3/4

cup

coconut sugar

Dash salt

1/2

tsp.

cinnamon

2

cups

regular oats

2

Tbs.

cornstarch

1/2

gallon

vanilla ice cream
Instructions
Preheat oven to 350 degrees. Trim the ends of each rhubarb pieces in case they are hard or damaged. Cut the rhubarb into 1/4 inch, long slices and dice into small pieces. Dice the strawberries and add those to the rhubarb as well. If you are using freeze dried strawberries, just put them straight into the rhubarb and mix. Rinse the peaches, cut in half, remove the pit and dice the fruit into small pieces. Toss the fruit in the coconut sugar, add the salt, lemon juice and cornstarch and toss until coated.

Pour the fruit mixture into 4 ramekin dishes about 6 inches long and 3 inches wide. Or, pour into a 9x13 pan while you make the crumble.

For the crumble, place the butter in a bowl and soften for 20-30 seconds. Add the coconut sugar, salt, cinnamon, oats and cornstarch. Toss until combined. Sprinkle the crumble mixture over the fruit mixture until covered. Bake at 350 for 15-20 degrees, or until the top is golden and the rhubarb is soft. Serve warm with vanilla ice cream.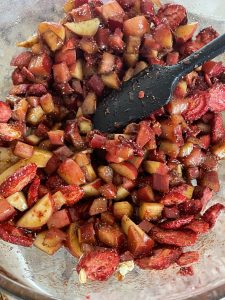 Look at all of these delicious fruits all mixed together. It's a beautiful site! Can you believe the strawberries I used are freeze dried? it's so awesome!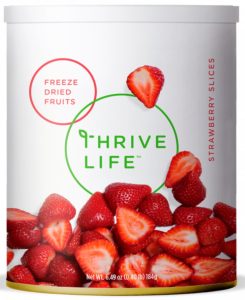 Get your strawberries today for 25% off!